The Independent's journalism is supported by our readers. When you purchase through links on our site, we may earn commission.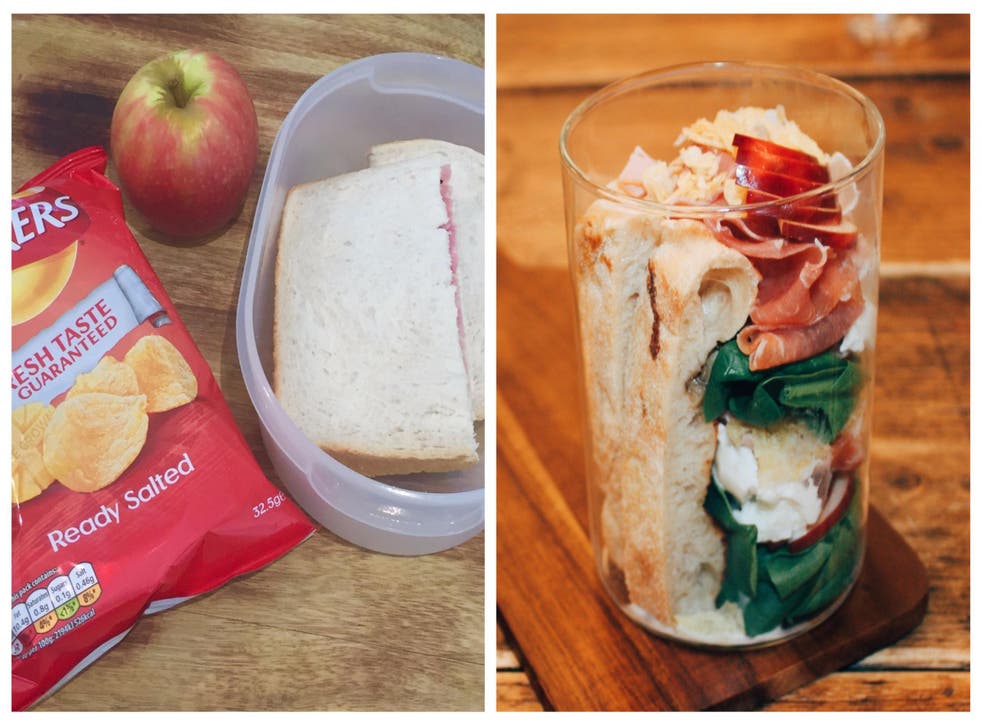 How to make your packed lunch look and taste amazing, according to a food stylist
With a little preparation, your everyday lunch al desko can be Insta-worthy
Rachel Hosie
Thursday 14 September 2017 13:31 Comments
We all know bringing a packed lunch to work is one of the best ways to save money.
But when faced with a soggy sandwich or sad leftover pasta in a stained tupperware, most of us can't help but feel a bit disappointed. And of course, going out for a fresh baguette or exciting salad from a coffee shop often seems far more appealing.
This needn't be the case though.
We were convinced packed lunches needn't be boring so challenged food stylist and author of Jar Food: Recipes For On-The-Go Dominique Eloise Alexander to show us how our sad packed lunches could be transformed into something more exciting.
And we have to admit, we were hugely impressed with her creations.
A Spanish frittata with salad was turned into a layered tapas jar, roasted veggies and chicken became a posh pot noodle, and a classic childhood lunch of ham and cheese sandwich with crisps and an apple was transformed into a "Proper Ploughman's" lunch pot.
So how did she do it?
1. Spanish frittata with salad
Dominique transformed this into a layered tapas jar with a pico di gallo (Spanish tomato salsa) consisting of cherry vine tomatoes, lime zest and juice, finely chopped red onion, olive oil, salt and pepper in.
That was layered with the slices of frittata, some vibrant salad leaves and a zesty sour cream which was just some sour cream with lemon zest and juice stirred through. Finished with a few more tomatoes on top.
2. Ham and cheese sandwich, ready salted crisps and an apple
This old-school lunch was given a fancy makeover to become a "Proper Ploughman's" lunch using the sandwich as a finger sarnie, added in some delicious vegetable focaccia bread (to show the variety of bread can spice up your lunch) and then layered bufala mozzarella with parma ham and spinach.
Dominique crushed the crisps and sprinkled those throughout to add texture and then finely sliced the apple and layered that throughout to add some freshness.
3. Roasted vegetables and chicken
This healthy but boring lunch was turned into a posh pot noodle. Dominique added half a packet of ready-cooked Udon noodles to the bottom of the jar, then layered up the veggies and chicken with some fresh chilli and spring onion.
The flavour paste was super simple: just miso paste, stock powder and some grated ginger. She then poured in hot water when we were ready to eat, stirred it up, left the pot for a few minutes, topped it with sesame seeds and voilà!
It's safe to say our lunches were unrecognisable from what we'd brought in and certainly more delicious.
Having cute jars makes your lunch look far more appealing, and they're actually really practical, as they create a watertight seal and you don't have to be worried about food leaking into your bag (we've all experienced this nightmare).
That said, Dominique's creations certainly took a few more ingredients than our basic lunches. And more effort too.
But arguably it doesn't take too much longer to creatively layer your food up in a cute jar, and it certainly makes a packed lunch look more appealing.
Inspired?
Dominique's top tips for easy, healthy, pretty lunches on-the-go:
1. Speed up your mornings with the right lunch kit
Make sure you always have a couple of lunch-size jars handy and a few small ones for dressings and snacks. This will help speed up your mornings when making your lunch – no faffing around looking for plastic bags or dealing with loose ingredients flying around in your handbag.
Whack your ingredients in an easy-to-carry, sealed jar and off you trot! I also love my salad spinner – it makes salad-making so much easier. Just wash a big batch of leaves, dry spin them and keep them in the fridge covered with a damp paper towel until you're ready to use them. They'll keep fresh for longer this way too.
2. Make a weekly meal planner
'A Sunday well spent, brings a week of content' – set aside time to work out a weekly meal schedule. Having a clear meal plan prevents you from wandering into the food-abyss mid-week and gorging on a million snacks throughout the day.
3. Use one ingredient for multiple recipes
One of my all-time favourites is my sticky chicken and bulgar wheat recipe because you can use the chicken for a whole host of different recipes. The chicken is not only totally delicious and tender from the marinade of soy sauce, honey, chilli and garlic, it can also be used for all sorts of different dishes from stir-fries, soups to salads – so make a batch, mix-it-up and re-invent with a different recipe the next day!
4. Keep a few staple ingredients in jars
Keeping a few staple ingredients in jars like nuts, seeds and dried fruit helps to jazz up any recipe. These will come in super handy when you're coming to the end of the week and thinking of ways to combine your fridge leftovers.
Salad leaves, cucumber and a bit of cheese can be improved massively by an array of nuts and dried fruit – this is how I made my pear, stilton and walnut jar recipe, made up of leftover veg and store-cupboard essentials like nuts and spelt. Not only do they make the dish tastier and more satisfying, it prevents you wasting those remaining leftovers.
5. Use leftover veggies to make a posh pot noodle
A great way to save those veggies looking a little worse for wear is to chop them up finely, add to a jar with some noodles and a little flavour paste - try something as simple as sriracha or peanut butter which I use for my Asian noodle soup - and store for a couple of days.
A quick boil of the kettle when you're ready to eat and you've got yourself a posh pot noodle – all made from veggies that probably would've gone to waste.
6. Use jars for easy portion control
Transparent jars enable you to visualise each layer and stack your carbs, proteins and veggies equally. The visual balance of ingredients not only looks gorgeous but helps to maintain a balanced, wholesome and healthy diet.
7. Keep your lunches colourful
Not only do vibrant veggies have a whole host of different health benefits, they add a visual vibrancy to your jars which goes hand-in-hand with flavour. This visual variation will also help you feel full and satisfied. Go as rainbow as you dare and your jars will taste as good as they look!
8. Add your dressing at the last minute!
Leaving your lunch undressed until the last minute avoids soggy salad leaves and keeps them crunchy and crisp. Keep small jars so you can make dressings easily – pop all the dressing ingredients in, whack on the lid and shake shake shake!
Register for free to continue reading
Registration is a free and easy way to support our truly independent journalism
By registering, you will also enjoy limited access to Premium articles, exclusive newsletters, commenting, and virtual events with our leading journalists
Already have an account? sign in
Join our new commenting forum
Join thought-provoking conversations, follow other Independent readers and see their replies