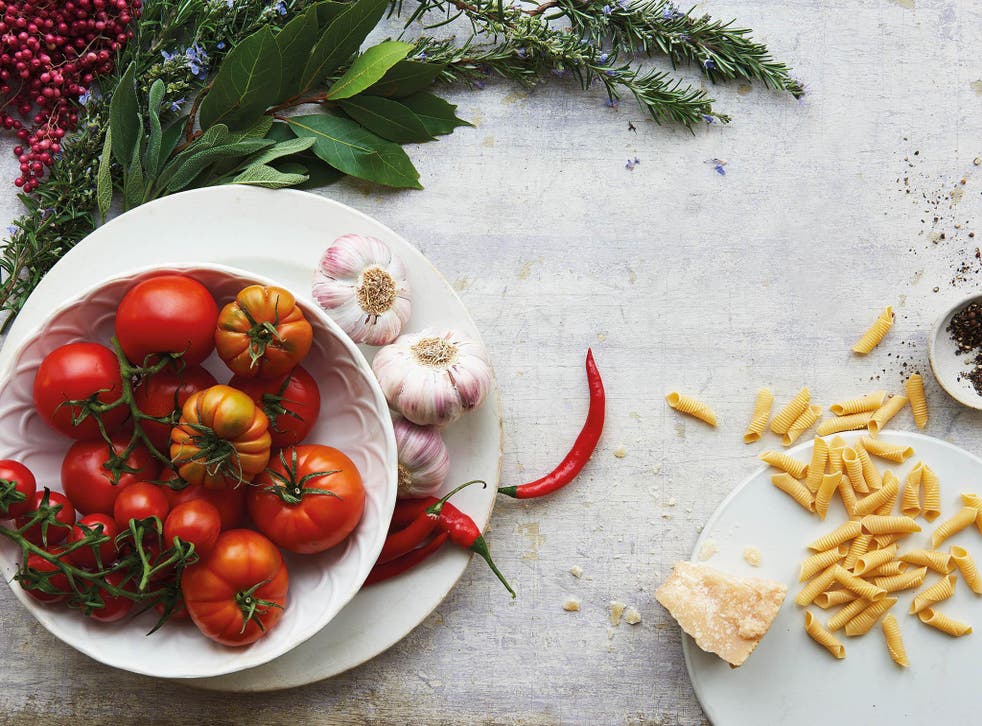 How to make pasta like the Italians
Pasta has become one of our go-to easy meals. But do we actually cook it properly? Laura Santtini shares classic Italian secrets to turn your staple into a show stopper
As her fourth book, food writer Laura Santtini has been a prominent voice in food since 2009. She's Italian born and a firm believer that the sauce is the heart and soul of each dish. So, along with insider knowledge on secrets of cooking pasta, she also explains when it's better to use fresh or dry pasta and which shapes work with which sauce. The rest of the book is split into useful sections covering quick and easy dishes, and dishes based on ingredients from vegetables and fungi, to fish and seafood and meat and poultry.
How to cook pasta like an Italian
What you need for boiling pasta
1 large pot with a lid, 4-5 litre/quart capacity
1 large colander
Rock salt
I rarely recommend investing in specialist kitchen equipment but when it comes to pasta pots I really believe it is one of the best investments a home cook can make. Proper pasta pots have a 4-5 litre/quart capacity, a large inbuilt colander and a lid. I have had mine for years and use it for everything from chicken soup and stocks to boiling vegetables.
This ingenious invention is a safe and easy way to drain pasta without rushing to the sink, you simply pull the inbuilt colander up and the magical starchy cooking water, that is the 'numero uno' pasta secret, stays in the pot rather than being poured down the sink. When purchasing, be sure to look for a minimum capacity of 4 litres/quarts and a large and spacious colander, otherwise no matter the size of the pot your pasta will be confined anyway, which kind of defeats the object.
Boiling pasta Italian-style
Fill a large pot with water, cover and bring to the boil. (Note: The rule is 1 litre/quart water for every 100g pasta.)
When at a rolling boil add 1 tablespoon rock salt (a palm-full) and wait for the water to comeback up to the boil. (Note: The rule is approximately 10g rock salt per litre of water.)
Taste the water for salt. You want to make sure that it is salty enough to season your pasta and not too salty to spoil it. (Note: There is nothing worse than unseasoned pasta. You can work as hard as you like making a tasty sauce, but if the pasta you add it to tastes bland, and/ or overcooked, the result will be disappointing.)
Aside from the obvious flavour factor, adding salt to the cooking water also encourages the release of starch from the pasta, which is why salting the water properly is another fundamental pasta secret.
Add the pasta to the boiling salted water and stir with a long carving fork. Bring the water back up to the boil and lower the heat slightly to avoid the pot boiling over and cook as directed on the packet. Do not cover, as this will cause the pasta to stew, unless of course you are fortunate to have the Alessi pot with the steam releasing lid? (Note: Stirring is important especially with long pastas to make sure that each strand is released and not stuck in the bottom of the pot like a witches boom! Once pasta is free and swimming there is no need to add oil to stop it from sticking – this is a bit of an urban myth – the rolling water will see to that. Oil is sometimes used in commercial kitchens to prevent large quantities of drained par-cooked pasta sticking together.) Test pasta and drain.
What does 'al dente' mean?
Italians like to eat their pasta 'al dente' which literally means 'to the tooth' or loosely translated with a bite. In order to achieve this perfect cooking status, it is important to know that pasta continues to cook a little once drained and further in the sauté pan. To avoid over cooking your pasta drain pasta just before your preferred 'al dente'.
Take note of the cooking time on the packet but do not use it as gospel and do test pasta throughout the cooking, as I am noticing more and more that other than the quality Italian brands, most on-pack cooking times are a few minutes off 'al dente', particularly the supermarket own-label brands and non-wheat alternative pastas. I get to just over half way and then test regularly.
Once drained and dressed pasta becomes a matter of extreme urgency and it is very important to tuck in the moment it is ready.
How much pasta?
Pasta secca (dry pasta) 100g uncooked pasta per person as a one-course meal
70–80g uncooked pasta per person as an appetizer
50g uncooked pasta per person when added to soups
Pasta fresca (fresh pasta) 80g uncooked pasta per person as a one-course meal
30–40g uncooked pasta per person when added to soups
All recipes in this book are based on 100g of uncooked pasta per person.
Food and drink news

Show all 35
'Mantecare' – How Italians combine pasta with sauce
What you need for combining pasta and sauce
1 large sauté pan, wide, deep, heavy-bottomed, long-handled and preferably non-stick
A cup of salty, starchy pasta cooking water
A glug of olive oil or a good knob/pat of fridgecold unsalted butter
The act of skillfully combining cooked pasta with a sauce is something we Italians call the 'mantecare' or 'mantecatura'. This literally means to emulsify the starch from the pasta with the oil or butter in the sauce to make that creamy loose pasta finish that is so compelling. It is not an easy thing to do, but once understood and cracked you will never look back. That is why in almost every recipe I repeat the same words in the method over and over in the hope that they will become a new mantra in your kitchen: "Drain the pasta but keep a cup of the cooking water. Tip the hot drained pasta into the pan containing the sauce, adding a splash of the cooking water (about 60 ml) and toss with gusto over a high heat until the pasta looks creamy and well coated."
Unlike risotto, where only cold unsalted butter and Parmigiano are used for the mantecatura, in pasta, olive oil can also be used instead of butter. This is key for recipes like spaghetti vongole, where the olive oil and starchy water mixed with the garlic, clam juice and white wine create that compelling and super-tasty slippery sauce.
There are two ways Italians combine pasta with sauce:
Hot pasta into hot sauce: Scratch cook a quick sauce in a sauté pan and tip in the hot drained pasta. Add a splash of cooking water, toss with gusto and serve.
Hot pasta into cold sauce: Place the ingredients in a serving bowl, using raw crushed garlic, olive oil and ingredients of choice, and tip the hot drained pasta directly into the bowl to unlock the flavours and aromatics. Toss with gusto and serve.
Which shape, which sauce?
Italians have spent centuries developing pasta shapes to catch, trap or elude their saucy counterparts. The general rule is long smooth shapes for oily sauces (spaghetti, linguine, tagliatelle) where you do not want to trap the oil. Cleaver sauce-catching shapes and wide fresh pastas to catch all the flavour of hearty meat- or tomato-based sauces (shells, rigatoni, fusilli, pappardelle). Tiny pasta shapes and short-cut fresh pasta for broths and soups. Everything else in-between is all part of the fun, I have really enjoyed exploring and matching all the different shapes, colours and sizes in this book. It is worth noting that each shape, size and type will have a different optimum cooking time.
Lemon, mint and caper
Things don't get much quicker than this. Very clean and simple, it almost feels like you just ate a salad…
Serves 2
200g dried pasta
3 tablespoons extra virgin olive oil, plus extra if needed
a handful of mint leaves, roughly chopped
grated zest and freshly squeezed juice of ½ lemon
1 tablespoon capers, drained and rinsed
2 tablespoons pine nuts, preferably toasted
salt and freshly ground black pepper
2 tablespoons finely grated Parmigiano Reggiano, to serve
Cook the pasta in a pan of salted boiling water according to the packet instructions. Meanwhile, place the olive oil, mint, lemon zest and juice, capers and pine nuts in the bottom of your serving bowl.
Drain the pasta but keep a cup of the cooking water. Tip the hot drained pasta into the lemon caper mixture, and toss with gusto until the pasta looks creamy and well coated.
If the pasta looks too dry you can add a little more olive oil and or a very tiny splash of the retained pasta water and mix well. Season to taste and serve immediately with the grated Parmigiano and freshly ground black pepper.
Tasty topper: Toasted flaked almonds
Laura Santtini's Pasta Secrets by Laura Santtini, Ryland Peters & Small (£16.99). Photography by Christopher Scholey ©Ryland Peters & Small
Join our new commenting forum
Join thought-provoking conversations, follow other Independent readers and see their replies