The Independent's journalism is supported by our readers. When you purchase through links on our site, we may earn commission.
Wines of the week
7 perfect pinots for rain or shine, summer or autumn
It seems we had our summer in April and May during peak lockdown, so instead of sipping on rose, go for the versatile pinot noir instead, says Terry Kirby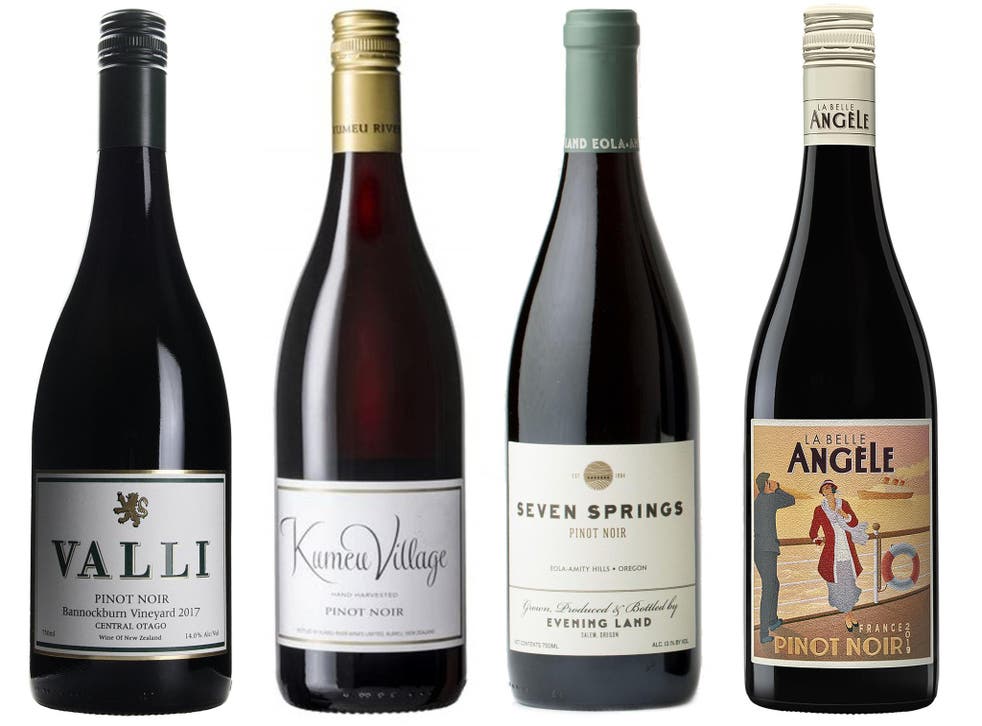 Dontcha' just love the British weather? After one of the most glorious springs and early summers we have seen, July, so far, has been a bit cooler and quite wet and windy in many places.
All of which underlines the problems you can face when writing wine columns related to seasonal tastes, and the weather is a bit mixed: a column recommending ice cold roses or wines for barbecues is obviously challenging the weather gods to deliver a cool and wet spell – and perplex the reader. So, it is not just because I'm English that over the years, at certain times, I've become a bit more than normally fixated on the weather forecast.
And which is why, after looking at the somewhat mixed forecast for this weekend, this week's column is about some stunning pinot noirs, rather than the rose column, for warmer evenings, that I had originally envisaged. Which is fine because pinot noir is so versatile: a perfect red for summer, refreshing and drinkable with grilled foods, salads and fish and should normally be served cool – a cellar or stone floored space will help – while the lighter ones can and should be briefly chilled.
But since we are also experiencing some cooler days and autumn is now not that far away, these are also suitable for the season's game and, most of all, mushrooms, which match the earthy, fungal notes found in most pinots.
I've had the privilege recently of tasting some top of the range New World pinots and these include one of the most extraordinary pinot noirs I've ever encountered. The Tara Pinot Noir Atacama 2016 (£39.99 thewinereserve.co.uk; £35.99 min order six bottles, simplywinesdirect.uk) is the product of a venture by winemaker Vino Ventisquero to plant vineyards in Chile's Atacama desert, one of the least hospitable places in the world to grow grapes, with daily fogs and salt deposits that cling to the vines. The lightness of colour belies the intensity of flavours in this limited edition wine, made without filtration or fining, which has aromas of earth and red fruits on the nose, vibrant, complex strawberry and black cherry flavours, a fine, crisp acidity and a long saline, yes, saline, finish. A high price, but worth it for the experience and just ideal with grilled fish or poultry, particularly duck, drunk cellar cool.
Staying at the top end of the market and on the Pacific coast of the Americas, but in the northern hemisphere, Oregon, in the northwest of the United States, has a deserved reputation for high end, Burgundian-style pinots. I wrote about Oregon earlier this year here and another brilliant example of the style is the Evening Land Seven Springs Estate Pinot Noir 2016 (£39.00 thegoodwineshop.co.uk) from the key Eola Amity Hills area, which is more full bodied and conventional than the Tara, with distinctive, bright, black fruit flavours, savoury undertones and tannins, the whole exuding finesse and elegance.
On the other side of the Pacific Ocean, New Zealand of course now produces fantastic premium pinot, particularly in the Central Otago region. The Valli Vineyards Bannockburn Pinot Noir 2017 (£40.50 thevinorium.co.uk) is a hugely complex wine – fragrant aromas, a silky mouthfeel, bright black cherry fruit, smoky, spicy undertones and a long, long finish.
All three wines are premium pinots, for premium occasions and the right foods. But what about wines for more everyday drinking? Staying in New Zealand, the Kumeu Village Pinot Noir (2019, £9.95 thewinesociety.com; 2018, £14.00 noblegreenwines.co.uk) from the Hawkes Bay region is very light on the palate, with bright and refreshing fruity flavours and just the merest hint of oak to keep it interesting – definitely needs chilling and to be drunk with seared tuna and lighter dishes; a very summery pinot.
Hopping briefly back to Chile for another, more affordable Vino Ventisquero wine, the Grey Glacier Las Terrazes Valle de Leyda 2018 (£16.95 davywine.co.uk) comes from vines planted in volcanic soil on seaward facing terraces, with masses of smooth, darker black fruits and some understated oak, putting us more firmly in autumn drinking territory.
So much for the New World. Back in Europe, pinot's spiritual home has always been Burgundy, but there is now some excellent everyday pinot produced in the south of France, usually from higher altitude vineyards, which deliver freshness to balance the hot sun. Two lovely, all-purpose, barbecue-friendly pinots to discover then: the La Belle Angele Pinot Noir 2019 (£10.99 or £8.99 if part of mixed six-bottle purchase; majestic.co.uk) from the excellent Badet Clement stable, juicy, bright red cherries and raspberry fruit with a touch of spice; and the more fuller bodied Le Champ des Etoiles Pinot Noir 2019 (£11.49 laithwaites.co.uk) packed with succulent, rich, dark fruit flavours and more distinctly autumnal – bring on those mushrooms.
Pinots for rain or shine, then, but I'm pinning my hopes on the latter this weekend – the first meal out for four months, an excellent wine list and a garden table booked. Which is probably tempting fate...
Register for free to continue reading
Registration is a free and easy way to support our truly independent journalism
By registering, you will also enjoy limited access to Premium articles, exclusive newsletters, commenting, and virtual events with our leading journalists
Already have an account? sign in
Register for free to continue reading
Registration is a free and easy way to support our truly independent journalism
By registering, you will also enjoy limited access to Premium articles, exclusive newsletters, commenting, and virtual events with our leading journalists
Already have an account? sign in
Join our new commenting forum
Join thought-provoking conversations, follow other Independent readers and see their replies