The Independent's journalism is supported by our readers. When you purchase through links on our site, we may earn commission.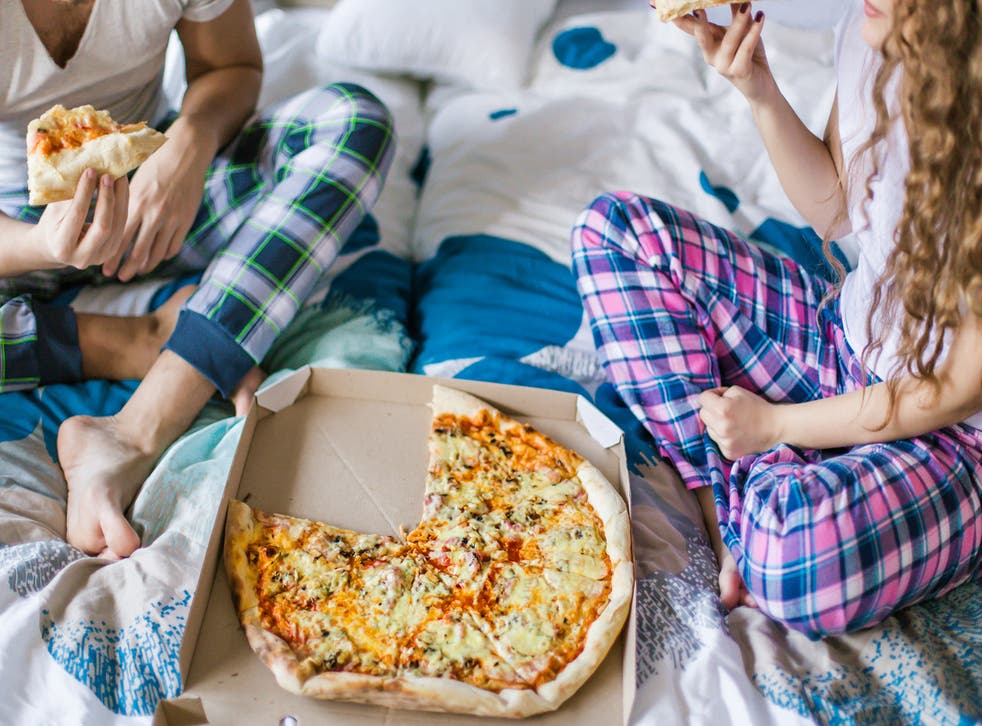 Pizza more nutritious for breakfast than cereal, claims dietitian
We've all done it
Rachel Hosie
Wednesday 31 January 2018 13:56 Comments
Pizza is a healthier breakfast choice than cereal, a registered dietitian claims.
"You may be surprised to find out that an average slice of pizza and a bowl of cereal with whole milk contain nearly the same amount of calories," explained Chelsey Amer, MS, RDN, CDN to The Daily Meal.
It's worth bearing in mind, however, that if you were eating pizza for breakfast you'd likely have more than one slice (because who eats just one slice of pizza?) so you would be eating more calories than a bowl of cereal.
Instead of burger and fries you should order two burgers, says nutritionist
"However, pizza packs a much larger protein punch, which will keep you full and boost satiety throughout the morning," Amer continued.
"Plus, a slice of pizza contains more fat and much less sugar than most cold cereals, so you will not experience a quick sugar crash."
But she did admit that pizza isn't exactly a health food and sadly can't really be considered a nutritious option to have regularly.
"Whilst it is true pizza can be a well balanced meal containing carbs, protein and essential fats, that is not to say it is a healthier breakfast choice than cereal," Harley Street nutritionist Rhiannon Lambert explained to The Independent.
"Labelling certain meals can sometimes be unhelpful and what we should really be focusing on is the nutritional content of our food choices, instead of its calorie count. This is because not all calories are equal."
At the end of the day, it comes down to what pizza and what cereal you're eating.
Some cereals contain large amounts of sugar and have next to no protein or healthy fats to keep you full.
Amongst the worst offenders on the British supermarket shelves are Frosties (3.7 sugar cubes per 40g serving), Coco Pops (3.5) and Crunchy Nut (3.5).
At 4g sugar per cube, that's nearly 15g of sugar per serving, which is half an adult's recommended daily allowance of free sugars. And many people have more than a 40g serving of cereal too.
So what should you be eating?
"A healthy and well balanced breakfast ideally includes a substantial amount of protein," Lambert says. "This is something that breakfast cereals may be lacking. We also need to be aware of the added sugar content in cereals as some of them are surprisingly high.
"On the other hand, there are some cereals available on the market that are good sources of wholegrain carbohydrates and rich in fibre. Fibre is something that a lot of people are lacking in their diet. If you enjoy cereal for breakfast, try one that is high in fibre and add some nuts or seeds for a protein boost."
But this doesn't mean you can't ever eat pizza for breakfast either.
"If we're talking about a big greasy pizza ordered online then it's probably not the most well balanced meal to eat for breakfast," explains Lambert, who has a healthy pizza alternative in her book Re-Nourish: A Simple Way To Eat Well.
"However, as mentioned, pizzas can be a healthy balance of carbs, fats and protein so as long as it doesn't contain unhealthy additives, who's to say we can't eat pizza for breakfast?"
Register for free to continue reading
Registration is a free and easy way to support our truly independent journalism
By registering, you will also enjoy limited access to Premium articles, exclusive newsletters, commenting, and virtual events with our leading journalists
Already have an account? sign in
Join our new commenting forum
Join thought-provoking conversations, follow other Independent readers and see their replies