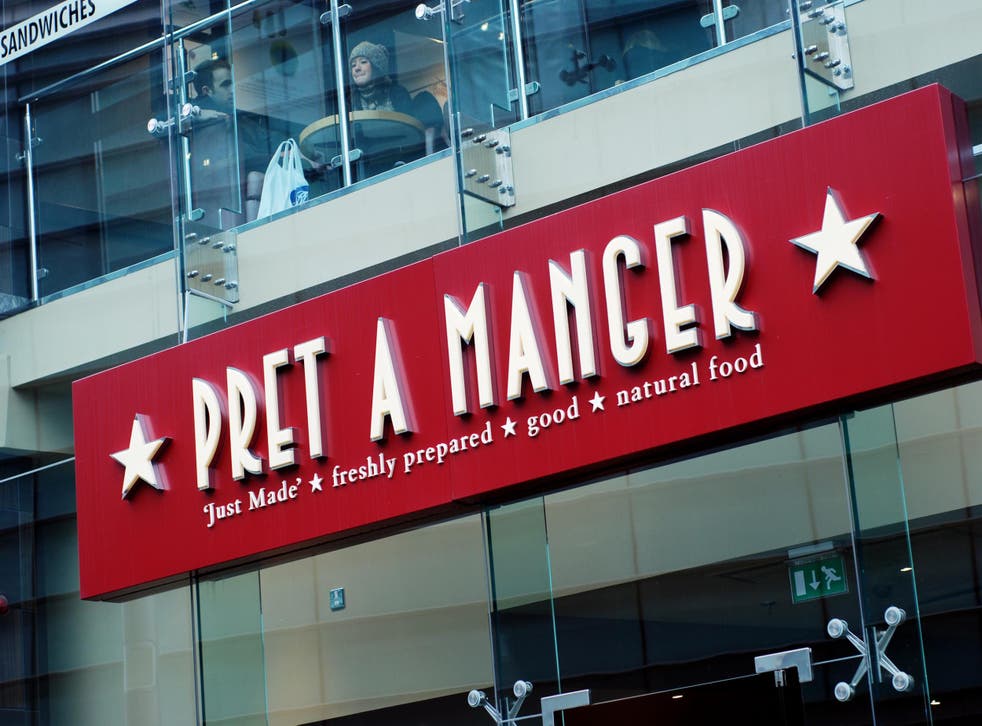 The full list of Pret A Manger stores closing in the UK
Closures include branches in London, Edinburgh and Norwich
Pret a Manger has announced that it will be closing 30 stores across the UK following a steep fall in sales amid the coronavirus outbreak.
On Monday, the sandwich chain said that while it has reopened more than 300 UK shops and established an effective new operating model to protect customers, footfall and sales remain down.
Sales across UK shops are down 74 per cent year on year, Pret said, adding that it is also experiencing a much slower recovery in the UK, in comparison to the other countries it trades in.
As a result, 30 shops across the UK will be closed permanently in the second half of 2020.
The business has also decided to reduce shop teams across its remaining UK shops to reflect the lower levels of demand, putting around 1,000 jobs at risk.
Pano Christou, Pret's chief executive, said: "When the coronavirus crisis hit, we said that our priority was to protect our people, our customers, and of course Pret. We confirmed it was our intention to do everything we could to save jobs.
"Although we were able to do that through the lockdown, thanks in particular to the government's vital support, we cannot defy gravity and continue with the business model we had before the pandemic. That is why we have adapted our business and found new ways to reach our customers."
The company added that a consultation with staff will take place this week, with Christou stating he is "devastated" to be losing so many workers.
"It's a sad day for the whole Pret family, and I'm devastated that we will be losing so many employees. These decisions are not a reflection on anyone's work or commitment .But we must make these changes to succeed in the new retail environment," he said.
Pubs, restaurants, cafes and gyms close across UK

Show all 20
"We will be supporting our leavers to find new positions through a number of initiatives. Our goal now is to bring Pret to more people, through different channels and in new ways so that we can continue to provide great jobs and opportunities to our remaining employees."
Here is the full list of Pret shops that will not reopen:
LONDON
St George University Kiosk
421 Strand
Heathrow Terminal 3 landside
109 Fleet St
Strutton Ground
Centre Point
Warwick Way
Byward Street
Southwark The Cut
41 Piccadilly
Wood St
OUTSIDE LONDON
59 High St Worcester
Albert St Nottingham
Lion Yard Cambridge
Fargate Sheffield
High St Uxbridge
Broad St Reading
High Wycombe
Metrocentre Gateshead
Queensgate Centre Peterborough
Shandwick Place Edinburgh
East Street Chichester
Glasgow Fort Shopping Centre
Gallowtree Gate Leicester
Shrewsbury
Lakeside
Capitol Centre Cardiff
Grainger Street Newcastle
Stratford-upon-Avon
Chapelfield Norwich
Reduced sales have also had an impact on Pret's main charity, the Pret Foundation. To enable the Foundation to continue its important work fighting poverty and helping the homeless, a major fundraising campaign will be launched during the second half of the year, beginning with a digital raffle to raise funds.
Pret is not the only food chain to be impacted by the coronavirus outbreak.
Last week, bosses for Bella Italia, Cafe Rouge and Las Iguanas announced they will not reopen 91 of their 250 restaurants.
A total of 1,909 employees will lose their jobs after bosses had to call in administrators amid the "extreme operating environment" it has faced.
"We are acutely aware of our duty to all employees and recognise that this is an incredibly difficult time for them," said James Spragg, chief executive of the Casual Dining Group.
"Working alongside the administrators we will do everything we can to support them through this process with a view to preserving as much employment as we are able to."
Join our new commenting forum
Join thought-provoking conversations, follow other Independent readers and see their replies