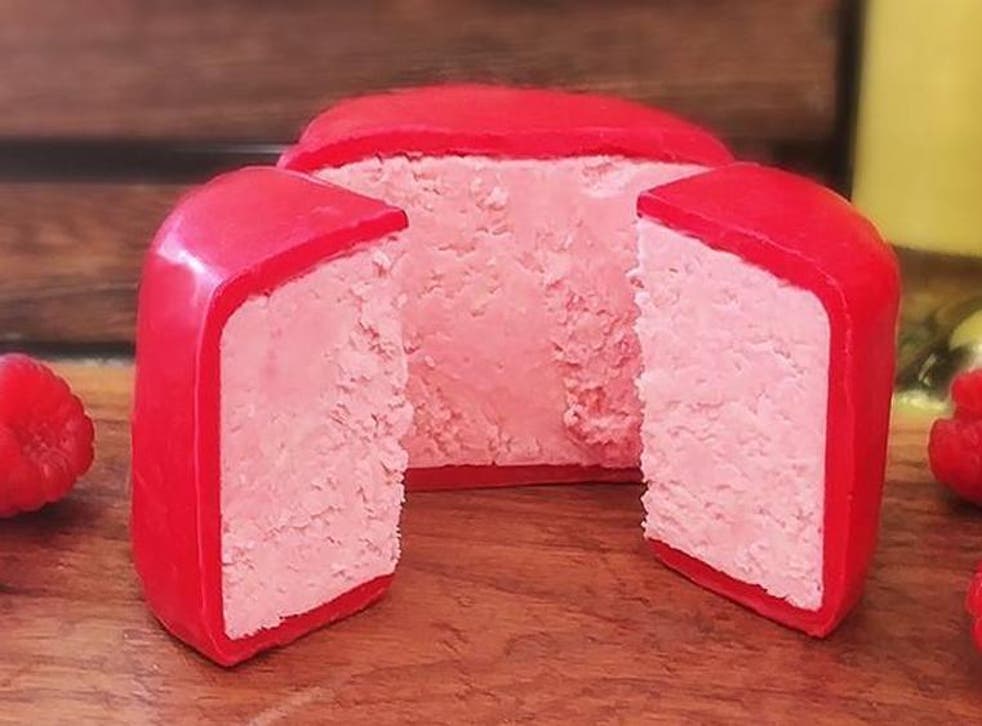 You can now buy Prosecco-flavoured pink cheese
This isn't just any cheese
Olivia Petter
Tuesday 07 November 2017 13:17 Comments
We've officially reached peak millennial pink saturation.
The dusty salmon hue has made its mark in fashion, beauty, interiors and gin.
It was only a matter of time until the shade-du-jour took a swipe at the dairy industry.
As if alcohol-flavoured cheese wasn't enough of a culinary revolution to reckon with, The Great British Cheese Company's latest innovation is fifty shades of fabulous thanks to its blushing interior and eye-popping fuchsia rind.
The prosecco-flavoured Wensleydale wheel is enriched by subtle raspberry undertones, which give the cheese its distinctive hue.
Cranberry and Wensleydale is already a popular cheese and fruit combination, particularly over Christmas, so it's likely that this creation will be an equally big hit at the dinner table this festive season.
Naturally, prosecco, cheese and pink aficionados alike are pretty excited about the culinary offering, which combines all things millennial and/or "basic" depending on how you view the world – and yourself.
"Could there be a more millennial food coupling than prosecco pink cheese? #imhereforit," tweeted one cheese fan.
"Two things I absolutely adore," added another.
However, some are sceptical that these two separate foodie entities – though exceptional in their own right – may not work well as one.
"No. Just no. Cheese should be cheese flavoured! Prosecco tastes just fine from a glass," wrote one vexed Tweeter.
"MAKE IT STOP," added another.
Clearly, it's a controversial issue: but are criticisms misplaced? Are weird combinations the future of food? Or this a foodie's Brexit?
Wherever you stand on the pink prosecco cheese debate – which might just be the most niche contention we've ever had to contemplate – it's best to keep an open mind.
It's only a matter of weeks until we start seeing prosecco-flavoured Turkey breast and millennial pink mince pies on supermarket shelves.
You heard it here first.
Register for free to continue reading
Registration is a free and easy way to support our truly independent journalism
By registering, you will also enjoy limited access to Premium articles, exclusive newsletters, commenting, and virtual events with our leading journalists
Already have an account? sign in
Join our new commenting forum
Join thought-provoking conversations, follow other Independent readers and see their replies