Bite-sized crab cakes
Makes about 18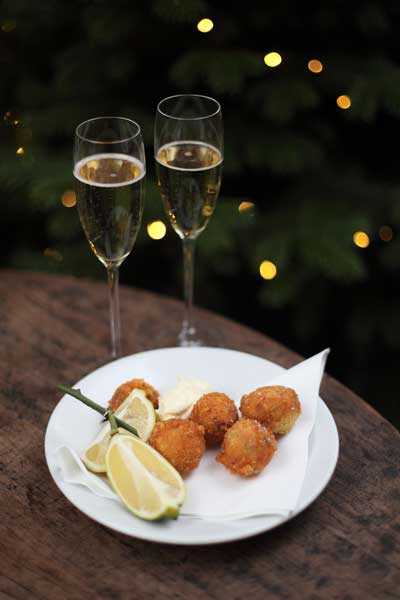 We often put crab cakes on the menu at Petersham – so often, in fact, that we have been known to say in the kitchen that we might as well just run a crab shack, for they are without doubt the most popular dish on the menu. These bite-sized beauties are easy to make and not too much trouble. It is, however, important to use the best-quality white crab meat available.
250g/8oz crab meat
1 red chilli, deseeded and finely chopped
A squeeze or 2 of lemon juice
100ml/31/2 fl oz mayonnaise
250g/8oz fresh white breadcrumbs
A good pinch of sea salt
150ml/5fl oz clean corn oil
Place the crab meat into a bowl, add the chilli and fork through to distribute evenly. Now add the lemon juice and repeat. Finally, add the mayonnaise and stir very well to combine.
Form the mixture into 18 little balls and place on a tray. Chill for 30 minutes to allow the mixture to firm up slightly.
Spread the breadcrumbs evenly on a board and roll the crab cakes in them to coat thoroughly and evenly. Return to the fridge until you're ready to cook them.
Just before eating, pour the oil into a generous-sized saucepan and place over a medium heat. Allow to warm – the ideal temperature in which to deep-fry is 160C-170C/325F-340F; you can test if the oil is ready by dropping a little bread into the oil – if it sizzles and browns, the oil is ready to use.
Now drop in the crab cakes and cook for three to four minutes – turn halfway through the cooking to ensure they are evenly brown all over. Remove from the oil and drain on paper towels. Serve while still piping-hot, though they will retain their heat for some time.
Join our commenting forum
Join thought-provoking conversations, follow other Independent readers and see their replies