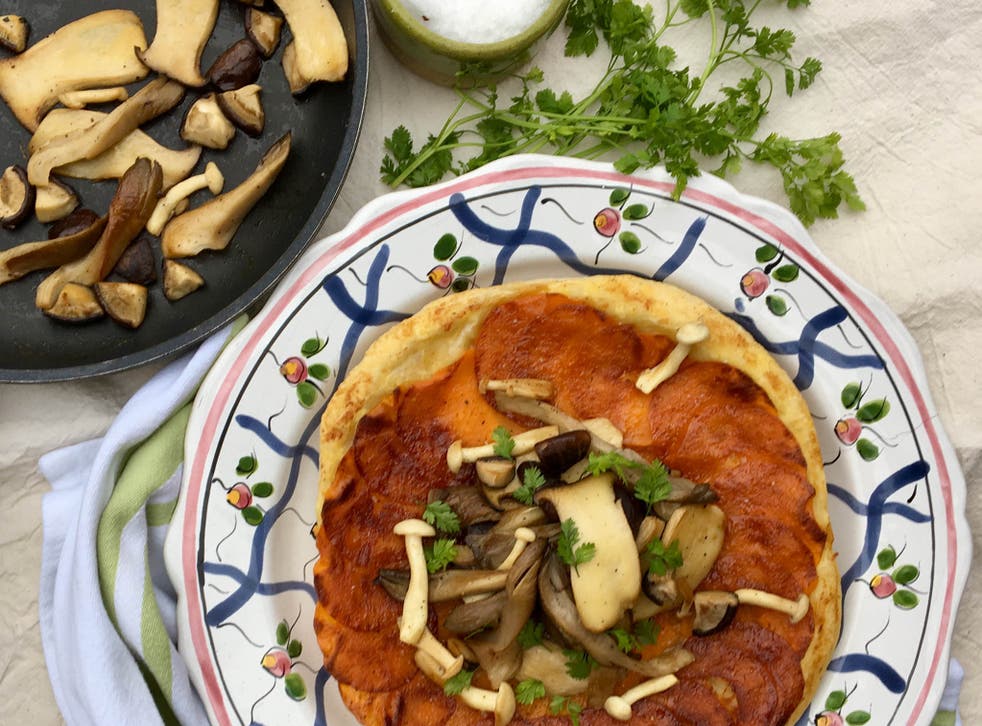 How to make a butternut squash tarte tatin with wild mushrooms
Christmas mains are not always all about the meat (yes, really). So don't go for the goats cheese and roasted pepper stack, try Julia Platt Leonard's root vegetable tart
​It used to be that if you were a vegetarian, there wasn't much to celebrate at Christmas.
It was a decidedly Dickensian, meat-centric holiday with a turkey, fore rib of beef or glazed and clove-studded ham stealing the show.
A vegetarian main – if anyone remembered – tended to be an afterthought.
While guests tucked into a carnivore's dream, you duly poked at your uninspired pasta bake, desert-dry nut loaf, or reheated cauliflower cheese.
Thankfully, that's changed. This butternut squash tarte tatin is an entertaining-friendly option to serve up for vegetarians.
It's simple and elegant, which is just what you want. It might even elbow the meat out of the way. You never know.
Butternut squash tarte tatin with wild mushrooms
Serves 4-6
1 butternut squash
400g mixed wild mushrooms
40g butter
1tbsp maple syrup
1 500g-block puff pastry
chervil or chopped parsley to garnish
salt and pepper
Preheat oven to 220°C.
Melt 25g of butter in a heavy-bottomed, 28cm oven proof frying pan over a medium heat on the hob. Slice the mushrooms if large, but you can keep small ones whole. Saute in the melted butter, in batches if necessary. Season generously with salt and pepper. Take the mushrooms out of the pan and set aside, keeping them warm.
Slice the long neck off of the butternut squash and reserve the round bulbous base for another use. Peel the neck of the squash and slice thinly into discs. This is easiest using a mandolin but you can hand slice as well. Place the frying pan back on the heat and add the remaining 15g of butter and the maple syrup.
When melted and bubbling gently, lay the butternut squash discs in concentric circles, starting at the outside of the pan and working in. Make sure the entire bottom of the pan is covered with butternut squash. Season with salt and pepper and cook over medium heat until the slices are nicely caramelised and cooked through, about 15 minutes.
While the squash is cooking, roll the puff pastry out into a circle that is slight larger than the bottom of the pan. Remove the frying pan from the hob and place the pastry on top of the squash quickly, tucking in the edges so the squash is completely covered by pastry.
Place in the hot oven and cook until the pastry is crisp, flaky and nicely browned. Remove from the oven and place a serving plate over the frying pan. Grip the pan and plate securely with ovenproof gloves and flip it over, so the squash is on top with the pastry below. Season with salt and pepper, top with the warm mushrooms and garnish with the chervil.
@juliapleonard
Join our new commenting forum
Join thought-provoking conversations, follow other Independent readers and see their replies