The Independent's journalism is supported by our readers. When you purchase through links on our site, we may earn commission.
How to make Farmdrop's chickpea, squash and coconut curry
This healthy, vegan midweek meal can be on the table in 30 minutes. Roasting the squash whole makes it much easier to cut afterwards, saving time and effort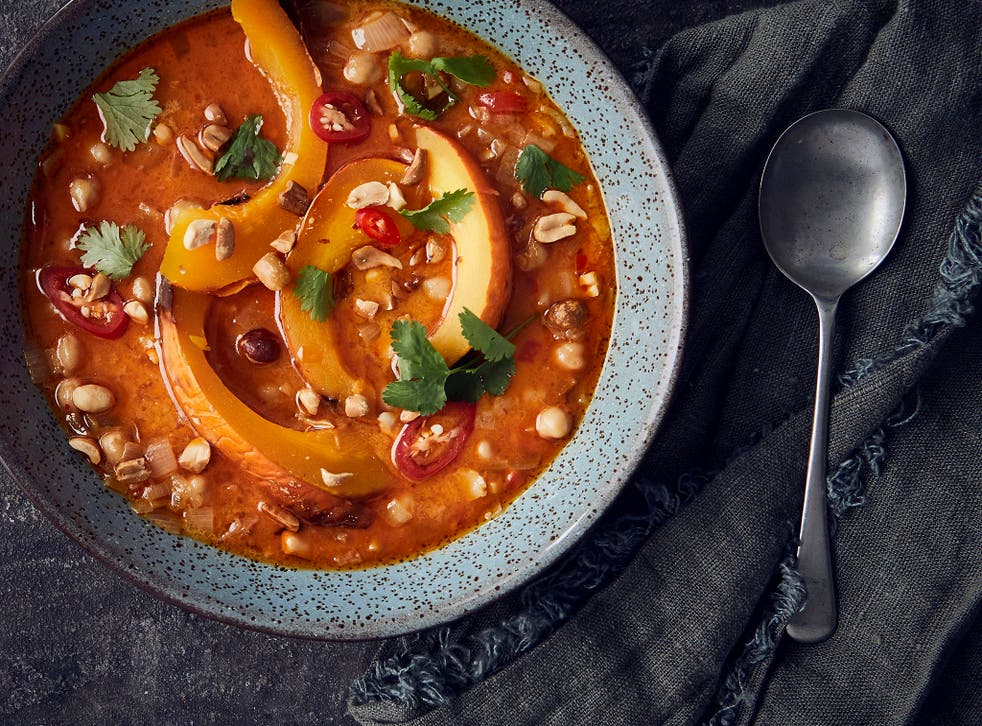 Chickpea, squash and coconut curry
Time: 30 minutes
Serves 4
1 onion squash
2 shallots, chopped
1 red chilli, deseeded and finely chopped
1 inch ginger, peeled and chopped
1 tbsp thai red curry paste
1 tsp salt
1 can of chickpeas, drained
1 can of coconut milk
1 lime, juice
125g peanuts
Preheat the oven to 200C. Place the squash whole onto a baking tray. Bake in the oven for 20-30 minutes, until soft when a knife is poked through.
Put the peanuts onto a baking sheet and roast in the oven until golden, for 5-10 minutes.
Add a glug of oil to a frying pan and fry the shallots, chilli, ginger and garlic until soft.
Add the curry paste, cook for 30 seconds, then add the coconut milk and turn up the heat for a few minutes, to reduce and thicken.
Stir in the chickpeas and season with the salt and lime juice. Transfer to a bowl.
Slice the squash, seasoning each piece. Place on top of the chickpeas, scatter the peanuts and serve.
Recipe from Farmdrop.com
Register for free to continue reading
Registration is a free and easy way to support our truly independent journalism
By registering, you will also enjoy limited access to Premium articles, exclusive newsletters, commenting, and virtual events with our leading journalists
Already have an account? sign in
Register for free to continue reading
Registration is a free and easy way to support our truly independent journalism
By registering, you will also enjoy limited access to Premium articles, exclusive newsletters, commenting, and virtual events with our leading journalists
Already have an account? sign in
Join our new commenting forum
Join thought-provoking conversations, follow other Independent readers and see their replies