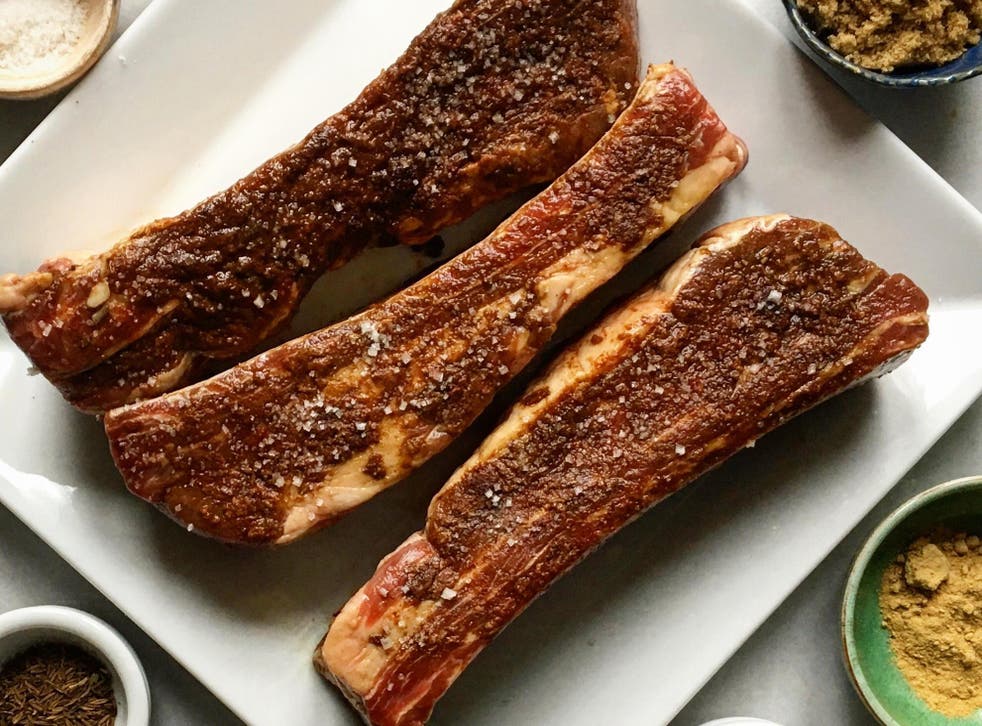 How to make chilli-rubbed beef ribs
Is there anything better in winter (and easier) than slow-cooked, on-the-bone beef? We think not... 
Julia Platt Leonard
Friday 29 December 2017 16:53 Comments
Low and slow is the way to go in the winter. There is nothing more satisfying than coming in out of the cold to a home that is fragrant with something cooking.
And the beauty of slow cooking is that while the actual cooking time may be long, the all-important preparation time doesn't have to be. Slow-cooked meat – like these chilli-rubbed beef ribs – doesn't need constant supervision. In fact, it don't need any supervision at all.
The meat is cooked on the bone, nice and gently until it literally falls off. Serve it with mash or polenta and you've got something hearty to keep winter's chill and hunger at bay. Best of all, they're even better the next day, that is if you've got any leftovers.
Chilli-rubbed beef ribs
Serves 2-3
3 large beef ribs, roughly 450g per rib
1 clove garlic
1 tsp cumin seeds
1 tsp ground ginger
¼ tsp cayenne pepper
1 tsp chipotle chilli powder
1 tbsp brown sugar
Sea salt
Using a mortar and pestle, pound the garlic and cumin seeds together until the seeds are crushed and the garlic is a paste. (If you don't have a mortar and pestle, you can finely chop the garlic and blitz the cumin seeds in a spice mill.) Add in the ginger, cayenne pepper, chipotle chilli and brown sugar and mix.
Rub the marinade into the beef ribs, coating all the surfaces. Wrap each rib snugly in cling film or place in a container with a cover. Refrigerate overnight. Remove from the refrigerator, unwrap and sprinkle each rib with some sea salt.
Preheat oven to 125°C (unless you have a slow cooker). Heat an oven-proof pan on the stove to medium-high heat. Sear each rib on all sides so they are nicely browned. Cover and place in the low oven, or place in a slow cooker. Cook until the meat is tender and falling off the bone – at least three hours.
Pour out the cooking juices, getting rid of the fat and keeping the rest. Remove the meat from the bone and shred into chunks. Serve warm with mashed potatoes or creamy polenta and a drizzle of the juices on top.
@juliapleonard
Register for free to continue reading
Registration is a free and easy way to support our truly independent journalism
By registering, you will also enjoy limited access to Premium articles, exclusive newsletters, commenting, and virtual events with our leading journalists
Already have an account? sign in
Join our new commenting forum
Join thought-provoking conversations, follow other Independent readers and see their replies