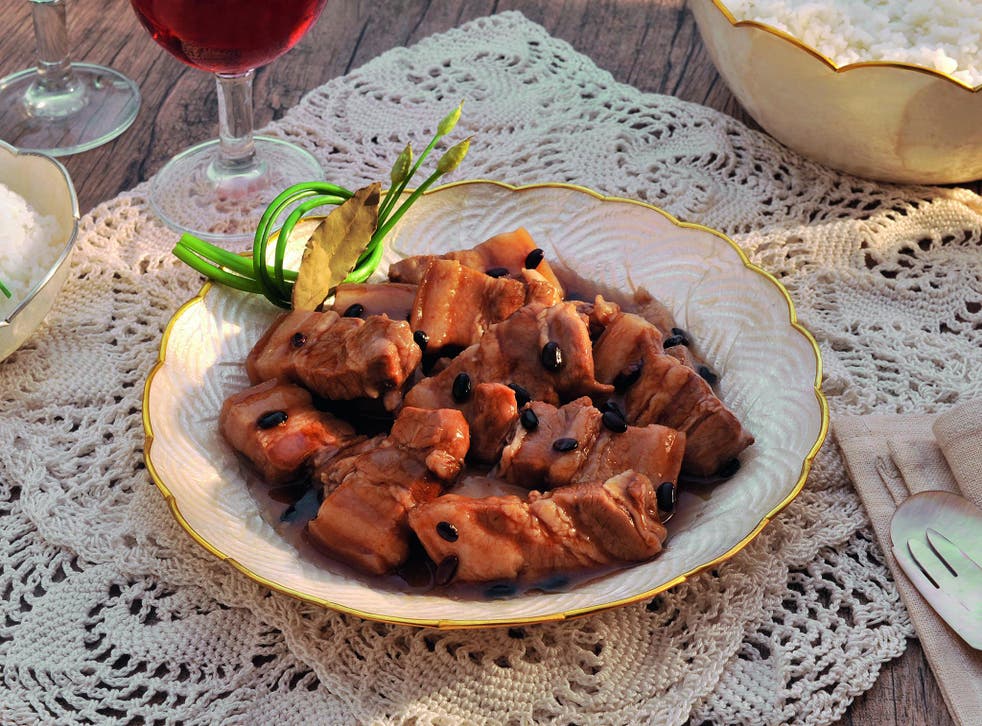 The Filipino Cookbook: Recipes from Sweet soy pork to fried rice noodles
With influences from Chinese and Spanish cooking, Filipino food loves sour flavours, salty meat and creamy coconut. Try Miki Garcia's classic recipes from soy pork to sweet banana and jackfruit rolls
Sweet soy pork with black beans
Once again, the marinade is the key to this delicious pork recipe. This Visayan dish uses marinated pork belly, which has great flavour and texture, but ham hocks or pork neck will also work. The marinated meat is simmered for nearly an hour until all the liquid is gone making the meat melt-in-the-mouth tender. This dish is also called Adobong Visaya or Humba, derived from the Chinese word meaning "red braised meat." Adding the fermented black beans to the sauce brings an additional pungency to the pork.
Serves 4
Preparation time: 15 minutes + overnight marinating time
Cooking time: 1 hour
1 kg pork belly (also called "side pork") or shoulder, cut into serving pieces
3 tablespoons bottled or canned fermented black beans or black bean sauce Marinade
​3 cloves garlic, crushed with the side of knife
125 ml Filipino cane vinegar (or white vinegar or cider vinegar diluted with water, page 13)
100g brown sugar
3 tablespoons soy sauce
1 teaspoon salt
1 teaspoon whole black peppercorns
500 ml water
1 bay leaf
Combine the Marinade ingredients in a mixing bowl. Stir until the sugar is dissolved. Pour the Marinade over the meat. Cover and keep overnight in the refrigerator.
Transfer the meat and marinade to a saucepan and bring to a boil over high heat. Reduce the heat to medium-low and simmer until the meat is tender, for about 50 minutes. Add the black beans and simmer until most of the liquid has evaporated, about 10 minutes. Serve hot with steamed rice.
Pinakbet mixed vegetables with anchovy sauce
In this healthy Ilocano dish, bitter gourd, eggplant, okra and long beans are simmered in a tasty fish sauce—though some Filipinos prefer sauteed shrimp paste as in the photograph above. I have tasted different versions of Pinakbet but no one makes it like the Ilocanos. My Ilocano friends, Vilma and Regina, always make impeccable Pinakbet, so I'm giving their recipe here. Ilocanos discovered long ago that stirring bitter gourd makes it even more bitter. Do not stir the bitter gourd while it is cooking, just let the steam cook the vegetables. If you have some fried pork rinds in your cupboard, use them as a topping.
Serves 4
Preparation time: 10 minutes
Cooking time: 20 minutes
1 small bitter gourd (255g), cut in half lengthwise, deseeded and sliced
One 2-in (5-cm) piece ginger, peeled and sliced
125g long beans or green beans, trimmed and sliced into 2 in (5 cm)
1 onion, chopped
125g fresh or frozen okra, trimmed
1 tomato, diced  
1 Japanese or Italian eggplant or globe eggplant (about 250g), cut in half lengthwise and sliced  
125 ml water
3 tablespoons bottled anchovy sauce or bottled sautéed shrimp paste
75-g bag fried pork rinds (chicharon), crushed (optional)
Food and drink news

Show all 35
Place the bitter gourd in the bottom of a large saucepan, and then add the ginger, long beans, onion, okra, tomato, eggplant and sauteed shrimp paste, if using. Pour the water and anchovy sauce into the saucepan and bring to a boil. Reduce the heat to medium and cover. Leave for 20 minutes or until vegetables are tender and cooked. Do not stir, but instead, shake the pan once or twice. Garnish with the crushed fried pork rinds, if using, and serve hot with steamed rice.
Fried rice noodles
Bihon Guisado When Filipinos think of noodles they think of the ubiquitous Bihon Guisado. Noodles symbolize longevity and good health, so this dish is a must-have on birthdays and special occasions. Chinese egg noodles also work well with this recipe.
Serves 4  
Preparation time: 15 minutes + 10 minutes soaking time
Cooking time: 35 minutes  
225g rice vermicelli  
725 ml water
1 bone-in chicken thigh
½ tablespoon salt
2 tablespoons oil
4 cloves garlic, crushed and minced  
1 onion, thinly sliced
125g fresh shrimp, shelled and deveined
1 carrot, peeled and cut thinly
125 g snow peas, trimmed
1 large stalk celery, thinly sliced
200g thinly sliced cabbage  
1 tablespoon soy sauce
½ teaspoon freshly ground black pepper  
4 calamansi or regular limes, quartered 
Soak the rice vermicelli (bihon) in warm water for 5 minutes, drain and cut into desired length. Set aside. Bring the water to a boil in a large saucepan. Add the chicken and salt and cook over high heat for 5 minutes or until cooked. Remove the chicken from the pan and set the broth aside (do not discard the broth). Tear the meat off the bones using two forks—one to hold the bone in place and one to tear the meat off the bone.
Set the meat aside. Discard the bones. Heat a large skillet over medium heat, add the oil and sauté the garlic until lightly browned. Add the onion and sauté until translucent. Add the shrimp, carrot, snow peas and celery and sauté for 5 minutes. Increase the heat to medium-high, add the cabbage, soy sauce, chicken and pepper, and sauté for 5 minutes.
Add ½ cup of the reserved chicken broth and the drained rice vermicelli and stir-fry for 3-5 minutes. Add more of the reserved broth if rice vermicelli is too dry, stirring frequently. Transfer to a serving plate and serve hot with the calamansi or regular limes.
Sweet banana and jackfruit rolls
Turon Saba Not to be confused with Spanish Turron, which is an almond nougat candy, the Filipino Turon is made by coating sliced bananas and jackfruit pieces with brown sugar, then wrapping them in spring roll wrappers and deep-frying them. The jackfruit slices may be omitted, although they give the banana rolls a juicy and aromatic sweetness.
Makes 20 rolls
​Preparation time: 30 minutes
Cooking time: 20 minutes
100g light brown sugar
10 ripe saba bananas, cut in half lengthwise (or regular bananas, cut in half lengthwise and then crosswise)
5 jackfruit bulbs, fresh, canned or frozen, thinly sliced into strips (optional)
One 500g package of frozen 8-in (20-cm) spring roll wrappers (about 20 sheets), thawed
1 tablespoon water
500 ml oil for deep-frying
Place the light brown sugar on a plate. Roll each banana piece in the sugar to coat it evenly. Place a coated banana segment and a slice or two of jackfruit (if using) in the center of a spring roll wrapper. Roll the bottom edge of the wrapper up and over the fruit and tuck it snugly around the fruit. Fold both ends in and continue rolling up the wrapper, then seal the edge with a little water and some of the sugar. Do the same with the rest of the fruit and the wrappers.
Heat the oil in a saucepan or wok over high heat. Use a wooden chopstick or skewer to check if the oil is hot enough. When it's hot enough, bubbles will form all around the stick. (Or use a deep-fryer thermometer to read the temperature, which should be between 350° and 375°F or 175° to 190°C when ready). Reduce the heat to medium once it reaches the desired temperature to avoid burning the oil.
Deep-fry two or three banana rolls at a time until golden and crispy. Do not overcrowd the pan. Sprinkle some sugar on top and serve hot.
The Filipino Cookbook: 85 Homestyle Recipes to Delight Your Family and Friends By Miki Garcia (Published by Tuttle Publishing, £11.99) Photography by Luca Invernizzi Tettoni​
Join our new commenting forum
Join thought-provoking conversations, follow other Independent readers and see their replies