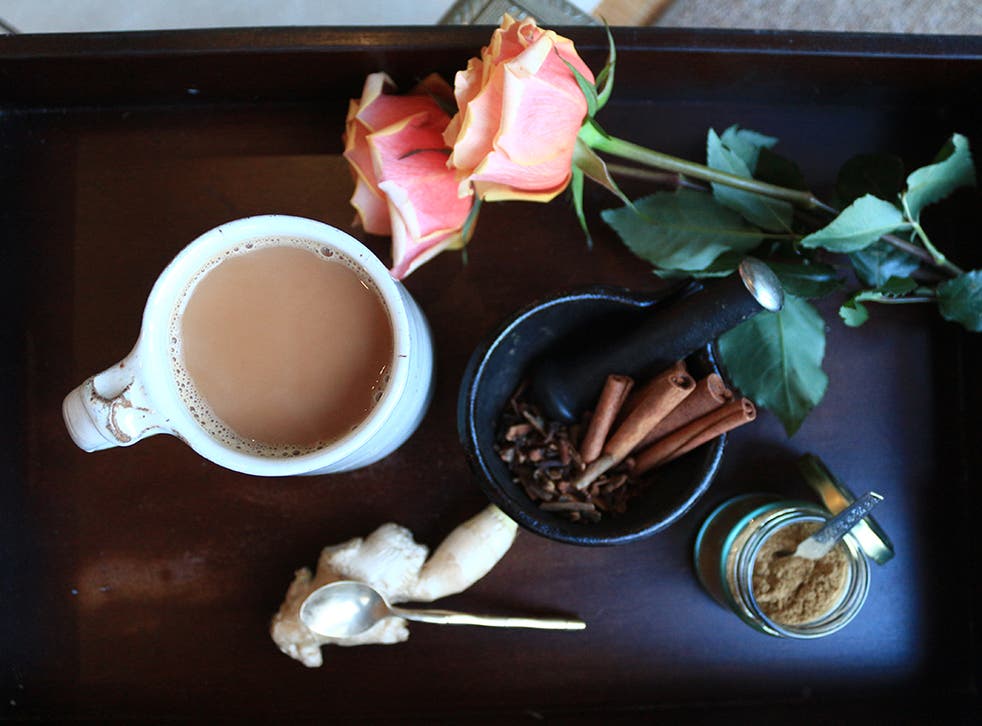 Forget the calorie-laden cafe versions, here's a homemade Chai Tea Latte recipe
Chai latte is a much a loved, very sweet drink offered in all the main coffee shop chains. The real version is less sweet, and more spicy - perfect for the cold weather
In winter, there's nothing more comforting than sipping a hot drink sitting at home on the sofa, and there's nothing as warming, nutritious and delicious as masala chai, with grated ginger and a pinch of the masala mix enlivening the throat and heating and healing all that is cold and tight inside our bodies.
Many Christmas drinks available from shops and cafes, as festively sweet as they taste, are swimming in sugar and laden with calories. Your 'just a cup of coffee' is so deceitful and probably contains more than a person's daily recommended sugar intake in one medium-sized portion. So it turns out your festive drink is not in the slightest bit guilt-free, and in many cases the skinny version contains more sugar.
Making the mixture of masalas at home means that you can keep a small jar in your bag and add a pinch whenever you're having a cup of tea - or indeed a coffee. And if you're making it at home, boil it with almond milk in a pan, a teaspoon of black tea, add a touch of grated ginger, and then sweeten with a little agave or honey. You can also make masala chai with grated ginger alone, if you haven't made the masala mix yet - add a few cardamom pods while you're boiling the tea to give it that extra flavour.
This concoction of yumminess will become a new addiction, both festive and herbal, sweet yet nutritious, incredibly warming while awakening the senses. It literally does taste like home in a cup.
Chai latte is a much a loved, often very sweet drink offered in all the main coffee shop chains. And yet, most Indians who are used to drinking real chai at home don't like this sweeter and much less spicy and less potent concoction of tea. Indian tea is somewhere between orange and brown, is very milky, has a heady mixture of spices which vary from one house to another, from one state in India to another, but is always intensely sweet and of course piping hot.
To make a healthy tea bursting with richness and flavour, with strong aromas and goodness, we've come up with this recipe of spices, which you can blend together and make a powder and keep it ready to add to your cup of tea at any time of day. You only need a pinch of it and your tea will be instantly transformed.
Ingredients
100g ground ginger
100g cinnamon powder
100g ground cardamom
50g ground pepper
1 tablespoon clove powder
1 tablespoon ground nutmeg
Method
To make a loving Indian masala chai, pour half a mug of water and half a mug of almond milk into a pan, add quarter of a teaspoon, or even less, of chai masala, a teaspoon or a teabag of black tea and then grate some ginger into the mixture while it boils. Strain the tea and add a touch of Agave or honey to sweeten. The ginger warms the throat and the almond milk gives the tea that extra texture and flavour.
For more recipes from Mira Manek or her debut cookbook visit http://www.miramanek.com/
Join our new commenting forum
Join thought-provoking conversations, follow other Independent readers and see their replies