How to make Rosa's Thai Cafe prawn pad thai
This is one of the most popular Thai noodle dishes, and mastering the recipe is all about getting the right balance of tamarind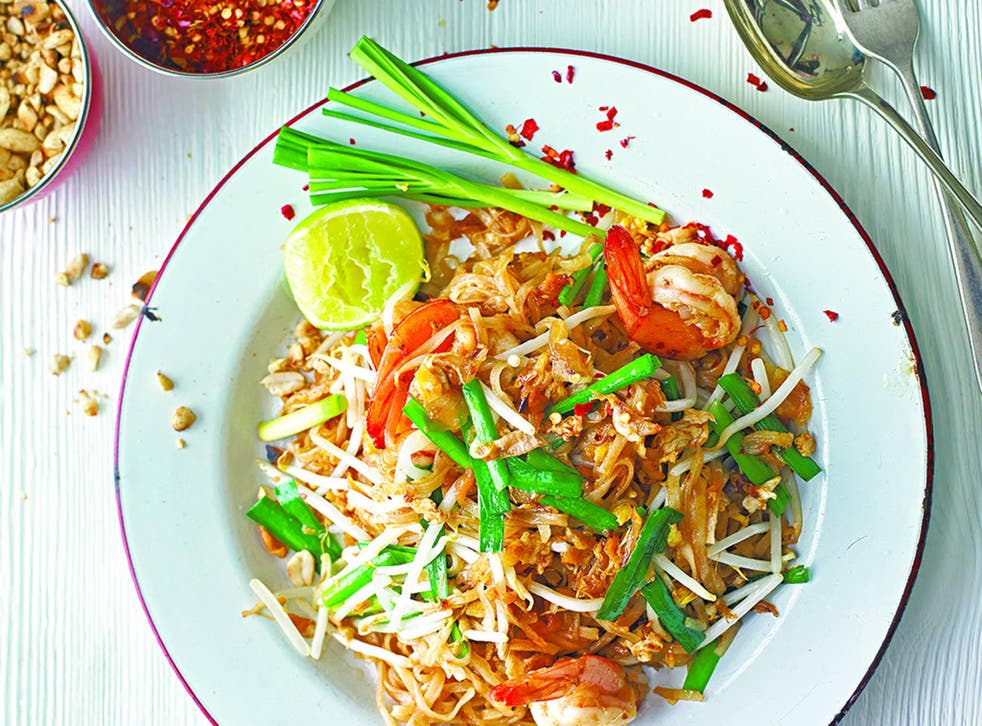 Rosa's Thai Cafe prawn pad thai
Serves 2
4 eggs, beaten
​300g rice noodles, soaked in warm water for 20 minutes, then drained
8-10 prawns, shelled, deveined and heads removed
2 tbsp dried turnip (available from Asian supermarkets)
2 handfuls of bean sprouts
Chilli powder, to taste (optional)
Bunch of Chinese chives or 2 spring onions, chopped
4 tbsp roasted peanuts, crushed
Lime wedges, to serve
For the pad thai sauce
3 tbsp tamarind pulp
3 tbsp vegetable oil
3 shallots, chopped
2 tbsp palm sugar
1 tbsp nam pla (Thai fish sauce)
First make the pad thai sauce. Soak the tamarind pulp in 6 tablespoons of warm water, then stir until it becomes a thick liquid. Heat 2 tablespoons of the oil in a wok, add the shallots and stir-fry until almost golden brown. Carefully add the tamarind (in case it spits) and cook for 1 minute to reduce slightly.
Add the palm sugar, stirring to break it up, then stir in the fish sauce and continue to cook over a high heat for 1 minute until it has thickened slightly. Transfer the pad thai sauce to a bowl and set aside. This recipe makes enough sauce for about 4 servings, so store any leftover pad thai sauce in an airtight container and use within 4 weeks.
Now prepare the noodles. Scramble the beaten eggs in a hot wok with the remaining oil, then add the noodles and stir-fry until the egg breaks up and the noodles are soft. Add the prawns and dried turnip and stir-fry until the prawns are nearly cooked. Mix in 8 tablespoons of the reserved pad thai sauce and continue to stir-fry until the noodles take on a nice golden-brown colour. Add the bean sprouts, chilli powder (if using), Chinese chives and crushed peanuts and keep stir-frying for another 2 minutes. Transfer the noodles to 2 serving plates and serve immediately with lime wedges.
Recipe from Rosa's Thai Cafe: The Cookbook. The West Hampstead branch opened in May
Register for free to continue reading
Registration is a free and easy way to support our truly independent journalism
By registering, you will also enjoy limited access to Premium articles, exclusive newsletters, commenting, and virtual events with our leading journalists
Already have an account? sign in
Register for free to continue reading
Registration is a free and easy way to support our truly independent journalism
By registering, you will also enjoy limited access to Premium articles, exclusive newsletters, commenting, and virtual events with our leading journalists
Already have an account? sign in
Join our new commenting forum
Join thought-provoking conversations, follow other Independent readers and see their replies