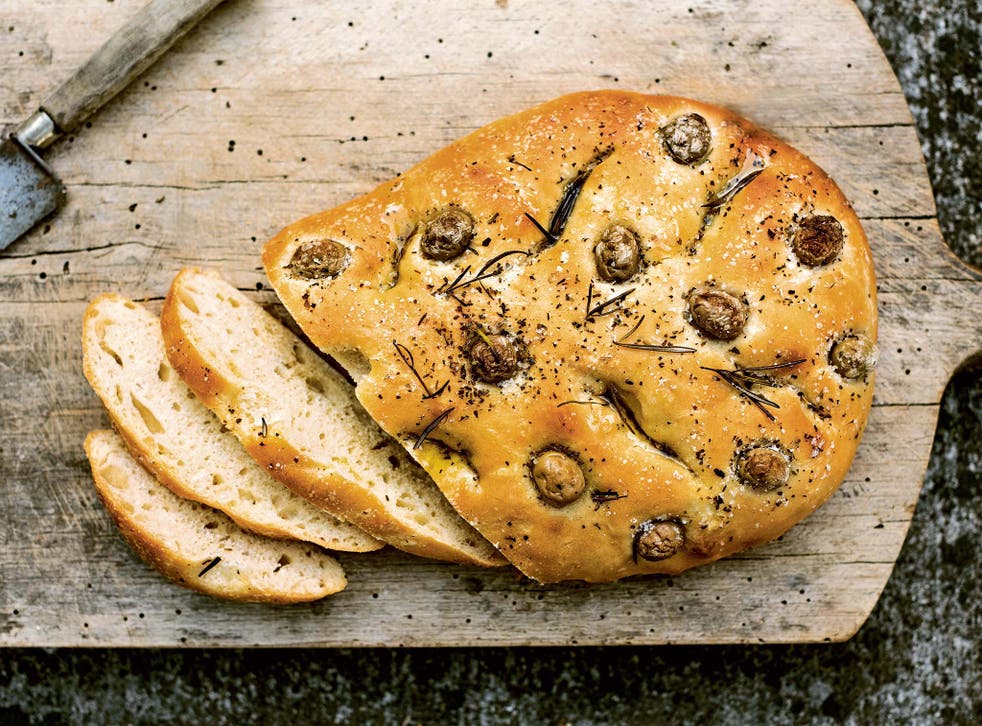 'Provence' cookbook: Recipes from aubergine gratin to tomates provençales
Olive and rosemary fougasse
Many traditional Provençal recipes, such as this one for fougasse, a bread enriched with olive oil, say to use eau de source, untreated water from a local spring. I once took joy in following such instructions to the letter, dutifully cycling to a parcel we call Canebiers and collecting water from the source there to see if it made a difference. I cannot be sure if it did but I enjoyed the whimsy.
Like a Pompe à l'huile or Couronne des Rois, fougasse is one for the weekend, for the kind of day you fancy spending at home baking something. If I've been invited round somewhere for supper and I have the time, I love to bring one of these for the apéro. Sun-dried or halved cherry tomatoes, thyme or even cooked lardons and grated cheese make nice alternative toppings.
Serves 4
For the starter
20g fresh yeast (or 7g dried yeast)
1tsp sugar
50g strong white bread flour
50ml tepid water
For the fougasse
300g strong white bread flour, plus extra for dusting
125ml tepid water
⅔tsp salt
50ml olive oil, plus extra for drizzling
Handful of unpitted green or black olives
3 sprigs of rosemary
1-2tsp salt flakes
1tbsp oregano
First, activate the yeast: mix the starter ingredients together in a bowl (crumble the fresh yeast, if using), then cover with cling film. Set aside on the counter for an hour, until the dough has increased in size and bubbles are visible on its surface. Your starter is ready.
Begin the fougasse: sift the flour into a mixing bowl, add the tepid water, prepared starter, salt and olive oil. Mix well, then cover and set aside for 5 minutes. Transfer the dough to a clean, dry, lightly floured surface and begin to knead. Knead for 15 minutes until a stretchy, springy dough has formed, then shape into a ball and place back in the mixing bowl. Cover the bowl with cling film and place in a warm, draught-free spot to rise.
Once the dough has doubled in size, usually after 2-3 hours depending on the ambient temperature, knock back and knead once more briefly. Sprinkle flour over a baking tray and sit the dough on it. Roll into an oval shape, 2cm thick, then slice diagonal slits through the dough in a wheat pattern. Enlarge the holes using your fingers. Cover the fougasse with cling film or a damp tea towel and leave to rise again in a warm place for 1-2 hours. Towards the end of this prove, preheat the oven to 240C.
Remove the cling film or tea towel and lightly press olives into the surface of the dough. Pick the rosemary leaves off the sprigs and again lightly press into the dough. Sprinkle over the salt flakes, oregano and a little drizzle of olive oil.
Bake the fougasse for 15-20 minutes. It will not go darker than a pale golden brown, but check it is cooked by tapping the base and listening for a hollow sound. Fougasse is best eaten within two days.
Tata Edmee's aubergine gratin
Tata Edmee's aubergine gratin is one of the rare recipes we consider worth the discomfort of turning on the oven in the height of summer. This absolutely delicious vegetarian main course uses relatively few ingredients in reality, so is worth making with organic aubergines if within the household budget.
If I am really going to town on a meal for friends, I would serve this with a roasted leg of lamb. The aubergines and tomato sauce can be pre-cooked the day before and the gratin assembled just before going into the oven. The final bake brings out the overall sweetness of the dish.
Serves 6
2kg aubergines
3-4tsp salt
1 quantity sauce tomate (see below)
1 litre groundnut oil
80g parmesan, grated
Begin by preparing the aubergines a few hours before you wish to make your gratin. Slice off the stalks and peel the aubergines entirely. Cut lengthways in whole pieces 2cm thick. Place the slices in a colander over a mixing bowl and sprinkle with a good few teaspoons of salt, tossing with your hands to coat evenly. Set aside for a few hours to draw the moisture out of the aubergines. Any discolouration is of no consequence as they are going to be deep-fried later.
While the aubergines are salting, prepare the tomato sauce (recipe below).
After a few hours, once the aubergines have given off quite a few tablespoons of liquid, fill a wide saute or casserole pan with 2cm-3cm of groundnut oil. Place over a medium-high heat and position a plate nearby, covered with a few layers of kitchen paper. After 5-10 minutes, once the oil is hot, pick up an aubergine slice, brush off any excess salt, give it a final squeeze over the sink to remove any further moisture, then carefully lower using tongs into the hot oil.
Repeat until you have filled but not overcrowded the pan: there should only be one layer of aubergines cooking at a time. Turn your aubergine slices after a minute or two, then, once golden brown all over, remove from the pan, one by one, using tongs or a slotted spoon and place on the plate of kitchen paper. Repeat these steps until you have cooked all the aubergine slices.
The gratin can now be assembled: preheat the oven to 200C. Taking a lasagne or large pie dish, spoon a layer of tomato sauce over the base of the pan, then cover with a layer of aubergines, followed by a generous sprinkle of parmesan. Repeat until you have used up all the aubergines, finishing with a layer of tomato sauce and a generous final sprinkling of parmesan.
Bake for 45 minutes, then serve.
Sauce tomate
The easy all-purpose tomato sauce I use in gratins, and on pizzas when I have run out of coulis.
Serves 4
4tbsp olive oil
1tbsp butter
1 onion, finely chopped
1.5 kg tomatoes
2-3 garlic cloves, finely chopped
½tsp dried thyme
½tsp dried chilli flakes
500ml passata​
Salt and freshly ground black pepper
Add half the olive oil and all of the butter to a heavy-bottomed saucepan set over a medium-low heat. Add the onion and soften, stirring frequently, for 15 minutes. Meanwhile, place the tomatoes in a heatproof bowl and cover with boiling water.
After a minute or two, drain the water, peel off the tomato skins, roughly chop and set aside. After the onions have been cooking for 15 minutes, add the garlic to the pan along with the thyme and chilli flakes. Stir for a minute or two to soften but not brown, then add the tomatoes and turn up the heat a touch. Crush the tomatoes in the pan a little and add plenty of salt and black pepper and the remaining olive oil, then cover with a lid. Fast simmer for 10 minutes to break down the tomatoes into a sauce, then pour in the passata.
Uncover and continue to simmer for 25 minutes, or until you are happy with the consistency.
Tomates provençales
Delicious warm or at room temperature, my preferred way of eating these is very simple – on a slice of toasted sourdough bread, spread with goat's cheese if I have some. Cooking tomates provençales is straightforward, but as with all tomato dishes, salt is the most important ingredient: it should be added liberally as it unlocks their flavour.
Serves 4
10 medium tomatoes
3 garlic cloves, crushed
3 big pinches of sea salt flakes
2 pinches of freshly ground black pepper
20 basil leaves
1-2tbsp breadcrumbs
3-4tbsp olive oil
Preheat the oven to 220C and slice the tomatoes in half along their equator. Place the halves, cut-side up, on a baking tray. Distribute the garlic between the tomatoes, tucking it in so it doesn't sit on the surface.
Sprinkle over plenty of salt and black pepper, followed by the basil leaves and breadcrumbs. Finish with a generous drizzle of olive oil, then bake in the oven for 30-35 minutes, until the tomatoes are oozing and beautiful.
'Provence' by Caroline Rimbert Craig is published by Kyle Books, £22. Photography by Susan Bell
Register for free to continue reading
Registration is a free and easy way to support our truly independent journalism
By registering, you will also enjoy limited access to Premium articles, exclusive newsletters, commenting, and virtual events with our leading journalists
Already have an account? sign in
Join our new commenting forum
Join thought-provoking conversations, follow other Independent readers and see their replies