How to make skillet pork chop with peaches and sage
Sweet pork chops are complemented by juicy peaches and aromatic sage for a simple yet beautiful dish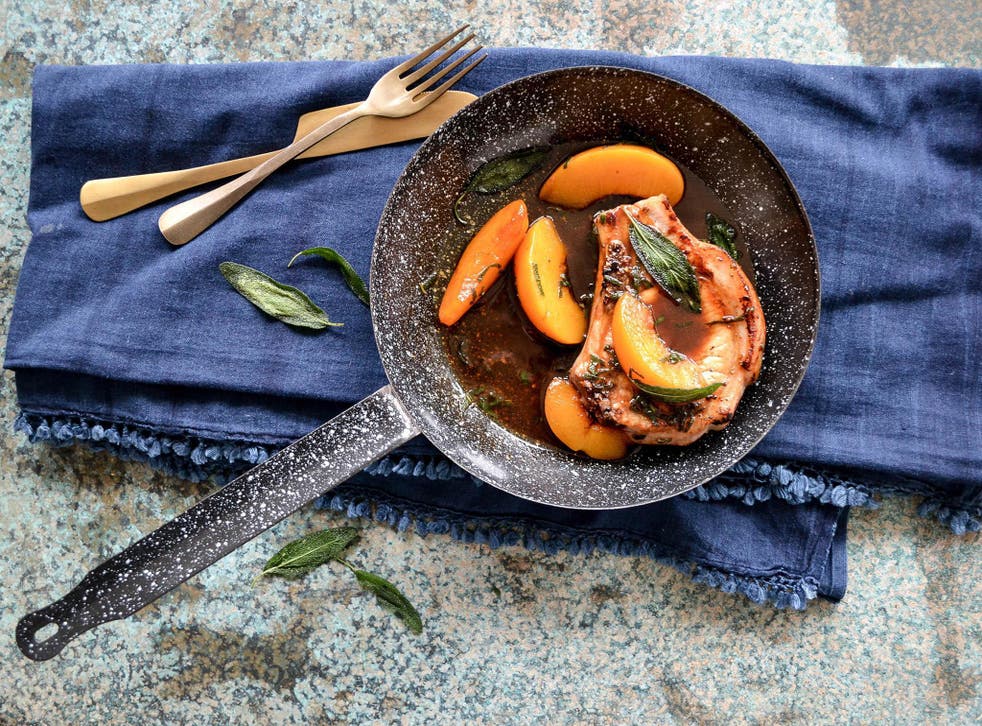 Skillet pork chop with peaches and sage
Serves 2
1 pot or tin peach slices (400g)
2 pork chops, on the bone
1 tbsp honey
1 tbsp balsamic vinegar
½ bunch fresh sage
Salt and pepper
Drain the peaches, retaining the juice. Set the slices aside.
Season the pork chops with salt and pepper on both sides. Add a little olive oil to a frying pan over a medium heat. Use tongs to hold the chops lengthways fat side down for a couple minutes, until the fat is rendered and crisp.
Lay the chops on one side and allow to cook for four minutes. Do not move them around – leaving them stationary will allow the pork to caramelise. Flip them over a cook for 3-4 minutes on the second side. Once cooked, remove from the pan and place on a sheet of foil. Fold the foil over the top and leave the chops to rest for a few minutes.
Take half of the sage leaves and add to the pan. Allow them to crisp up in the residual fat, then transfer to kitchen paper.
Pour the peach juice, honey and balsamic straight into the pan and swill, allowing the liquid to catch the residue from the base of the pan. Chop the remaining sage and add to the sauce.
Add the peach slices and return the pork to the pan, along with any resting juices in the foil. Taste the sauce and season with salt and pepper as needed.
Recipe by Lucy Burton, Pudding Lane blog, for Nature's Finest (naturesfinestfoods.co.uk)
Register for free to continue reading
Registration is a free and easy way to support our truly independent journalism
By registering, you will also enjoy limited access to Premium articles, exclusive newsletters, commenting, and virtual events with our leading journalists
Already have an account? sign in
Register for free to continue reading
Registration is a free and easy way to support our truly independent journalism
By registering, you will also enjoy limited access to Premium articles, exclusive newsletters, commenting, and virtual events with our leading journalists
Already have an account? sign in
Join our new commenting forum
Join thought-provoking conversations, follow other Independent readers and see their replies