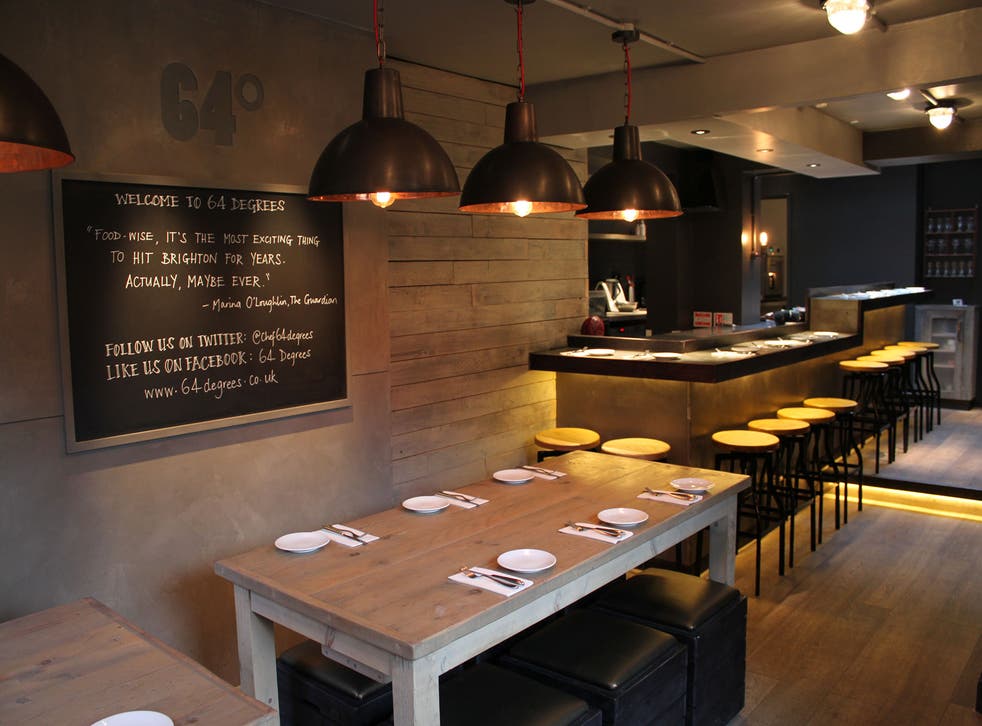 64 Degrees, restaurant review: Small plates, big ideas at Michael Bremner's Brighton venture
64 Degrees, 53 Meeting House Lane, Brighton Tel: 01273 770 115
I'm thinking of rebranding my kitchen table. The wonky Bargain Corner number will be replaced with a counter at which guests (my husband and teenage children) can sit and watch me make their dinner. It won't include putting a microherb garnish on top of a cumin-infused cube of monkfish, but apart from that…
Visible chefs have been with us for an age, of course, but with the grumbling about Chiltern Firehouse's kitchen-facing counter (is it the hot seat or social Siberia?) and speculation about the Duchess of Cambridge's two kitchens, chefs' tables are back on the, er, table.
Anyway. At 64 Degrees in Brighton, chef/owner Michael Bremner's team is at the centre, as the kitchen is a large percentage of the space. It's a sliver of a place, open since October, tucked away in the Lanes and as different as can be from the tourist traps and discount-beer man-caves around it.
That's not to say it's entirely comfortable. You can either perch on a stool at the counter, or on a wooden cube at one of the four small, rough-wood tables. Then there's the music, which is L-O-U-D. This might suit chef and the Brighton blowhards – many of whom are in this Tuesday night, bellowing about property deals and wearing sunglasses indoors – but I'm finding it difficult to concentrate.
The four-meat, four-fish, four-veg menu doesn't take long to read, to be fair. 64 Degrees wants to showcase the quality of its produce and the technical skill of its small team with its sharing-plate menu. We order six dishes, two from each section, to do just that.
First up, an amuse-bouche – a chicken heart in a potato spiral case with pomegranates. This sets a rather thrilling tone: the food here will be brave. Next, scallops with miso, lemon grass and land cress, which is splendid: plumped, burnished beauties slicked with an intense, savoury gloss. Sea bream with samphire, granola and parsley is no oil painting (someone describes it on Instagram as looking like a squashed chameleon) but it's full of flavour – muted samphire adds tang and an earthy granola with crushed pumpkin and sunflower seeds balances but doesn't nuke the fish.
We move on to veg. Firm asparagus with some moussey hollandaise and crushed hazelnuts is a bit scrappy, but I like this addition of nuts hither and thither. Then a "house egg, cucumber, goat's cheese", which, according to my notes, is "bogging". It is the least successful dish – I suppose the kitchen wanted to showcase how to deep-fry cucumber chunks (why?) and the slow-cooked egg is no worse than any other I've had of this slimy flavour-of-the-month, but there's a troubling oily/watery dampness to the plate.
A sidenote: we've had the same cutlery and plates throughout. And when Mr M placed his plate on a finished dish, the waitress carefully took it off and put back on the table, with its now-dirty base. This lackadaisical approach should be fixed, assuming it's not a one-off.
Yet all is redeemed by "meat". Out come very tender, faintly Asian discs of pork with crushed walnuts, pickled and baby carrots and sweet, smooth sweetcorn purée; walnut crumbs add texture. It looks adorable, all pastel shades, and is harmonious to eat, a chef's fine balancing act to allow the pork's delicate flavour through the bells and whistles.
Then comes the show stopper.
"Short rib, Yukon, shallot, greens". The brevity of the name is a sin. It's beef that has been lovingly attended to over many hours, mash that elevates the potato to hero status, an almost caramelised giant of a shallot with its sting softened by earlier braising, perhaps, and a tangle of shredded cabbage. The last of this is a tad dull, but it does suit the meat-and-two-vegness. I could have eaten just the scallops (£9.25) and this (£12.50) and been utterly satisfied.
A dotty "textures of chocolate" thing follows. There's a cup of hot chocolate with parfait wodge inside, a plate with crunchier crumbles, a dark-choc truffle cube and wobbly white-choc quenelle – all scintillating if you're eating sugar (I'm not). Mr M nibbles some of the nubbins but that's all.
Small plates, big ideas. Not all work, but the journey through 64 Degree's imagination is not unlike walking round the Lanes – worth it to discover some treasures. Stop press: just heard Bremner will open a second restaurant in London later this year…
8/10
64 Degrees, 53 Meeting House Lane, Brighton Tel: 01273 770 115. £80 for two, with drinks
Four more foodie notes from the week
MeatLiquor
New-menu tasting at burger paradise (tough job!). Terrific spicy lamb chops, bourbon onion snacks, boozy trifle and lots more.
Grange St Paul's
The IoS held a party at this venue and the canapés – sushi, wontons and more – were fantastic (not always true of hotel snacks).
Hawksmoor
It's not cheap, but the steak at the newest (Knightsbridge) branch is worth it. Plus, a generous, delicious crab salad.
Diana Henry
Devouring her new book, A Change of Appetite, full of summer inspiration – healthy definitely doesn't mean worthy.
Join our new commenting forum
Join thought-provoking conversations, follow other Independent readers and see their replies