Black Axe Mangal, restaurant review: 'Haute kebab' joint rocks in every way
156 Canonbury Road, London N1. No reservations. £50 for two, with drinks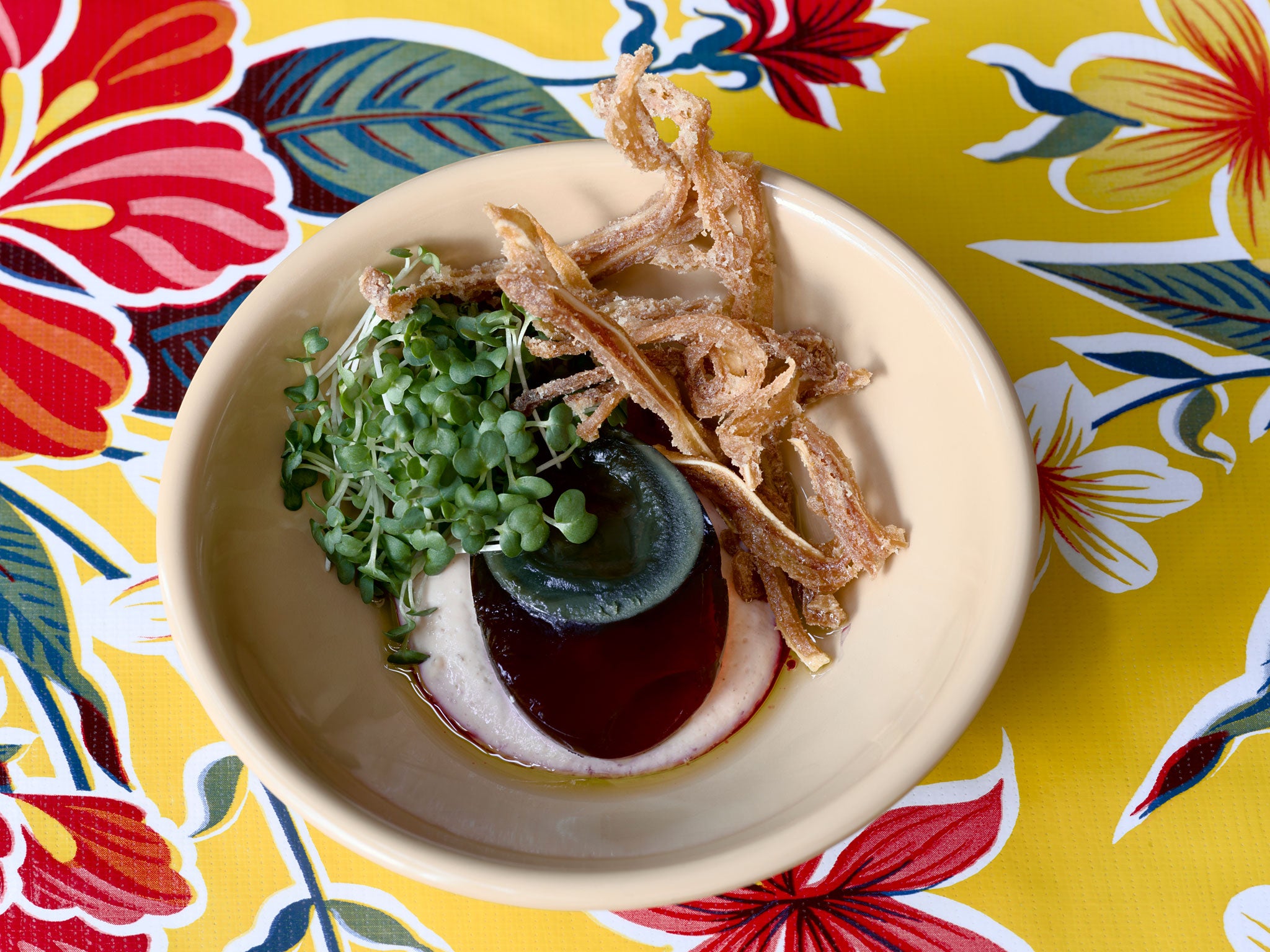 Let's start at the end. When I unwrap my lunch at work – the leftovers from the night-before's dinner at Black Axe Mangal – there are actual sighs of envy. I have to fight off one colleague with a plastic fork. And if a cold kebab and some scruffy lamb and lentils can do that, just imagine how good it was to start with…
I dragged my heels a bit about BAM – a kebab joint in Islington that has the carnivores gibbering with longing. I'm kinda over the meatfest that has proliferated in the restaurant scene, added to which, it's the usual "meet you there at 6pm to avoid the queue" shenanigans, which is impossible if you a) are hungry at usual times, b) have teenagers, and/or c) have a job across town.
But four of us do attempt it on a Thursday night. At 7pm it's full, but they take my phone number and we have a drink in the lovely Canonbury pub round the corner before getting called back after 40 minutes. A quality less-than-an-hour restaurant? We'll see.
The tiny rectangular room is enormous fun, and we linger, unhassled, for ages. As you'd expect for such a rawk name, screaming skulls and heavy-metal adornments are evident on the Kiss-painted oven, and on the skateboards that take the place of artwork on otherwise-plain walls. There are garish (in a good way) Mexican-style wipe-clean cloths on the tiny, hugger-mugger tables. It seats 20, tops.
The chef is Lee Tiernan, who's spent time slaving not over a grill at a takeaway but at the rather more mannered St John Bread and Wine restaurant, and the quality and refinement he brings is all over the menu. It's short, imaginative and – oh joy – not only about meat. There are three flatbreads, three sides and five mains: of these, the Dexter Mission Chinese Deepthroater and a falafel are the only even vaguely familiar offers (if what you're expecting is an haute version of what – let's say – my 19-year-old brings home from the shady Woody Grill near our house).
There's a squash flatbread, a mussels, scallop and chilli dish, plus century egg and anchovy (pictured above), if you're feeling brave. My courage starts and finishes with a lamb offal flatbread (£6). Usual trick: just tell the teens it's lamb and see what happens. What happens is I have to stop them from eating it or there won't be enough for me. A red plastic basket lined with foil holds a pillowy charred bread with heaps of finely sliced livery bits, softened onion, a whack of chilli and a tahini-infused mayonnaise. Deeply, adorably memorable.
Then two glorious veggie dishes: kale with cauliflower and pickled lemon (£3.50) and charred hispi cabbage with fermented shrimp butter (£4). The former is zingy and all mine (kale, still a tough sell unless you read women's magazines, eh?); the latter, a crunchy, smoky, gorgeous ensemble that shows Tiernan's pedigree. He may be working the wood-fired oven clad in a black bandana and looking a tad clammy, but the results are perfectly on point. (Not easy when 20 people are yammering at top volume over the Kerrangathon soundtrack and practically drumming their feet for more food.)
The main events – once we've slaked our thirst with hibiscus and Turkish fruit sodas (and "red" from the minimal wine list of "red or white") – are, predictably, terrific. Thoughts of swearing off meat disappear as I start on the Bakken Special, £14, a deceptively muddy-looking bowl of lentils, grilled and slow-cooked lamb (achingly tender) with more cabbage and trad pickles. Flecks of smoky, dried chilli send the tastebud graph soaring.
Miss T's falafel is more refined than it looks – there's crunch and creaminess, sure, but also distinct flavours and more of that heavenly bread, all skewered with tiny plastic swords to hold the peppers in place.
The classic kebab – sorry, call me prudish and old-fashioned but I just don't love the name Deepthroater – is a tiny bit chewy and not tender enough for my liking, but then I don't often do kebabs, so maybe that's what it's all about (a prod through the unwrapped doner the next day reveal a medley of cuts that explains the differing textures). But there's no doubting the deft seasoning, with warming cumin and fiery Sichuan peppers. You get plenty of bang for your £15 buck, with lashings of that mayo and crunchy salad too.
Audacious is the first word I thought of for Black Axe Mangal. It's a little place with huge ideas and it's so, so worth the wait (especially, traditionally, in the pub).
8/10
Black Axe Mangal, 156 Canonbury Road, London N1. No reservations. £50 for two, with drinks
Four more foodie notes from the past week
Lina Stores
Not usually a fan of panettone, but the one from this classic Italian deli, complete with creamy pistachio inside, won me over.
Zelman Meats
Tip-top taste and great-value roast beef with all the trimmings at the new Soho endeavour from the Goodman/Beast stable.
Meaty love
Mail-ordering like a boss: this Christmas we'll be gorging on the "hamper" from cured-meat specialists Cannon & Cannon.
Caffeine
An attempt to cut down on the jitters by using the M&S "All Day" quarter-caff ground coffee. Working well so far…
Join our commenting forum
Join thought-provoking conversations, follow other Independent readers and see their replies