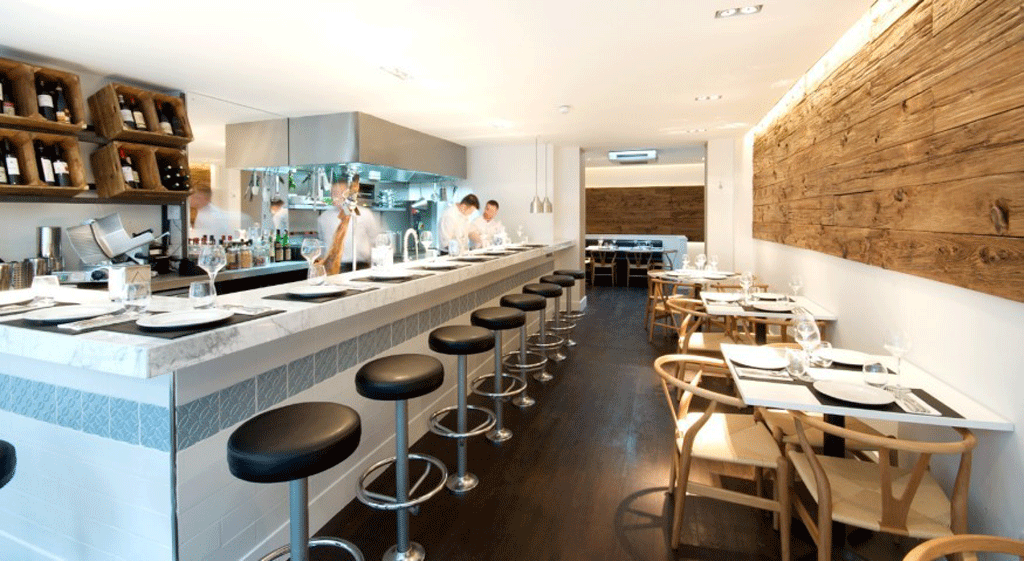 Donostia, 10 Seymour Place, London W1
As holidaymakers know, Donostia is the Basque name for San Sebastian, the lovely, sun-drenched municipality on the north coast of Spain that's capital of the Basque country. Tourists spill into it every year to, um, bask in the Bay of Biscay, to drink txakoli and nibble pungent snacks in the tiny bars of the Parte Vieja (or 'Old Part of Town') or sample the classier cuisine of the Michelin-starred Arzak restaurant.
It's the former eating experience that the owners of Donostia are keen to promote in this small but lively addition to the eateries of London's groovy Seymour Place. There's a no-frills, canteen look about the place: a long white train carriage of a room, minimally designed with a stark rectangle of untreated wood as a nod to rustic authenticity.
Diners can perch on stools to eat at the counter area which lines the kitchen, or sit at tables that hug the wall. It's a bit cramped and noisy, but you can forgive that. Less forgiveable is the fact that the tables are slightly too high and too wide, so that dinner companions have to lean across the table and shout at each other. "It means that women have to rest their bosoms on the table," said my friend Julia. "It makes it sort of mandatory."
There were, in fact, few women in when we got there at 9.20pm. The place was packed with macho-looking gents wearing loafers and no socks, sitting up straight at the counter. From where we were seated, we had a ringside view of hips and thighs. It's quite possible they were Spanish. Although the inhabitants of San Sebastian call themselves 'Donostiarras' (tiaras, indeed), it's a macho kinda city. On San Sebastian Day, most of the male population marches around town dressed as cooks and soldiers, before feasting in sociedades gastronomicas, or gourmet clubs which, until recently, excluded women.
Happily, a lady called Melody, one of the co-owners, was around to introduce us to the wonders of Basque food and drink. She urged us to try Agerre Txakoli, a light Basque prosecco, poured from a great height into a beaker and drunk while still frothing. It seemed to me tasteless and pointless, like drinking Alka-Seltzer with no prospect of curing a headache. A picoteo (tiny plate) of chorizo, flattened and cross-hatched until miraculously soft, and served with oil and watercress, was better. Of the five pintxos (snacks), the octopus in Basque marinade stood out for its bonsai mosaic of chives and red pepper dusted with paprika, and served in crusty bread saturated with olive oil. Tempura prawns interspersed teeny slices of Bayonne ham between prawn and batter and soothed the resulting saltiness with cubes of mango.
The head chef here is Tomasz Baranski, who used to run the kitchens at Barrafina and Fino, both tapas temples owned by Sam and Eddie Hart, so he knows Spanish cooking inside out. He was sent to San Sebastian on a long working trip, poor chap, to sharpen his Basque expertise. His pil-pil dish is already well-known to foodies: cod cheeks, poached until the gelatin oozes out, then re-poached with added herbs and chilli. It was stunning. Those cheeks were so plump and amplitudinous and richly flavoured that you didn't mind the gelatinous goo in which they slithered.
Julia's roast pigeon was cooked perfectly and carved in hearty chunks – such a blessing not to have to wrestle with tiny, flying-rat limbs. The chunks came with peas and yummy pancetta. Needing a side dish, we ordered a classic tortilla. It is, of course, no more than a potato omelette, but it has to be done with care. The waiter set it down reverentially before us, like a very thick communion wafer. I was expecting something eggy and yellow, rather than the lattice-brown thing before me. I cut into it and watched a slick of brown juice running out – they'd cooked the onions in the dish for so long that they'd caramelised. It was very tasty, once you'd got used to the shock of eating an omelette that leaks brown blood. (Perhaps I should mention that San Sebastian will welcome film enthusiasts to a Horror and Fantasy Festival this October.)
Among the puddings, the chocolate mousse drew loud praise from Julia ("One of the best I've had in my life") and was indeed wonderful, light but dripping with sin, with extra ribbons of orange peel and mint. My figs with hazelnuts were a disappointment, the figs overstewed and watery, though the crème Chantilly was a delight. With a £25 bottle of 2007 Rioja, we felt very well fed on a succession of dishes that were small but vivid, constructed and cooked with focus and love. For a modest-looking place, this colony of Basque cuisine already punches well above its weight.
Donostia, 10 Seymour Place, London W1 (020-3620 1845)
Around £90 for two, with wine
Food ***
Ambience **
Service ***
Tipping policy: 'Service charge 12 per cent discretionary. All tips and service charge go to staff'
Side orders: Tip-top tapas
Williams & Brown Tapas
The seafood dishes are the speciality here – try the chargrillled sardine fillets a la plancha (£7.95).
48 Harbour St, Whitstable, Kent (01227 273373)
El Gato Negro
Morcillo Scotch eggs (£7.50) are among the imaginative dishes on offer at this popular and award-winning restaurant.
Oldham Road, Ripponden, Sowerby Bridge, West Yorkshire (01422 823070)
Picasso Restaurant and Tapas Bar
This homely and family-run restaurant has an extensive menu of authentic dishes – a plate of large king prawns cooked in a garlic and olive oil sauce costs £13.
6 Bridge Street, Caversham, Reading, Berkshire (0118 948 4141)
Join our new commenting forum
Join thought-provoking conversations, follow other Independent readers and see their replies