Fall hook, line and sinker for this Cornish restaurant that entertains the kids and serves fish to rival Rick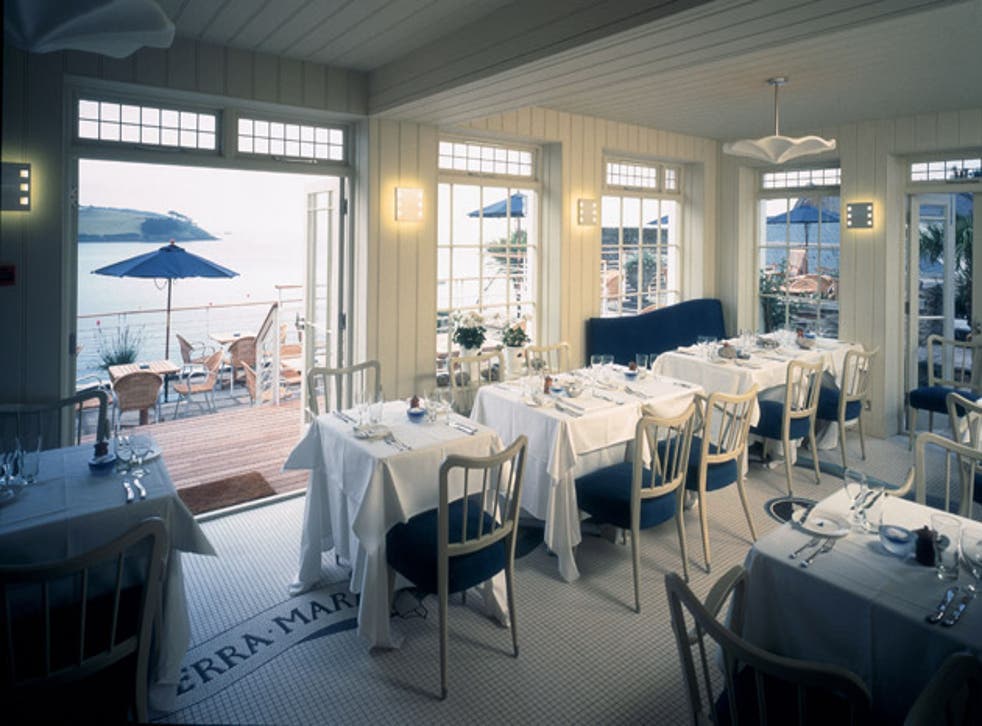 Twelve years ago, when Olga Polizzi opened Hotel Tresanton in St Mawes, Cornwall was something of a backwater, known for pasties, ice-cream, pony trekking... and not much else. The only people who came here on holiday were those who couldn't afford to go to Wales.
Today, all that has changed – and it is in no small part due to Polizzi. The daughter of Lord Forte, she rediscovered Cornwall, making bucket-and-spade holidays acceptable again for the chattering classes. Tresanton was the county's first upmarket boutique hotel and dozens have sprung up since. Cornwall's south coast, with its pretty fishing villages and mild climate, can now stake a claim to being the English Riviera. St Mawes itself has become ground zero for trendy, metropolitan families seeking eco-friendly second homes. Tresanton is so fashionable, it once turned down a request from Tony and Cherie Blair for a room.
The hotel is situated on the tip of the Roseland Peninsula, and as you lounge on the terrace, it is hard to imagine a more idyllic spot. To the left, dozens of sailboats bob about in the harbour; dead ahead is the picturesque St Anthony Head; and to the right is the open sea. It is almost like being on the deck of an ocean liner – an impression confirmed during my visit by a brief torrential downpour bracketed on either side by perfect sunshine.
The hotel owes much of its success to the restaurant. "When it opened, there was nowhere else like this," says Charlie Peyton, Polizzi's daughter and one of Tresanton's directors. "We still offer the best fish and chips on Cornwall's coast."
No doubt Rick Stein would dispute this, having transformed Padstow into a culinary Mecca, but the head chef at Tresanton is more than capable of giving him a run for his money. Paul Wadham used to work for restaurateur Oliver Peyton, Charlie's husband, and arrived at Tresanton after stints at the Atlantic, Mash and Isola. His speciality is the local seafood and the menu changes according to the day's catch. The meat is also sourced locally, as are the vegetables, wherever possible.
I am here for lunch, with my wife and four young children. I'm slightly dreading having to entertain the kids for the next two hours, but Charlie Peyton immediately leads them off to a play-room and we don't see them again until their food is on the table. For my starter, I opt for lobster linguini, while Caroline has a buffalo mozzarella and tomato salad with basil; for my main, I have sea bass and monkfish, accompanied by crab cakes, scallops, spinach and asparagus, while Caroline has gnocchi with green beans, capers, basil, pine nuts and olive oil. Everything is excellent, but the locally caught lobster and scallops deserve special mention. Wadham has perfected the art of straightforward cooking, letting the ingredients speak for themselves. We decide on fish and chips for the kids and, apart from having to ask for ketchup to be brought out, they have no complaints. My daughter is so anxious to get back to the play-room that she leaves half her fish and I tuck in, anxious to put Charlie's claim to the test. It doesn't disappoint. Even cold, the batter is crispy and the hake succulent and flavourful.
I finish with an exquisite combination of burnt English custard and raspberries. It's little wonder that this restaurant is as popular with locals as with hotel guests.
The only thing people complain about at Tresanton are the prices. By London standards, the restaurant is reasonable, but in Cornwall, where people are used to a two-course pub lunch for less than £10, it's on the expensive side. My set three-course lunch is £35, while Caroline's two courses are £26.50. The children's meals, including ice-cream for pudding, are £9 each. With wine and tip, the bill comes to £142.45, which isn't bad given six people emerged with full stomachs and happy faces.
Perhaps the most impressive thing here is the attention to detail. Everything is just so, from the white linen tablecloths to the sun-bleached wooden chairs. "As the owner, Olga is very involved," says Frederica Bertolini, the manageress. "In fact, she was on the phone five minutes ago, checking how many lobsters have been ordered for the Bank Holiday." It's that perfectionism that is responsible for this Cornish gem.
Tresanton has many imitators and will no doubt have many more. But I doubt any will come close to the original.
18/20
Scores: 1-9 stay home and cook, 10-11 needs help, 12 ok, 13 pleasant enough, 14 good, 15 very good, 16 capable of greatness, 17 special, can't wait to go back, 18 highly honourable, 19 unique and memorable, 20 as good as it gets
Hotel Tresanton, St Mawes, Cornwall, tel: 01326 270 055. Lunch and dinner daily; £140 for two adults and four children, including wine and service
Second helpings: More fantastic fish
Scott's
20 Mount St, London W1, tel: 020 7495 7309
The great aura of this Mayfair magnet for the A-list is in part due to its super-glamorous style; it also offers exemplary fish and seafood dishes and very polished service
Riddle & Finns
12b Meeting House Lane, Brighton, tel: 01273 323 008
A tantalising display of seafood tempts you in to this indulgent fish and seafood bar in the Lanes, where the food is fresh and fantastic, and service is charming
The Cellar
24 East Green, Anstruther, Fife, tel: 01333 310 378
Superlative cooking of fish straight from the sea. It also offers a very good wine list; the setting – a cave-like room near the harbour – is very unusual, too
Reviews extracted from 'Harden's London and UK Restaurant Guides 2009'
Register for free to continue reading
Registration is a free and easy way to support our truly independent journalism
By registering, you will also enjoy limited access to Premium articles, exclusive newsletters, commenting, and virtual events with our leading journalists
Already have an account? sign in
Register for free to continue reading
Registration is a free and easy way to support our truly independent journalism
By registering, you will also enjoy limited access to Premium articles, exclusive newsletters, commenting, and virtual events with our leading journalists
Already have an account? sign in
Join our new commenting forum
Join thought-provoking conversations, follow other Independent readers and see their replies