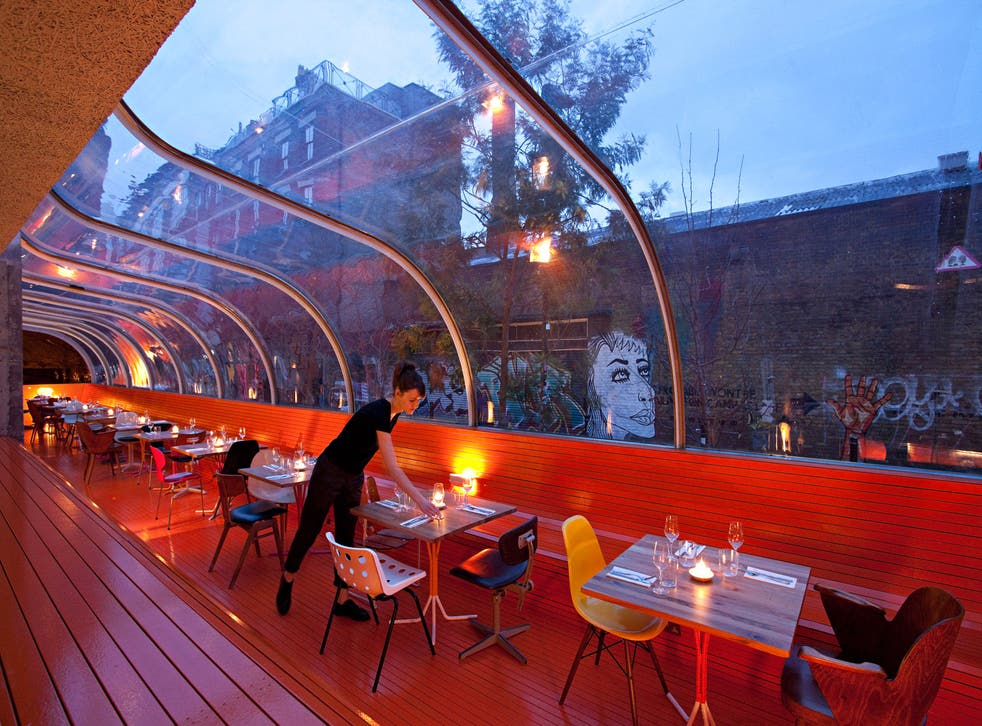 Jago, restaurant review: 'The Middle Eastern menu is as dazzling as the spaceship design'
68-80 Hanbury Street, London E1, Tel: 020 3818 3241
Six months ago, when Jago launched as a buzzy new restaurant, reviews focused on the surroundings. You know – décor, architecture, setting, that sort of thing. Which is fair enough, because Jago is a luminescent orange spaceship.
It landed on Earth just off Brick Lane – part of what we still call the East End – its shining, curved-glass exterior offering shelter to the creative and commercially minded humans who occupy this area now that no actual Londoners, with their pesky ancestral ties to the land and sense of belonging, can afford to live round here.
Yes, everyone has written about the spaceship side of things – the design courtesy of the Spanish architects SelgasCano – observing that it is an adjunct to Second Home, a hub for entrepreneurs and digital wunderkinds set up by Rohan Silva (formerly an adviser at No 10).
But having spent three paragraphs giving you this necessary detail, I must tell you that there is something even more remarkable than the visual allure of the spaceship – and that is the food served within. So, half a year on, let's focus on that.
The style is Ashkenazi, in homage to the Jewish heritage of this part of town. Louis Solley was previously head chef at Ottolenghi in Notting Hill, making him part of the Jewish food revolution that has taken London by storm (Honey & Co, The Palomar).
Aside from specific recipes and ingredients, one of the signatures of this kind of cooking – especially the great Yotam Ottolenghi's – is the removal of water content from fruits and vegetables, to intensify their flavour. That's what Jewish food gives you: strong, hearty, comforting flavours.
And it's there in every dish. Sweet-pickled Guindilla chillies (£3) are hot without being fiery, small without being tiny, and pack a powerful punch. Cured lomo (Spanish for pork tenderloin, £8.50) is dense and muscular, the tender side of tough, and gives a marbled, fatty glory to every mouthful. It is salty, too, though not as salty as a ferocious set of Calabrian anchovies.
The mighty anchovy is a much- maligned and misunderstood thing. Because a lot of chefs use them effectively as a substitute for salt, frying them before tossing them through green and crunchy salads, for instance, or throwing them over a pizza, the sheer succulent delicacy of these tiny creatures can be overlooked. Cut into strips and preserved in salt, they are offered here as a pungent, oily, salty indulgence (£8), and if there is a better small plate of fish in London right now, I want to know about it.
Also on an excellent list of starters are smoked Marcona almonds, which are shorter, fatter, softer and sweeter than more common versions, and surprisingly filling for £3.
Most of the dishes come with a single powerful herb in the mix. The girolles on toast have tarragon and white wine (£8); the fresh borlotti beans, with their wonderful softness, come with tomato, olive oil and a sprig of really fresh thyme, more imaginative than basil (£9.50); and the asparagus with capers and egg arrives with a waft of fragrant dill, its aniseed flavour coursing through the dish like an injection.
In the meat selection, the trick is repeated. So you have excellent grilled 'nduja (spicy sausage, £7.50) on toast, with thyme and honey (honey and pig: always a winner); a juicy roast poussin with cardamom, oregano and bread salad (£14.50); and pork chop and roast lamb dishes (the former with butter beans, the latter with peas and broad beans, each £16) that come with lashings of marjoram.
Among the desserts, we try an excellent gooseberry (the berry of the moment, with a sour tartness all of its own), frangipane and macadamia tart (£7); and a chocolate tart with sea salt and crème fraîche (£6). The chocolate is pretty dark – but not so dark as to be bitter with the salt on top.
There will come a point, probably not in my lifetime, when our species can get this quality of grub on a manned craft headed for Mars. Until that happens, this is the best spaceship food you will find anywhere on Earth right now.
8.5/10
Jago, 68-80 Hanbury Street, London E1, Tel: 020 3818 3241. £60 for two, without wine
Four more things I've been eating this week
Sabra
The best hummus brand available in supermarkets, bar none. Creamier than the rest – and basically unbeatable.
Masseria Valente
We were in Italy for a wedding at this 18th-century olive grove. The oil produced there is the fruitiest I've ever tasted.
Cornetti con crema
In Ostuni, in southern Italy, I had these incredible DIY croissants, served with custard on the side.
Avocado
I am obsessed at the moment. Either in smoothies with spinach, or on rye bread with a poached egg.