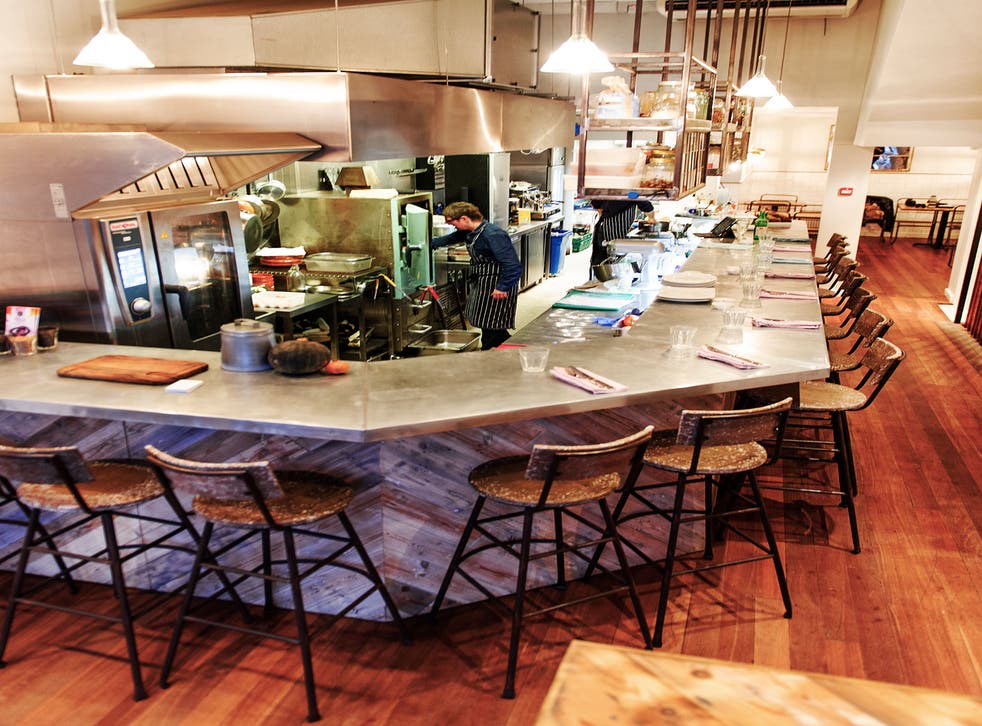 John Doe, restaurant review: Game cooking and risk-taking in the middle of Golborne Road
46 Golborne Road, London W10 (020-8969 3280)
John Doe is, of course, the American version of Joe Bloggs, a name for Mr Ordinary, or for a faceless person. In medical circles, it's the name given to a corpse or a hospital patient whose identity hasn't been established. Not terribly glamorous, is it? It suggests the owners of this new west London restaurant are striving for anonymity – that's until you realise that the 'Doe' in the name refers to their USP of cooking game.
What they offer, the menu explains, is 'wild British produce, cooked over wood and charcoal'. Run your eye down the list and it's crammed with venison, 'roe doe steak' and ditto burger, duck leg, duck heart, partridge – lots of things that chaps shoot in the countryside and other chaps sell at farmers' markets because you won't find them in Waitrose. It's splendid to find such gastronomic rus in urbe food bang in the middle of nouveau-groovy Golborne Road.
The Golborne has for ages been a rather hotchpotch milieu full of geezerish London barrow-boys, elderly posh seamstresses selling vintage-lace bridal gowns, deracinated Moroccan souk vendors spreading their wares across the pavement, Turkish hookah-smokers sitting outside cafés at intersections, shooting the breeze and devouring those delicious Portuguese custard tarts. Since Stella McCartney established her atelier there, however – a socking great grey shrine the size of a Mormon tabernacle – and the cool Pizza East phenomenon made the journey here from Shoreditch, middle-class foodies have moved in. John Doe has arrived at a good time.
The smell hits you as you come through the door – charcoal and woodsmoke, a heavenly combination, redolent of autumn evenings and barbecues. They emanate from a fantastic wood-fired oven with BERTHA emblazoned across the front, a pale turquoise monster where most of the food is cooked.
A dozen people sit on stools at the bar surrounding Bertha, like a circle of hungry courtiers, while the back room offers just four tables. The décor is local-café-meets-municipal-baths, with functional white tiles and nondescript wood flooring, but that autumnal pong casts a welcoming sensory blanket over everything. "Sometimes," said our lovely Estonian waitress Angela, "I think I go home smelling like a bonfire."
Grilled octopus with chickpeas was a pleasing starter, the octopus sliced in roundels and grilled on kebab sticks (you could tell by the holes), its smoky-rubbery texture countered by the chickpea crunchiness and anointed with a garlicky scribble of homemade aioli. Ash-roasted leeks had been charcoaled within inches of their lives, burnt on the outside, startlingly sweet and rocked with a vivid dressing of capers, lentils and tarragon.
I had to try the 'beer butt partridge' because of the name. It's an effortfully bizarre dish, in which the partridge arrives with a small tonic-water can of beer rammed up its arse (you get to choose the beer beforehand) so that the hoppy flavours percolate the carcase. I'm not sure I could detect tidal waves of the Wild Raven beer in the meat itself, but it was succulent and tasty, and the reduction pleasingly dense. Less interesting was the accompaniment of macaroni cheese which, though made with Stinking Bishop and far superior to nursery mac'n'cheese, had nothing to say to the game bird. A helping of cavolo nero with kale and bacon bits was welcome – but what were the three constituents doing together? It was, we were told, "a classic Deep South dish – we cooked it at the Meatopia festival in Manhattan last year". So it's got a transatlantic reputation while still being a bit of a puzzle. And, to my delight, I found a tiny sphere of gunshot in the meat – a solid guarantee of game-bird authenticity.
Angie's lemon sole was rather dismal to look at – the inoffensive white fish looking flattened by an avalanche of beans. But it was delicious, because the cannellini beans were cooked with tiny shrimps and parsley and suited each other like the Holy Trinity, while the fish itself had been cooked with the lightest of touches.
The selection of puddings was perfunctory, consisting of rice pud with rhubarb (off-putting), Valrhona chocolate terrine with pistachio cream (nice enough if you fancy eating a solid slab of chocolate) and a cheese plate (three slices, one of which was more Stinking Bishop, with apple and pear chutney) but they did a delicious Muscat wine to make up for it.
There's a real charm about John Doe, from the chatter at the bar to the faux- anxiety of the owners, Paul Fox and Mark Blatchford, at seeing a critic with a spiral notepad at a table, and a beguiling air of experimentation in the dishes and regulated chaos at the pass. But I think they're on to a winner with their game cooking and risk-taking. There's nothing anonymous about this John Doe. I'll be back for more.
Food ***
Ambience ***
Service ****
46 Golborne Road, London W10 (020-8969 3280). About £30 a head, before wine and service
Register for free to continue reading
Registration is a free and easy way to support our truly independent journalism
By registering, you will also enjoy limited access to Premium articles, exclusive newsletters, commenting, and virtual events with our leading journalists
Already have an account? sign in
Register for free to continue reading
Registration is a free and easy way to support our truly independent journalism
By registering, you will also enjoy limited access to Premium articles, exclusive newsletters, commenting, and virtual events with our leading journalists
Already have an account? sign in
Join our new commenting forum
Join thought-provoking conversations, follow other Independent readers and see their replies