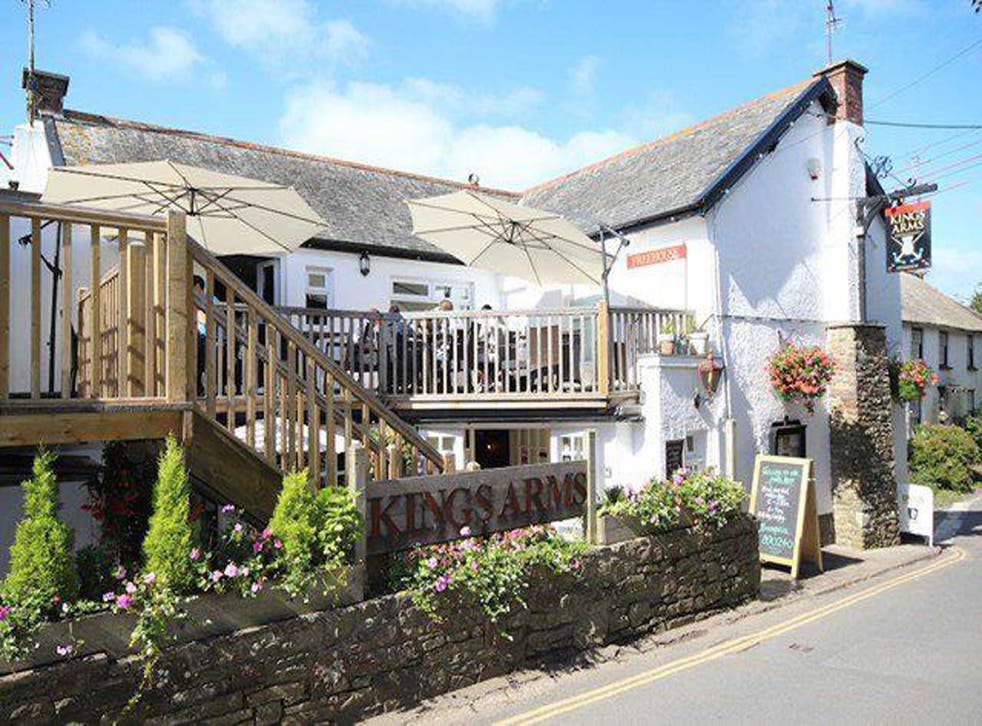 The King's Arms, Chapel Street, Georgeham, Devon
Amol Rajan seeks out a treasure of a village pub in the South-West.
There are many villages in the South-West of England that qualify for membership of that bloated category of the "foodie destination". Georgeham in Devon is not one of them. Let that not put you off visiting, however, because a lovelier spot when the sun's out could barely be imagined.
Located on the North Devon coast, it's just past a place called Croyde, which may sound like one of the departments in hell, but is in fact full of gorse and thatched houses. You get to these villages via Barnstaple, where a new bypass – big news in the South-West, bypasses – has cut a good 45 minutes out of the journey time from anywhere south or east. Georgeham has a beautiful church, summer festivals, a glorious beach where the surfing is good three minutes away, and two pubs.
The Rock Inn does very good local ales for less than £3, and mixed food – as in mixed quality. Charlie, my fiancée, has an excellent cod and chips (£9.50) with Tribute-flavoured batter, mushy peas and salad. But my mixed deli board – hummus, smoked mackerel, chorizo, anchovies, cockles, Parma ham and red-onion jam (£12.95) – is mundane and mediocre. Rather than for the food, go to the Rock Inn with a bunch of newspapers and a beer belly that has been neglected.
The King's Arms, less than 100 metres away, is packed. This means you have to book, which some of you may consider an encumbrance. On the successive weekends I visit, the place is heaving, full of locals joshing and joking, bashing half-empty jars against each other. Rightly realised, village pubs are community banks where the precious moral savings of our neighbourhoods are stored; and this one is, in the jargon, very well capitalised. Plus, the food's not bad at all.
We have come for the annual seafood festival. There is a mixed seafood platter for £22 and large parts of it are delicious: the warm, salty cockles in a buttery sauce; firm and fresh prawns satay-style; crab claws, clams, and mussels; succulent langoustine and excellent aioli with lemon, salad and bread. The only weak points are the squid, which is so rubbery that it tastes more of rubber than cephalopod; and some John Dory fillets, which are a little dry.
I could well imagine some locals, and indeed tourists, spending an evening picking away at that selection, washing it down with the superb local ales, or something from the very decent-value wine list, and leaving nourished and happy. But it's worth sticking around to try some of the other stuff.
While the moules marinière (£11.50), are nothing particular to write home about, being totally inoffensive (except for the shortage of shallots: I'd like double the number next time, please), a Devon crab linguini with chilli, ginger, coriander and garlic (£12.50) has a Thai twang, more Bangkok than Barnstaple, and is very good. The best thing on the menu, meanwhile, is an exquisite giant sea bass on a big platter, which comes apart in chunks that are moist and full of flavour.
You can, naturally, get burgers here, too, though I confess I don't try them, because I'm too busy being distracted by a marvellous, rich and not-bad-value classic Provençal fish soup (£6.50).
All the staples of your average pub dessert menu are available to finish off. The chocolate fondant with pistachio biscotti and vanilla ice-cream (£6.25) is perfectly cooked, and the sticky-toffee pudding with caramel sauce and clotted cream (£5.75) is worth the heart attack that will probably follow. Indeed, I'm surprised not to be writing this from hospital.
The thing about "foodie destinations" is that they quickly dissolve into cliché. And just as all clichés contain an element of truth, so the likes of Padstow and Ludlow – fellow western hotspots – are definitely worth visiting for the excellent grub on offer. Georgeham, on the other hand, is a wonderful destination where you can get sturdy, uncomplaining, Anglo-Saxon food, rather than a "foodie destination". You ought to visit for the wildlife and the sea rather than the food; but when the time comes to eat, drink and be merry, make sure you do it in the King's Arms.
Rating: 7/10
The King's Arms, Chapel Street, Georgeham, Devon, tel: 01271 890 240. £75 for two, including bottle of wine
Three more great village pubs
The Feathered Nest Inn
This off-the-beaten-track inn offers superb, inventive food and excellent wines in a stunning Cotswold setting. Nether Westcote, Oxfordshire, tel: 01993 833 030
The Parkers Arms
This very friendly country pub's locally sourced food is of unbelievable quality. Newton- in-Bowland, near Clitheroe, Lancashire, tel: 01200 446 236
Black Swan
This snug gastropub near Byland Abbey offers immaculately presented food without fuss or pretension. Oldstead, North Yorkshire, tel: 01347 868 387
Reviews extracted from 'Harden's London and UK Restaurant Guides 2013', www.hardens.com
Join our new commenting forum
Join thought-provoking conversations, follow other Independent readers and see their replies