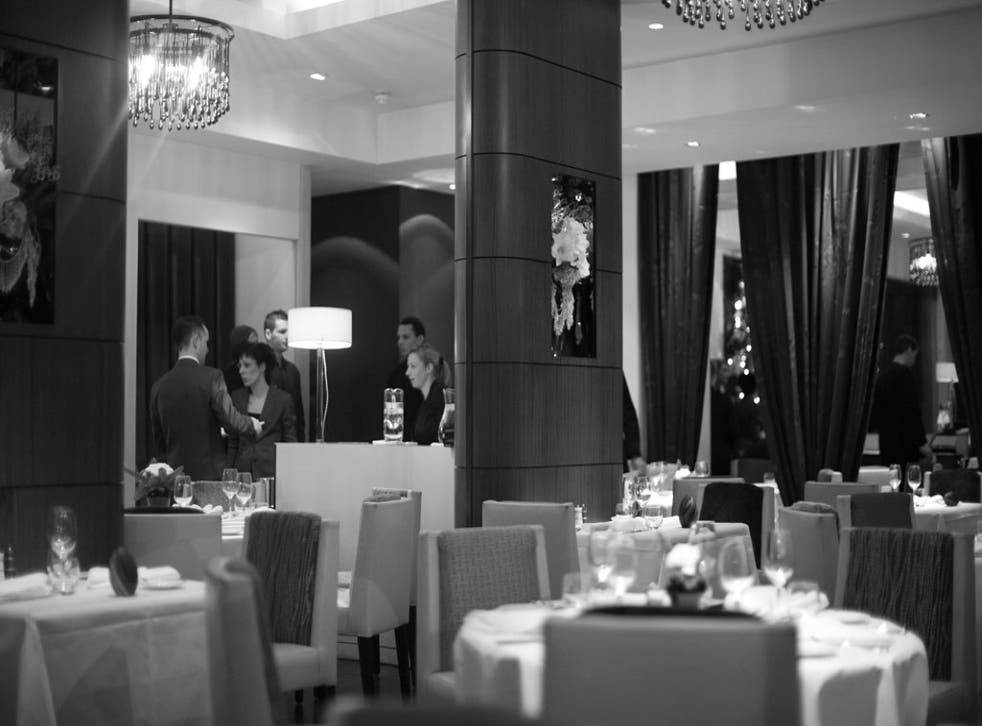 The Ledbury, 127 Ledbury Road, London W11
What is there left to say about the restaurant everyone's been talking about for the past couple of years?
The Ledbury just can't seem to stop getting plaudits. Two Michelin stars, highest climber at this year's World's 50 Best Restaurant awards, and now the 2013 Harden's Guide has it ranked as the best-rated top-end restaurant in London (displacing Le Gavroche), while Food and Travel Magazine last week named it London Restaurant of the Year.
It did, in fact, open in 2005 (as sister restaurant to The Square), but chef Brett Graham has been on a steady – if more recently steep – incline to stardom. So why review it now? Well, The Ledbury has managed to make that elusive leap from flavour of the month to culinary superstar, where so many others have failed. And while trying the new kids on the block is fun, I want to tick off this modern classic. My esteemed erstwhile colleague Terry Durack called it "seriously good" in its first year, and by common consent it has got better since.
It's taken a while, as booking a table is not easy. The past two times I've tried I had to book so far in advance that when the evening came, a work deadline or child emergency precluded it. Vexed by others' tales of mythically terrific meals, I finally get a Tuesday 9.30pm booking.
The hushed reverence that greets us as we enter is almost a parody. Not that the staff are snooty – far from it, our waiter indulges our anguished delay over choosing between the tasting menu and à la carte. I do wish he'd pointed out, however, that we could have had the epic-looking tasting menu in the same time as the three-course à la carte offering. Because of the late hour, and it being a school night, we are worried about still eating after midnight.
I choose the plainest dishes; for that, surely, is how to judge somewhere with such a stellar reputation. A tomato salad, then a piece of grilled fish. Mr M chooses a posh take on cheese-on-toast with onion soup to start, then pigeon. For these lowly ingredients we will be paying £80 each, not including drinks. I swallow hard. And that's before I've put any food in my mouth. This is where I think about what my parents would say to such flamboyant expenditure; and about last week's grocery bill for four (yup, £160).
Then the heritage tomato salad with goat's curd, dried olives and green tomato juice arrives. Each component is so delicious, so ripe and rich in flavour it makes me giddy. A grey-green pottery plate is the perfect backdrop for this riot of colour and flavour; two crisp cylinders contain the curd and are edged in granules of olive. Just, wow.
For Mr M, a deceptive white plate with a light broth arrives with… what's this? a chunk of tree bark with a piece of bread and cheese on it. Emperor's new snack? Hardly. The truffled toast and Saint-Nectaire cheese is sublime; the intense broth, when the spoon is plunged in, muddles with a buffalo-milk curd beneath. Now I see why everyone around us is doing little but gazing at their plates, uttering tiny murmurs of ecstasies.
The salmon is simply perfect, lemon verbena taking it to dizzying new heights. The pigeon comes in a riot of red – the breast lightly roasted, with beetroot, red onion, cherries and radicchio. On a smaller plate, the confit legs of the bird are meltingly soft, and a spear holding the liver and heart.
I haven't done much to describe the room because it's rather boring. When all the beauty is on the plate, some mirrored panels, draped walls and deeply cushioned chairs will go unnoticed. Similarly, the service is not noticed, but this is a positive – no pushy staffer trying to upsell you champagne, or interrupting your second mouthful to ask if everything is all right. They know it's all right… better than all right.
I'm on soda water and Mr M has a glass of 2009 Savennières with his starter, 2006 Barbaresco with his pigeon; it's a terrific wine list, but prices reflect the expected income of people who can drop £100 a head on a meal. We're trying to keep costs down, but in all honesty, if I was celebrating a very special occasion I would come back to The Ledbury without my reviewing hat on (and I don't feel that regularly).
It has been the most harmonious of evenings: nothing extraneous, nothing missing. In fact, damned near perfect.
9/10
SCORES 1-3 STAY AT HOME AND COO K 4 NEEDS HE LP 5 DOES THE JOB 6 FLASHES OF PROMISE 7 GOOD 8 CAN 'T WAIT TO GO BA CK 9-10 AS GOOD AS IT GETS
The Ledbury 127 Ledbury Road, London W11, tel: 020 7792 9090 Lunch, Tues-Sat; dinner daily. £220 for two, including two glasses of wine
More harden's winners
Dinner: Heston Blumenthal's latest topped Harden's' 22nd annual survey of more than 7,500 regular restaurant-goers for their best meal of the year.
Clos Maggiore: The Covent Garden restaurant was named Best for Romance for a second year running.
The Anchor & Hope: The South Bank pub was placed top for best bar food.
Dabbous: Ollie Dabbous's industrial-style debutant in Fitzrovia was named best newcomer, thanks to its top-notch (often Nordic) small plates.
Chez Bruce: The unpretentious Wandsworth Common stalwart was named as a "favourite" restaurant most often for an eighth year.
'Harden's London Restaurants 2013' (£12.99) is out now. www.hardens.com
Join our new commenting forum
Join thought-provoking conversations, follow other Independent readers and see their replies