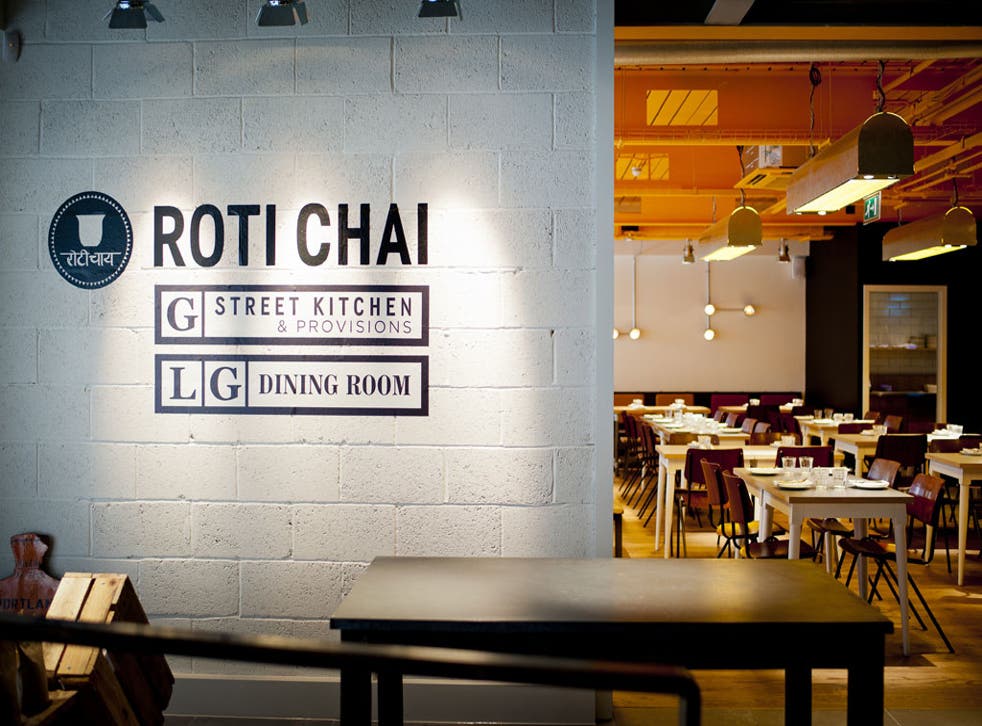 Roti Chai, 3 Portman Mews South, London W1
One tiny detail stops our critic falling head over heels for Roti Chai...
Uh-oh. I used to think that the Indian restaurant at the end of my road was my perfect partner. I've been so loyal to it over the years that at one point I just ate "on tick" and paid at the end of the month. But like a marriage that's lost some of its excitement, recently I've been finding the tarka dahl a bit, well, lacklustre. I've tried branching out from my usual order to spice things up, but I think we need a break.
I may have found a new love in Roti Chai, an "Indian Street Kitchen" tucked away in a mews behind Oxford Street in central London. It may not have the virtue of being on anyone's doorstep, much less mine, but it's definitely worth cheating on your regular with.
Open since summer, Roti Chai has been created by Rohit Chugh, who wanted to bring a taste of the all-day street food of India that fuels the bustling country to London. It's like a typical Indian railway canteen – if the trains were run by the staff of Monocle or Wallpaper magazines. Plain refectory tables and chairs are neatly arranged, while across the back wall, a well-stocked bar and view into the kitchen reveal finely choreographed activity.
Kitschy faux-adverts in classic Indian style proclaim "since 2011", and at the front desk there's an artfully chosen range of spicy products to buy. It's all very agreeable – and on a Friday night the place is full, with everything from an office outing of 20 to dating couples. Downstairs is a restaurant proper – "Dining Room" – which has round tables and soft lighting and its own bar area; the food samples dishes from all over the subcontinent. Looks promising, but it's the snacky "Street Kitchen" at street level that really appeals.
We order enough of the dishes we love best to put Roti Chai through its paces: bhel puri, chilli paneer, tarka dhal, samosas, roti breads plus salt-and-pepper banana chips (from £3.90 to about £5 each).
I've eaten bhel pouri everywhere from a back alley in Mumbai to a backstreet in Euston, and this one is the best, hands-down. Fresh, crisp and with a zingy tamarind sauce – little flecks of onion, ginger and spices have elevated it quite some distance from street food.
Then there's dahl and roti combo. Three piping hot breads – plain, brown and chilli – are stacked in a bowl; all are exemplary. The chilli kulcha has that "beads of sweat on the brow" feeling without being overpowering, and works brilliantly with the yellow lentil dish that puts my local to shame. It's vibrant in colour and flavour.
This is all a bit one-note, as in, brilliant. But the flavours are anything but one-note. Our shared main dishes – railway lamb curry, pulusu chicken and macher jhol (Bengal fish curry) – are distinctly different (about £9 each). The lamb is tender and earthy, the chicken hot, hot, hot and the fish fragrant and faintly mustardy; there's major rivalry to slurp up the last of the sauces with the last of the roti (OK, we order more roti).
Because I wanted to eat like-for-like with my local, I skip the buns – an aloo tikki burger or a spiced lamb kebab – but can't resist chicken lollipops (£4.80) – Keralan spiced wings that I'd be very happy to eat by the bucket-load...
After all that zing, we cool off with a round of mango and pistachio kulfi lollies (£2.50), which in the traditional manner seem to be very heavy handed with the sweetness – no complaints here.
If I had to find fault with the whole Roti Chai enterprise, it would be with the prices, and it's a tiny quibble. It's not the cost, which is pretty good value for a whole bunch of sharing dishes. It's just that I'm not a fan of the zero missing off the end of the price on restaurant menus. Several places seem to be doing it. Why? 3.8 for samosas (mmmn, crisp, veggie-packed samosas; 4.9 for the chicken version), 7.9 for the pulusu chicken. I know that the zero button's not missing from the Roti Chai computer because green chilli is listed as costing 1.0.
But that quibble is not going to stop me going on a second date with Roti Chai. That would be like rejecting a second date with Ryan Gosling because he had a bit of spinach between his teeth.
And next time I might even go, you know, downstairs.
8/10
Scores: 1-3 stay home and cook, 4 needs help, 5 does the job, 6 flashes of promise, 7 good, 8 special, can't wait to go back, 9-10 as good as it gets
Roti Chai 3 Portman Mews South, London W1, tel: 020 7408 0101 Street Kitchen: Mon-Sat 12pm-11pm; Dining Room: Tues-Sat 6pm-11pm. About £45 for two, including beer
Subcontinent specials
Karachi
15-17 Neal Street, Bradford, West Yorkshire, tel: 01274 732 015
So plain, but so right; this Formica-tabled veteran – the city's oldest subcontinental – is praised for its curry dishes – at a keen price, too
Dishoom
12 Upper St Martin's Lane, London WC2, tel: 020 7420 9320
The delightfully elegant interior of this chain prototype is suitably energetic; its spicy street food is very flavoursome – and quite authentic, too
This & that
3 Soap Street, Shudehill, Manchester, tel: 0161 832 4971
Home-style curries with fabulous depth of flavour have made this very basic but cheerful caff a popular Northern Quarter destination for those seeking a lunchtime bargain
Reviews extracted from 'Harden's London and UK Restaurant Guides 2010' www.hardens.com
Join our new commenting forum
Join thought-provoking conversations, follow other Independent readers and see their replies