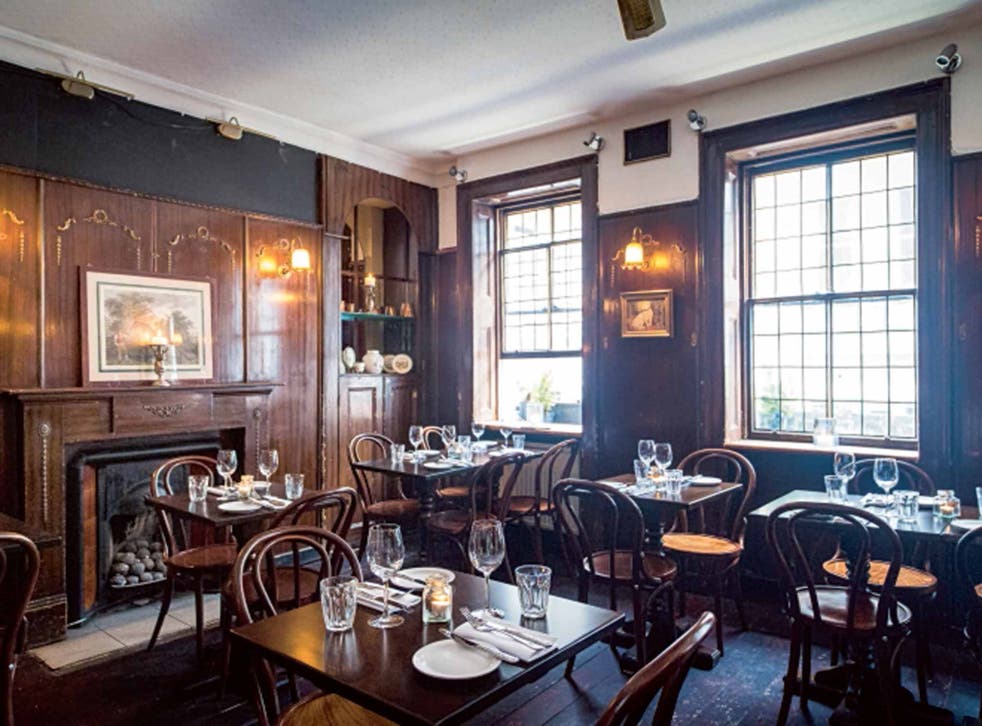 The Cornwall Project Dining Room, Newman Arms, London: An 18th-century pub with the best from the south-west
There is nothing not to like about this week's restaurant; in fact, it's love.
The Newman Arms is a perfectly good, tiny pub tucked away north of the grislier end of London's Oxford Street. It's been there since 1730, which is charming, and upstairs, in what's now a restaurant, there is a wonderfully foul-mouthed tribute to the late landlord. A place with character, clearly.
Now there are new characters: patron Matt Chatfield and chef Eryk Bautista, the chaps behind a new iteration of the Cornwall Project. Chatfield, a Cornishman, has been bringing produce from the south-west to the capital for years, supplying some very ritzy restaurants, fulfilling his mission (as featured in The New Review in March) to share its wonderful fish, meat and veg with a wider audience.
He has "residencies" here and there in London, but this "Project" is the most prominent. And he has Bautista, whom I'd not heard of before, but a glance into the kitchen (microscopic) and a taste of the food suggest he is Going Places. Two months in, this place is creating waves among London's ever-so-slightly jaded culinary chatterboxes.
No need to ask what's fresh when the kitchen makes a point of everything being whizzed up from the coast daily or thereabouts. Chatfield's main partners are Philip Warren for meat; The Modern Salad Grower for veg; fish from Matthew Stevens; and dairy via Hanson Fine Foods. Exemplary and attentive producers, all.
So, on a tiny table (one of 10) in the slightly rickety, charming room, we peruse the day's menu. Our waiter has already made sure the table's not wobbling (300 years'll do that for a floor) and brought a bottle of very fine 2013 Beaujolais-Villages by Jean-Marc Burgaud from a concise but appealing wine list.
Of the three starters (skipping rump tartare), we have yellow courgettes with smoked ricotta, pine nuts and spicy paprika sauce (£6) and mackerel, cucamelon, dill and crispy capers (£7). What lovely things to read: interesting detail and a simple star at each dish's heart.
My mackerel is sparkingly fresh: plump raw slivers dressed in briny juices, accompanied by crunches from the dots of caper and dear little veggies. The sturdy rind and delicate, green interior of the cucamelon – a cucumber/watermelon hybrid – are moreish and, very lightly pickled, work excellently.
The humble courgettes, meanwhile, are raised up by being served barely warmed, in fine slices, with two creamy slicks – a white cheese and a rich orange cream – and scattered nuts. The daringly sparse presentation of both starters proves chef's belief that produce this good doesn't need gussying up.
There is a choice of four main courses – of which the most excitingly billed is one for sharing: slow-reared duck with bits and bobs, spiced carrots and damson jam (£35). I'm dying to know what those bits and bobs are, but it'll have to wait, as will hay-baked celeriac, Tunworth, chanterelles and pickled walnuts (if they're still on this dynamic menu next time).
Mr M likes the sound of turbot, January King cabbage, pink firs, samphire and mussel sauce (£23), but the turbot has not been obliging to the fisherman. Tonight, the splendid substitution is hake, which takes the sear of the pan, the sweetness of the cabbage and salt of the samphire without falling apart (in any sense).
I can rarely resist pork belly; this one's with baby leeks, smoked pearl barley and sauerkraut purée. At £17, it's up there with the best dishes in town. The meat packs a one-two punch with meltingly tender meat and a uniformly crisp top, and the purée is a revelation – the pairing's not new, but they would win this year's Strictly, so beautifully do they dance together.
Just two puds: a warm chocolate mousse with vanilla ice cream and salt (£6) and a cheese board (£10). The former is more fondant than mousse but laugh-out-loud delicious – and who doesn't love shards of salt, even in ice cream? The cheeses – none from Cornwall, curiously – are superb: a Tunworth, Stichelton and St James, all at their peak.
This is another example of a small but perfectly formed enterprise for lucky Londoners; if I lived in Cornwall, I would be tempted to book a mini-break for this. Showy chefs can jog on with their Dubai mega-launches and big-money tie-ins – give me thrilling new names like these any day.
More details
The Cornwall Project Dining Room, Newman Arms, 23 Rathbone Street, London W1, Tel: 020 3643 6285
£100 for two, with wine
Rating 9/10
Four more: Foodie notes from the past week
Sweetcorn
Charred with chilli butter at Shackfuyu – simply delicious, as is the now-famous French toast with green-tea soft-serve ice cream.
Breakfast
In the topsy-turvy world of party conferences, a toasted smoked-chicken sandwich from Eat at 8am seemed acceptable.
Honey & Co
Repeated baking of its chocolate brownie sandwiches with tahini-cream filling is possibly the only reason I get invited anywhere.
Paradise bars
The Hemsley sisters' recipe for a home-made Bounty is a zinger: dark chocolate, plus coconut three ways: oil, creamed and dried.
Join our new commenting forum
Join thought-provoking conversations, follow other Independent readers and see their replies