The Old Brewery, Old Royal Naval College, Greenwich, London SE10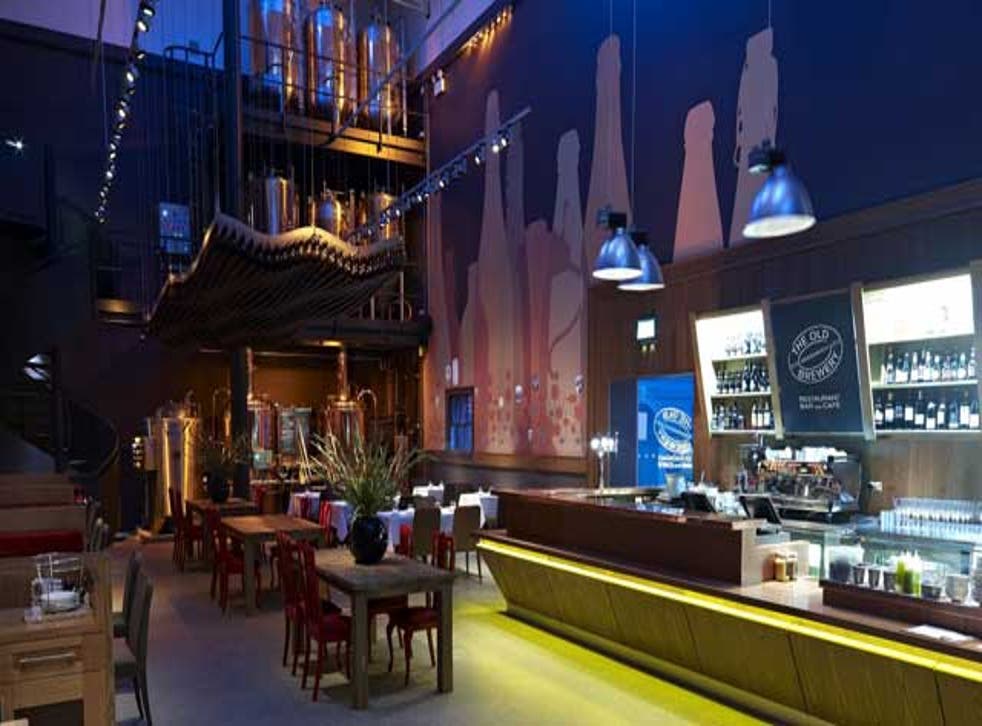 This fine summer's evening we are travelling downriver to Greenwich, to partake of a whitebait dinner and a glass of Hospital Porter. How delightfully mid-19th century. In Dickens' time, Greenwich was famous for its whitebait – the small fry of various fish which bred abundantly in this polluted stretch of the Thames – and visitors would journey from far and wide for an infanticidal fry-up. The fish may come from Billingsgate Market these days, but the traditional Greenwich whitebait dinner is enjoying a revival, thanks to an appealing new venture from local brewers Meantime.
Already responsible for several local gastro-pubs, as well as some fine beers, Meantime have gone one step further and created a gastro-brewery, behind the porticoed façade of Sir Christopher Wren's Royal Naval College. Once home to a brewery that supplied the Royal Hospital's Pensioners with their three-pints-a-day ration, the space has been reinvented as a café, bar and restaurant. By day it serves visitors to the neighbouring Discover Greenwich exhibition, and by night the lights dim, the white tablecloths come out, and the place transforms into a dramatic dining room, serving a modern British menu with a distinctively beery bias.
To get the full experience, you really have to arrive at the Old Brewery by boat. The Thames Clipper service speeds there in just 30 minutes from the London Eye, past the wharves of Limehouse and the skyscape of Canary Wharf. From Greenwich Pier, it's a one-minute stroll to the Naval College, where the Old Brewery occupies an impressive chunk of riverfront real estate.
There's a small terrace and attractive bar, but the restaurant space is altogether on a different scale, with a swagger to match the epic surroundings. One wall is dominated by gleaming copper beer vats – this is an operational micro-brewery – and the ceiling is so high you expect to see small clouds floating beneath it. Only the Wapping Project, housed in a converted power station a couple of miles upriver, can rival the room for sheer wow factor. Huge industrial lamps create pools of light and shade, and a sculptural wave of beer bottles is suspended unnervingly overhead.
Disappointingly, for a riverfront restaurant, there's no view of the river, and if one were being picky, the tables do seem rather small, given the available space. Painted over one wall runs a brewing time-line of London. Meantime has revived the historic Hospital Porter, brewing it on the premises, and the friendly manager encourages us to sample it, and any of the other draft beers that we fancy. "I've tried them all," he tells us. "Not today, obviously." We start with the lager-like house beer – Keller Bier – and work our way through to the Hospital Porter, matured in whisky casks to leave a distinctive whiff of Germolene.
Though there's a conventional wine list on offer, beer matches are suggested for each item on head chef Daniel Doherty's menu, which also finds interesting uses for ales in dishes such as chicken liver parfait with cherry beer jelly, or neck of Herdwick mutton braised in Meantime pale ale. (The name is a tribute to the area's most famous export – Greenwich Meantime – and not that Mike Leigh film set among East End tower blocks.)
We start with the echt Greenwich experience – a plate of devilled whitebait, and a glass of Hospital Porter. No longer are the tiny fish rolled in flour and plunged live into boiling lard. But they were pretty damned fresh, dusted in paprika and served with a caper mayonnaise. Oysters – half a dozen rocks for £8.50 – get the full production, raised on a platter over cracked ice, with shallot vinaigrette, Tabasco and a jug of stout to pour over them.
Main courses were decent, without living up to the spectacular heights of the setting. Pan-fried cod came with an array of heritage tomatoes which failed to deliver on the taste front, while beer-braised mutton, with ratte potatoes and hispi cabbage, was like a pie-filling without the pie.
Puddings were notably good – a refreshing rhubarb and white beer cheesecake, and a lemon posset served with lavender shortbread, both made with a lightness of touch which augurs well for the daytime tea and cake offer. Local residents seem to have taken to the Old Brewery with enthusiasm – a few months after opening, both bar and restaurant were busy on a midweek evening. The obvious enthusiasm of the staff lends a buzz which leaves you feeling you've had a proper big night out.
Whether you're a jaded Londoner, or a tourist planning a river trip, I can't think of many better options than dinner at the Old Brewery. And Meantime are local heroes for taking all that brewing history and finding a way of making it work for modern drinkers and diners. In venturing into the "destination restaurant" business, they may be relative small fry, but they've taken on the big fish, and done it superbly. Tracey MacLeod was named Restaurant Reviewer of the Year at the Guild of Food Writers Awards
The Old Brewery, Old Royal Naval College, Greenwich, London SE10 (020-3327 1280)
Food
Ambience
Service
Around £45 a head for dinner before service
Tipping policy: "No service charge. All tips go to the staff"
Side Orders: Greenwich gastro
Nevada Street Deli
8 Nevada Street, London SE10
Popular local deli serving a fabulous selection of charcuterie, salads and home-baked cakes; daily roasts are particularly popular.
Rivington Grill
178 Greenwich High Road, SE10 (020-8293 9270)
The sibling of the trendy Shoreditch eatery does a great 2-course lunch – try half a pint of prawns followed by salmon fillet with roast chicory (£12).
Inside
19 Greenwich South Street, SE10 (020-8265 5060)
Guy Awford's modern European cooking here includes a dish of roasted cod, Spanish paprika with white bean and chorizo cassoulet.
Register for free to continue reading
Registration is a free and easy way to support our truly independent journalism
By registering, you will also enjoy limited access to Premium articles, exclusive newsletters, commenting, and virtual events with our leading journalists
Already have an account? sign in
Register for free to continue reading
Registration is a free and easy way to support our truly independent journalism
By registering, you will also enjoy limited access to Premium articles, exclusive newsletters, commenting, and virtual events with our leading journalists
Already have an account? sign in
Join our new commenting forum
Join thought-provoking conversations, follow other Independent readers and see their replies