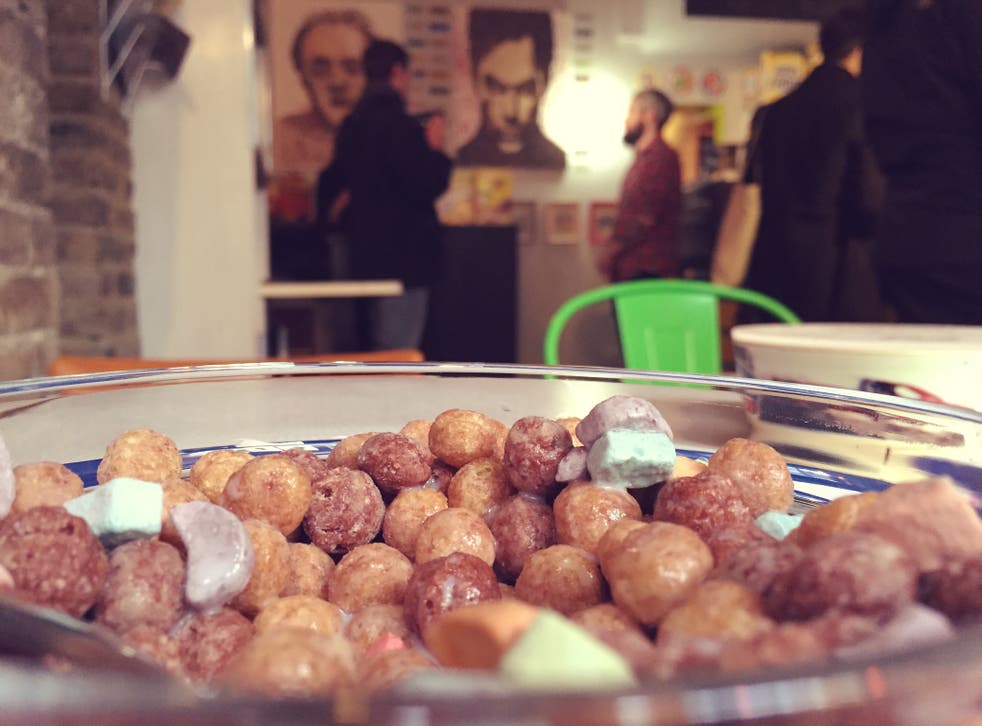 We dropped into Cereal Killer Cafe for a bowl of everything
Can it live up to the hype?
Kind of like a culinary adaptation of a 'F*ck Yeah Cereal' Tumblr, Cereal Killer Cafe is a cafe that only sells cereal.
Serving just one or two things is a tried and tested approach in London (see Burger & Lobster, Flat Iron, Hummus Bros etc), so the guys behind this new mono-eatery must have been banking on a good amount of interest in its launch, but probably not the news crews from CNN and ABC who are here carefully filming a bowl of Apple Jacks as I open the cafe's door on Brick Lane.
Dozens of cereal boxes checkerboard the wall behind the counter, from classics like Cheerios and Golden Grahams to delicious American monstrosities like Poppin' Pebbles and Count Chocula, which are served up by a waitress in a cereal-print onesie and obligatory hip coffee shop beanie guy who looks so relentlessly chill he might just expire at any moment. I order a bowl of Reese's Puffs with freeze-dried marshmallows a bunch of other brightly coloured toppings and whole milk and head downstairs.
There's no denying that the cafe's cereal paraphernalia is on point, with the place being decorated with free gifts from cereal promotions old, vintage milk bottles and those plastic watches you used to be able to send off for. It all amounts to a sort of kids' playroom vibe, while the music piped in is similarly nostalgic and mostly 90s grunge.
The holy trinity of Americana, nostalgia and one-thing-done-well will see the café through its first few months, but when the novelty wears off will people keep coming back? A small bowl is £2.50, which is expensive in comparison with a box from the supermarket, but not when you consider you'd probably pay £3.95 for a really miserable egg & bacon bap in Pret.
London's breakfast and lunch game is a bit behind so this new option will probably be a regular new spot for hungover locals or workers en route to the office, even if it's unlikely people from further afield will make the trip. If you're the sort of person who is put in a coma for the day by a fried breakfast (guilty), this might be a lighter, if no more healthy, alternative, and if you like milk as much as I do, 12 varieties of milk is something to get excited about.
Cereal Killer Cafe is open from Wednesday at 7am at 139 Brick Lane.
Join our new commenting forum
Join thought-provoking conversations, follow other Independent readers and see their replies