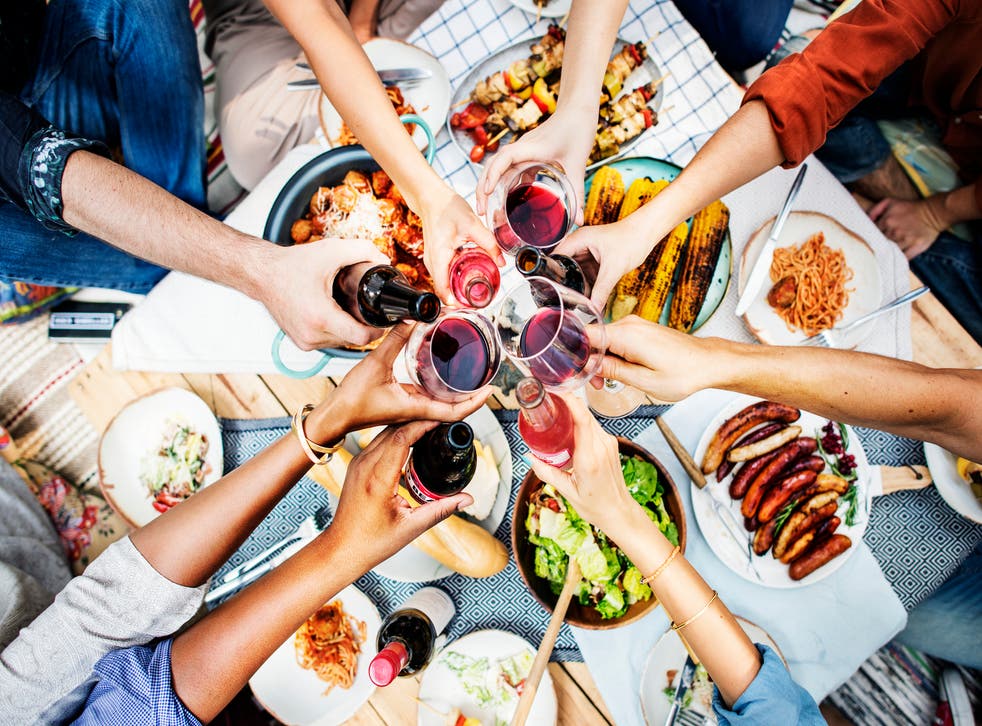 How to throw the ultimate summer picnic: From food to outdoor games
The proof is in the planning 
When Boris Johnson eased some of the lockdown restrictions earlier this month, he gave people in England the long-awaited option of having a picnic.
Previously, it was not permitted to sit or sunbathe outdoors. But since 10 May, this rule has been lifted for people in England, and will be allowed in Scotland from 28 May.
And as balmy nights become the norm and long weekends of sunshine stretch out before us, it's time to make the most of alfresco dining while we can, either with members inside your household, or, if you're in England, one person outside of your household, as per the new regulations.
However, throwing a quintessential British picnic without a hitch is no mean-feat.
After all, rising temperatures don't bode well for a picnic box full of ice-cream, fruit, and white wine that requires chilling at the best of times, let alone when you want to impress your nearest and dearest with your culinary skills.
In order to host a fun and stress-free picnic, the key is in the planning.
From the best kit to invest in to the perfect food to pack, here's our ultimate guide to throwing a summer picnic:
The Food
Crisps and dip are always well received, but to balance out the excess, something more substantial and nutritious is needed. After all, a day of lounging around in the sun calls for some balance.
The 20 best food scenes in film

Show all 20
A good picnic should contain a centrepiece main, perhaps a quiche, a pie or something that can be easily sliced and dished out. Think about the time of year - in spring, wild garlic and asparagus will be abundant, whilst August is perfect for picking runner beans, courgettes, strawberries and raspberries. Try and incorporate at least one seasonal element into your feast.
You'll want a side salad but try to avoid anything too leafy which will wilt at the first sign of sun. Instead opt for a pasta or grain-based dish, such as quinoa or couscous, and add veg with a bit of bite – think crispy red peppers, chickpeas and feta. Take any dressings along in a separate pot and add just before serving.
Of course, a picnic wouldn't be complete without the finger food – scotch eggs, sausage rolls and mini frittatas are a picnic staple for good reason. Little hands find this "grab and go" food easy to eat – just don't forget to pack the wet wipes. And just because traditionally these were often made with meat, don't be afraid to mix things up and create a selection of modern veggie options alongside the classics.
No one wants a soggy bottom so for your sandwiches you'll want to choose a substantial bread, such as sourdough or a French stick, which will hold all the fillings in place until you're ready for them.
Again, the best picnic desserts will be eaten with your hands. Soothe that sweet tooth with bite size brownies, fresh strawberries and cupcakes.
Finally, don't forget a good selection of drinks! There's simply nothing worse than lukewarm drinks on a hot summer's day.
White wine and rosé should be chilled thoroughly before packing in a cool jacket. And although often saved for the colder months, a thermos flask is a very useful bit of picnic kit. Fill one with ice cubes which can be added to soft drinks and freeze larger water bottles which will melt slowly throughout the day when left in a shady spot.
The Kit
Whether you choose to stow your kit in a traditional wicker basket or a cool bag, you'll need to ensure everything has been packed in sturdy (read: leak-proof) boxes. With a couple of well thought out pieces, everything will stay fresh, cool and appetising all day.
Here's our guide to the ultimate picnic kit:
1) Airtight food containers
Look out for "lock and lock" designs to ensure there are no leaks, even if your bag gets bashed about a bit. See-through plastic is also helpful so you can see what each box is containing without the need to open.
You'll ideally want containers that come in a variety of sizes and can be stacked in your basket when full and nestled in the cupboard once empty.
2) Cooling devices
Freeze ice packs the night before and pack around food to keep everything cool.
For wine, a cooling jacket is a must, as they're reusable and work in the same way as the ice packs but are perfectly shaped to the bottle.
However, they'd also work with soft drinks too! Check out the Thermos Ice Packs and Vacu Vin The Wine Show Active Wine Cooler for some much-needed inspiration.
3) Reusable or eco plates, cups, cutlery and napkins
Say no to single-use plastics with a set of reusable or eco plates and cutlery. Biodegradable bamboo or sustainable wood is a good option if you'd rather bin everything at the end of the day, otherwise reusable sets are more sturdy and will come in handy if you think you'll be a frequent picnicker. Look out for enamel or melamine plates if you're willing to invest. Weak paper plates are not your friend – they may be cheap but they will feel like a false economy when you're doubling up to avoid seepage.
This reactive picnic range from M&S is pretty enough to use in the garden at home and has a whole range of shapes and sizes to mix and match.
A bumper pack of sustainable cutlery should keep you going a while or mix and match.
For the most joyful napkins in town, head to Meri Meri – we'll let you make the tough decision between toucans, unicorns or rainbows.
There's no need to forgo proper cups, choose from a selection of sturdy and reusable champagne flutes, wine glasses and tumblers, such as this one from John Lewis.
4) Picnic blanket and outdoor games
As nice as it is to feel the grass between your toes, a sturdy picnic blanket is a must for laying out your feast. We like one with a wipe clean backing which will stop any dew seeping through.
Work off some of that picnic food with a rousing game of football, frisbee or with a bat & ball set for hours of fun, whatever the age.
Destinations
So, you've packed your picnic and are ready to go! If you're looking for location inspiration, The National Trust provides a great resource.
Simply type in your postcode and it will tell you your nearest green space to park your picnic. Wherever you are in the UK, you'll have a local park to get lost in.
The Checklist
As long as you've packed the following, your picnic is sure to be a success:
          Wicker basket, cool bag or rucksack
          Airtight food containers
          Reusable or eco plates, cups, cutlery & napkins
          Ice packs and wine jacket
          A bottle opener
          Picnic blanket
          Food & Drinks!
          Suncream
          Football, Frisbee or outdoor games
          Wet wipes & bin bag for rubbish.
If that all sounds like too much effort but you still want to luxuriate in the sun with a feast fit for a king, why not pick up one of these pre-prepared options and head to the nearest park?
Picnic baskets
Carluccios Classic Picnic: £45, for two people
This Italian feast comes in a reusable cool bag with plenty for two to share. Tuck into freshly baked focaccia and a selection of antipasti alongside filling chicken and black rice salads. Mini apricot tarts and pretty almond macaroons are provided for dessert, leaving you to just grab a bottle of wine. Order in advance and pick up on the day for fuss-free al fresco dining. There's also a totally plant-based option available as well as individual kids picnics for your little ones.
Fortnum & Mason The Victoria Picnic: £95, for two people
Containing everything you need for a romantic feast for two, Fortnum & Mason have stuffed their iconic eau de nil cool bag with smoked almonds and olives, Scottish smoked salmon to smother on rye bread and butter, classic scotch eggs and sausage rolls, as well as luxury side salads. For dessert, chocolate brownies won't disappoint and they've even packed a bottle of plonk too. Water, glasses, disposable cutlery and a mini salt & pepper shaker complete the kit.
Pique Food: from £40, for two people
Plastic-free picnics, pre-prepared and delivered throughout Greater London. Fresh food comes packed in recyclable packaging as standard, but if you want a proper wicker basket and blanket, you can add that as an extra. Cutlery, plates, cups, napkins and condiments are included with a selection of classic picnic dishes on the menu. Think caramelised onion & thyme sausage rolls, mini salt beef bagels, hummus & crudités and brownies for dessert. Particularly useful if you're going to an event such as Ascot and they can even arrange a full picnic party set-up for you.
Join our new commenting forum
Join thought-provoking conversations, follow other Independent readers and see their replies