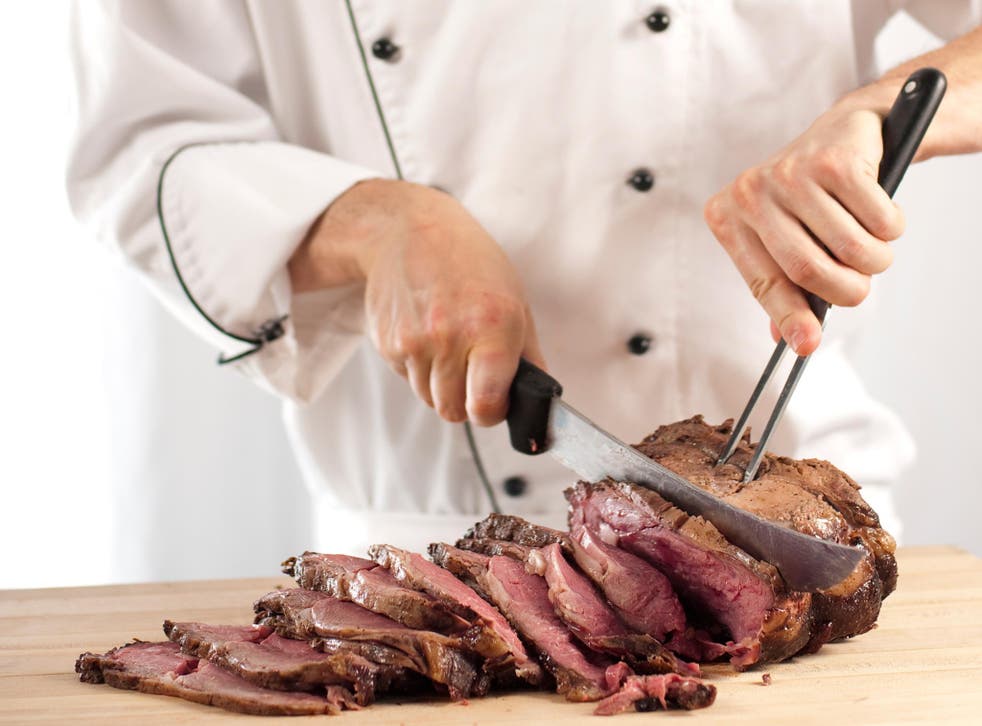 How vegetarian chefs deal with eating meat as part of their work
The Independent spoke to two meat-free chefs about what happens when it comes to carnivore customers
Olivia Blair
Wednesday 03 May 2017 14:42 Comments
For a vegetarian or vegan, the thought of cooking and eating meat might be distressing, uncomfortable and just plain wrong. However, for chefs who make the lifestyle choice to eliminate meat from their diet, it does not necessarily mean their restaurant customers want to follow suit.
Chefs who choose to cook meat in their restaurant are obviously required to taste it to ensure it is worthy enough to put their name to and sell to a customer. So, those who choose not to eat meat may have to be put their ethics to one side in order to carry out their professional duties.
Douglas McMaster is a chef and the founder of the zero food-waste restaurant Silo in Brighton, which in addition to serving tasty veggie dishes like shiitake mushroom and ferments risotto also caters for meat lovers, with dishes such as pork, celeriac and mustard on the menu.
McMaster is also a vegetarian – a choice he made for ethical reasons sparked by watching the 2005 Joaquin Phoenix-narrated documentary about human's dependency on animals: Earthlings.
"I started to question everything and found the film so disturbing," he told The Independent. "I did a little bit of digging and learned a few things: namely, humans are not meant to eat meat. We are frugivores designed to eat fruit, vegetables, seed and nuts."
Celebrity vegans and vegetarians

Show all 25
Despite his lifestyle choice, McMaster still cooks meat at the restaurant as meat usage is "deeply engrained into fine dining cooking". While it would not be something he chooses to eat in his free time, he understands that in order to master a good meat dish he will have to sample it.
"Obviously, my preference is not to eat meat, however I understand it is a necessary part of my work," he says. "I don't justify it. I accept that it is going to happen."
McMaster says he actually continues to enjoy cooking meat even though he no longer eats it and believes that to preach to his customers about following his lifestyle would not necessarily produce the desired result.
"While I know eating meat is unjust, I also know that the world has its issues and, in my position, fanatical radicalism is not wise. Encouraging change requires strategy."
Pavel Kanja, a chef at the Japanese-Nordic Flat Three restaurant in west London, is vegan – a lifestyle he adopted after getting into fitness and marathon running. While his reasons for cutting out meat and dairy are not solely based on personal ethics, he says he is "very aware" of the "negative impact" meat consumption has on society.
"I do my best to stay away from animal-based products but I am [working at] a restaurant," he told The Independent. "If you're in the industry you have to try it [meat], if you are going to sell it you have to try it. You can't say something is really good but have never tried it."
Kanja says he "likes meat but just doesn't eat it" and refrains from temptation when sampling it at the restaurant.
Part of McMaster's plan to implement change involves devising vegetarian and vegan options at Silo, which he hopes will be attractive and exciting even to meat eaters.
"I am attempting to glamorise vegetarian food," he says. "When someone mentions 'vegetarian or vegan food' it can really make you cringe. What if there was a new perspective that made it desirable?"
It was this thought process that led to the creation of a menu called "plant food wins again", which encouraged diners to select a three-course plant-based menu for the reasonable price of £20 at lunchtime or early bird sessions.
"What is crucial is understanding how ignorance will give way to reason," he says. "Reason may take longer than we want, but it is inevitable and I hope that the work I am doing towards promoting a vegetarian lifestyle will start to have an impact."
Register for free to continue reading
Registration is a free and easy way to support our truly independent journalism
By registering, you will also enjoy limited access to Premium articles, exclusive newsletters, commenting, and virtual events with our leading journalists
Already have an account? sign in
Join our new commenting forum
Join thought-provoking conversations, follow other Independent readers and see their replies