Wines of the week: Eight bottles from Madeira
Known as one of the world's most distinctive wines, Terry Kirby says swap it for your sherry this Christmas and, if you don't finish it this year, it will last until the next, and many more to come too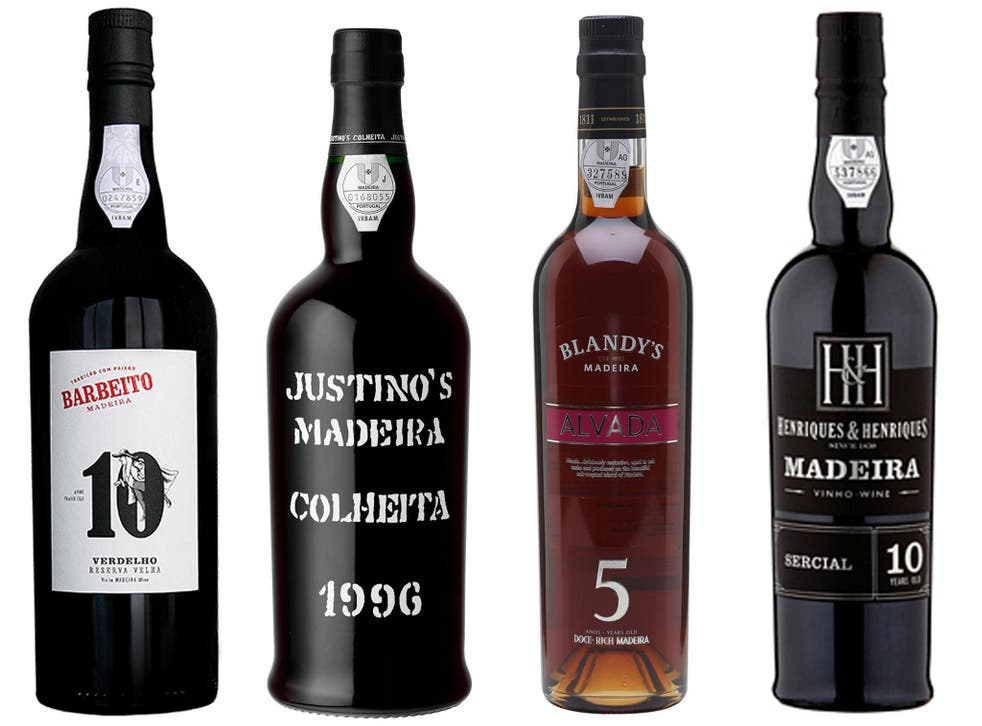 There are a group of musicians clad in peasant costumes singing and playing traditional wine harvest songs and an excited queue of people, having sated themselves on the local barbecued beef, waiting to get knee deep in crushed grapes…
Welcome to the Annual Wine Festival on the semi-tropical, volcanic Portuguese island of Madeira, taking place on a cliff top farm, not far from the capital of Funchal, where I've come to enjoy this hospitality and sample the fruits of the harvest – or, actually, the harvests which took place some years ago.
As a holiday destination, Madeira has many things in its favour – a year round mild climate, gardens brimming with exotic plants and spectacular, sometimes vertiginous wooded hillsides above the endless Atlantic blue – but it has a singular purpose in its wine making: the creation of one of the world's most distinctive wines, also known as Madeira.
This distinctiveness comes in three ways: the island is overwhelmingly devoted to producing just this particular type of wine, with ancient techniques refined over centuries, making it the only wine that both improves in flavour from being heated and one that does not go off once the bottle is opened. 
Like sherry and port, the young Madeira wines are fortified by grape spirit – deriving from the custom of adding brandy to wine barrels to prevent it deteriorating on long sea journeys – but unlike the others, Madeira does not become unpleasant to drink after the bottle has been opened for a few days. Indeed, it can last open, for many years, unopened for 100 years or more, still retaining freshness and vivacity derived from the volcanic soils. 
That regular heat improved the quality of wine was also, legend has it, discovered by those ships ploughing through the tropics – the island was on the main trading routes of the British and Portuguese empires – and subsequently introduced to the wine making process itself; using the island's natural warm air or artificial heat, as the wine ages in oak casks.
The grapes are grown on steep terraces on small plots around the island and hand picked because mechanical harvesting is impractical. And the grapes: the local tinto negra is the everyday backbone, but the finest wines tend to be made from the white grapes sercial, which is the driest, verdhelo, bual and malvasia, the sweetest. Wines are barrel-aged and bottled with blends from different vintages, as with sherry. 
Again, like those other fortified wines, colonial era British traders and investors played a vital part in developing the Madeira trade and it became a fixture of the domestic wine cellar and dining table although as many know it from its use around the kitchen to deglaze pans to make delicious sauces – although it is nothing to do with the cake of the same name. 
One of those British companies was Blandy's, in business for more than 200 years, still owned by the same family and one of the small number of producers dominating the trade. Its large lodge in the centre of Funchal is testimony to its importance to the island and where, tonight, there will be more music, food, grape treading and, crucially wine drinking, although the majority of table wine drunk is from the Portuguese mainland. Blandy's do make a couple of perfectly good table wines for local consumption, but the visitors are really here to raid Blandy's cellars for some of their signature Madeira wines, bottles of which line the walls of this ancient building.
Madeira is an ideal festive wine: it matches so many of our seasonal foodstuffs and if you don't finish the bottle, it will last as long as you want it to. If you haven't got time to visit the island between now and Christmas, what wines are available here in the UK? It's also important to remember that while Madeira is commonly described as a dessert wine, like sherry, it has drier versions wonderful as an aperitif or with nuts, savoury canapes, cured meats and hard cheeses. 
Blandy's are of course well represented in the UK. Their take on sercial is the tawny coloured, fresh and nutty Blandy's Duke of Sussex Sercial Madeira (£12.59 drinksupermarket.com) which makes a great introduction to the style while Blandy's Alvada 5-year-old (£12.85 thewhiskyexchange.com; £17.50 davywine.co.uk; both 50cl) is a new blend of bual and malmsey and the idea festive dessert standby, delivering rich and resonant flavours to accompany all kinds of puddings; Blandy's 10-Year-Old Malmsey (£18.75 thewhiskyexchange.com; £19.46 thedrinkshop.com; 50 cl) is deep and complex, with spices, toffee and caramel notes in the mix; both the latter are ideal for Christmas puddings, cakes and for blue cheeses.
There are other big names in Madeiras as well, including Henriques & Henriques. For their take on sercial, try the very dry H&H 10-Year-Old Sercial Madeira (£19.99 waitrose.com; £20.00 thewinesociety.com 50cl) with an incredibly long finish as you relish the flavours of nuts and citrus. Or the Berry Bros. & Rudd Spy, 5-Year-Old Sercial (£15.16 bbr.com 50cl) with has floral aromas and notes of figs and other dried fruits.
Slightly less dry, the Barbeito 10-Year-Old Verdelho (£31.75 leaandsandeman.co.uk) has some slightly sweeter notes of dried apricots emerging amid the nuttiness; again this a lovely aperitif or with an aged Cheddar and home made chutney. One step up the sweetness scale is the pure bual from Henriques & Henriques: H&H 10-Year-old Bual Madeira (£18.83 thedrinkshop.com; £18.95 cotswoldport.co.uk) medium rich, lots of toffee and caramel notes, remaining clean on the palate.
Justino's is one of the other revered names, so for something really special with your Christmas pudding, try the Justino's Madeira Colheita 1996 (£18.95 for 37.5cl rudewines.co.uk; £45.00 for 75cl laithwaites.co.uk) a rare, exceptional single year vintage made solely from the Tinto Negra grape: notes of chocolate, coffee, caramel overlaid by rich dark fruits. Yes, it is expensive, but it will keep for another couple of decades. And its not just for deglazing pans…
Find out more about Madeira here
Join our new commenting forum
Join thought-provoking conversations, follow other Independent readers and see their replies