What will London and LA look like in 2121? Environmental scientist illustrates the future of world's biggest cities
Alan Marshall imagined the future of our cities - and they mostly look green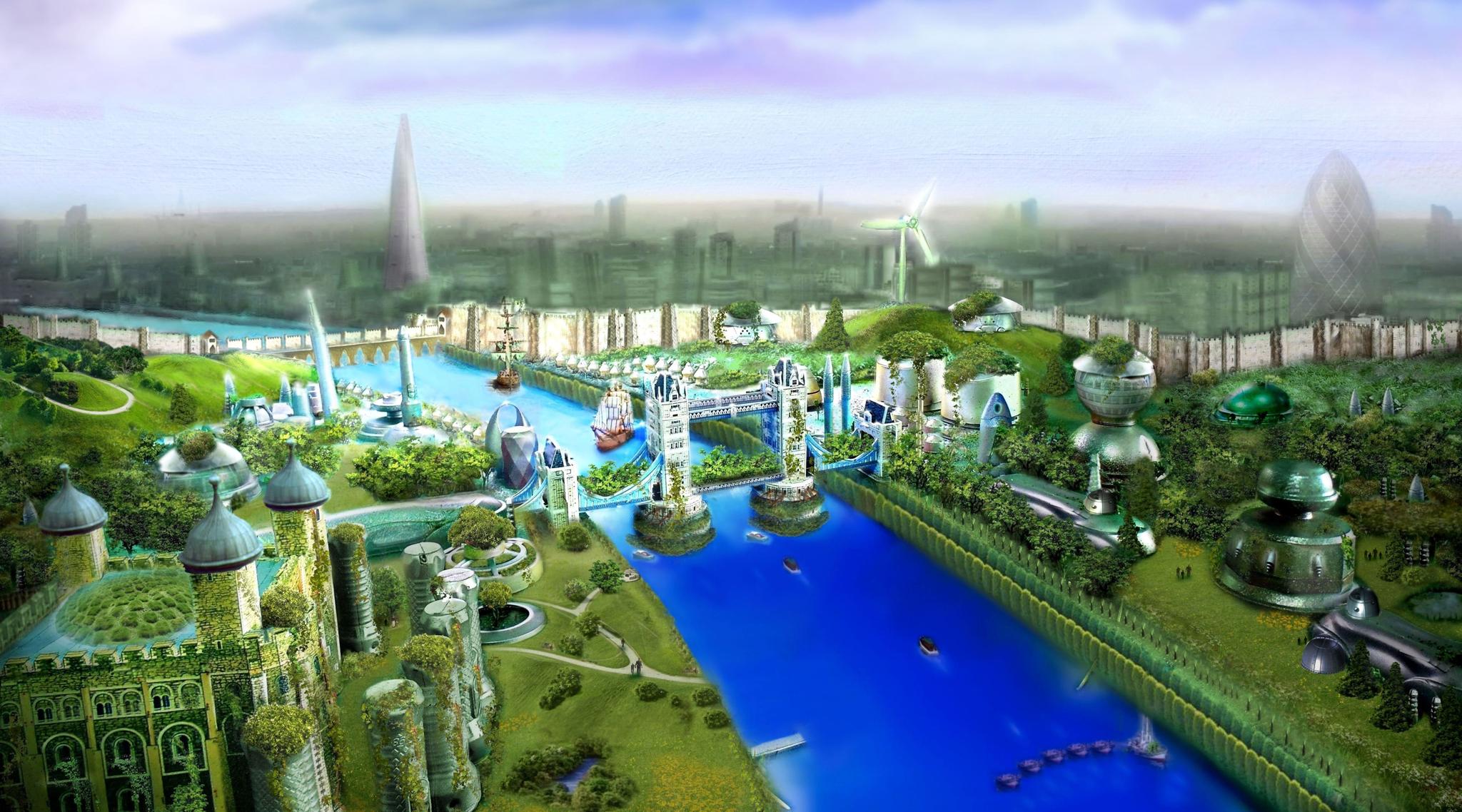 An academic has predicted how some of the most well-known and beloved cities on earth will look like in a future green utopia.
Alan Marshall, an environmental science lecturer at Mahidol university in Thailand created the Ecotopia 2121 project which predicts what key cities around the world will look like in the year 2121 if they become green and eco-friendly to combat the global environmental crisis. He began the project as a workshop for his students to imagine better future cities.
"The final 100 cities of the project I present not as 'wish places' or 'hopeful futures' but as actual predictions of the way things will be in our coming 'climate-changed' post-oil world," Mr Marshall told The Independent. "Some of them end up being utopian, Green, very people-friendly, and sometimes places I'd kind of like to live. But others have become nightmare cities—struggling to survive, or decaying into oblivion. The future is probably bound to be a mixed bag, as is the past, and the present."
Each future city was imagined using its own history, culture and personality and then a unique vision for that city.
Ecotopia 2121 - What will cities look like in over 100 years?
Show all 5
Under Mr Marshall's project, the centre of London is converted to a "massive eco-village, transforming unoccupied offices into residential buildings, sowing gardens on street-corners to grow their food and setting up small sustainable businesses to trade amongst each other". The capital is re-imagined as "a place where children can learn and play in a Green environment and safety".
Other English cities also get the treatment include Oxford who he predicts could have totally banned cars by 2121. Meanwhile Wolverhampton is rejuvenated to become an 'eco-factory' hotspot, Bristol is a tidal energy source which powers most of southern England and Wales, while Birmingham becomes a sustainable forest.
Across the world, Wellington, New Zealand is now a tranquil, agrarian shire after an earthquake and massive sea-level rise, while in Accra, Ghana, locals have built low-cost tree cabins in the forests to combat the floods which ravage the city and would have been made worse by climate change. Los Angeles is imagined as a car-free city with the freeways redesigned into vegetated greenways, home to wildlife but also a passing hub for pedestrians and cyclists.
Mr Marshall says when both he and his students were forced to imagine cities in over 100 years, the outcome was that most of them were green.
"Fantasy is quite a powerful thing, it uncovers our desires, enlivens our hopes and energises us to see that things can be different, perhaps radically so," he says. "In my case, the fantasies are more aligned to be 'eco' than 'techno', which is probably against the grain of most futuristic thinking."
Join our commenting forum
Join thought-provoking conversations, follow other Independent readers and see their replies