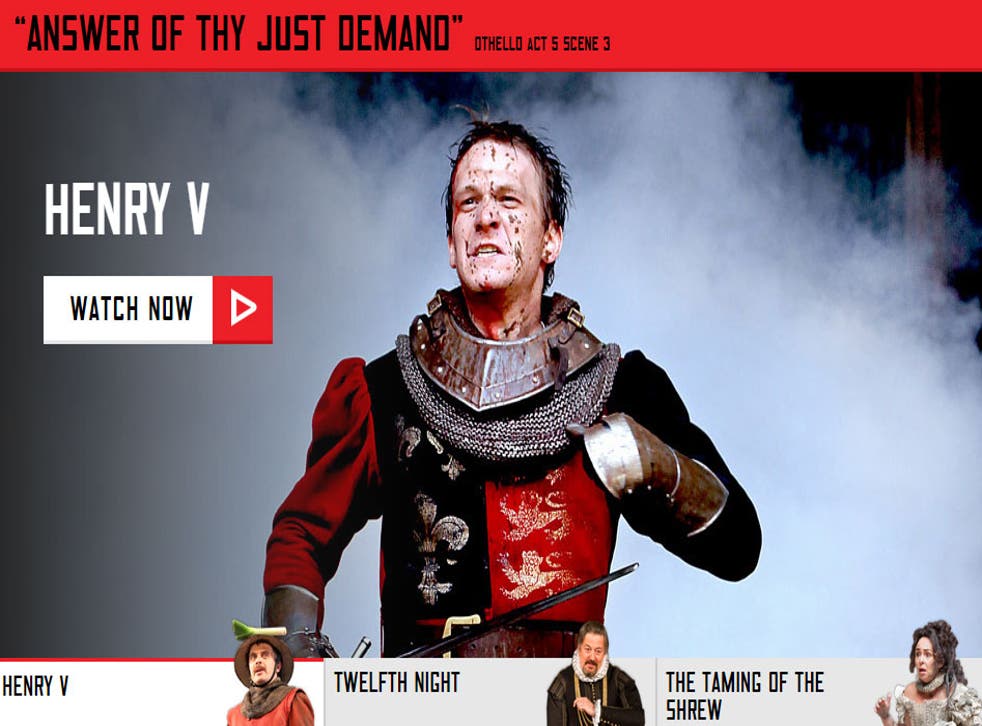 The Bard on Demand: London's Globe Theatre launches 'iPlayer for Shakespeare'
GlobePlayer.tv lets users worldwide rent (nearly) any Shakespeare title for £3.99 a week - or buy it, DRM-free, for £7.99
Taylor Swift may be currently kicking out against the media's new 'rental' revenue model by removing her music from Spotify, but other, more venerable artists are apparently embracing the digital world.
GlobePlayer.tv puts (arguably) the best pieces of theatre ever written in front of the widest audience the Bard has ever had - even if old Will Shakespeare didn't have much of a hand in the decision himself.
The site, which launched this morning, currently hosts more than fifty productions, which can be rented for a week for £3.99 or bought forever for £7.99 (download are hi-res, DRM-free, 3GB mp4 files – meaning that they're usable everywhere from Apple to Windows to Android and will never lock the user out).
The content on offer take in a host of critically-acclaimed productions, including last year's Twelfth Night with Mark Rylance as Countess Olivia and Stephen Fry as Malvolio, as well as more than thirty foreign language stagings (everything from Richard III in Mandarin to Troilus & Cressida in Maori) and complete recordings of all 154 of Shakespeare's sonnets – the latter for free.
George Shapter of Qip Creative, the company behind the site, told The Independent that the intent was to build something that showcased the theatre's "fantastic library of images and video content" but that tried to sustain a "sense of drama and atmosphere".
"We had to design something that was clearly part of the Globe family, but that had a personality of its own; like how people speak about iPlayer in relation to the BBC," said Shapter.
With the new player available to internet users worldwide and accessible from mobile devices as well the site's potential reach is in fact even bigger than iPlayers - enough, hopefully, to match even Shakespeare's visionary theatre.
Join our new commenting forum
Join thought-provoking conversations, follow other Independent readers and see their replies