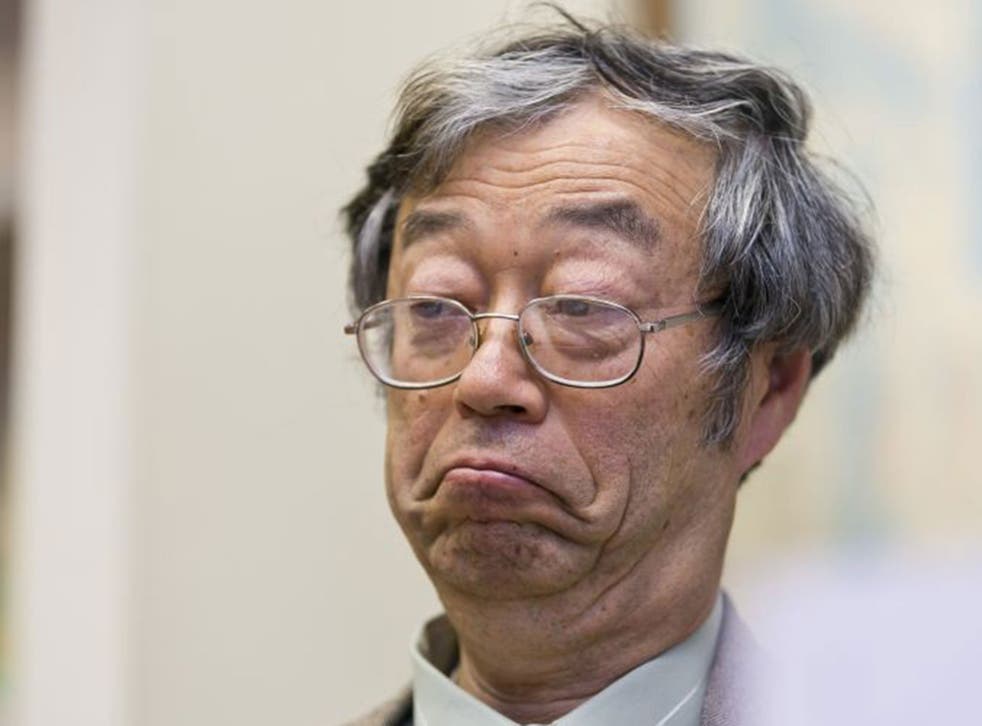 Bitcoin blunder: Satoshi Nakamoto denies all involvement with cryptocurrency
"How long is this media hoopla going to last?' asks Nakamoto as he claims Newsweek reporter had simply 'misunderstood' what he had been saying
James Vincent
Friday 07 March 2014 11:56 Comments
A 64-year-old Californian man identified by Newsweek as the inventor of Bitcoin has denied any involvement with the digital cryptocurrency as he dodges a media frenzy.
The 4,500 word article was positioned as a flagship story to welcome the magazine back to newsstands after it ceased printing in 2012. Instead, it has ignited a controversy as the accuracy – and ethics – of the story are debated online.
Dorian Nakamoto told the Associated Press that the story was completely incorrect, and that the reporter involved simply misunderstood what he said as his English "isn't flawless".
After the Newsweek story was published dozens of reporters settled around Nakamoto's two-storey house in Los Angeles. When Nakamoto made his way outside he told the crowd of journalists that he would speak to someone who understood Japanese and would buy him lunch.
"I'm not involved in Bitcoin. Wait a minute, I want my free lunch first. I'm going with this guy," said Nakamoto, indicating a reporter from the AP and heading over to a sushi restaurant with him.
After eating his lunch and sitting down with the reporter and a copy of the story Nakamoto said that one key piece of evidence from the story, in which he is confronted about his involvement with Bitcoin and responds, "I am no longer involved in that and I cannot discuss it", was incorrect, as he was only referring to his work in engineering.
"It sounded like I was involved before with Bitcoin and looked like I'm not involved now. That's not what I meant. I want to clarify that," he said.
During his interview, Nakamoto also mistakenly referred to the currency as 'bitcom' several times, and suggested that it operates under the direction of a single company, rather than the loose affiliation of coders and cryptographers that actually maintain the technology.
After the interview with Dorian Nakamoto was published, a user account on a coding forum historically associated with Satoshi Nakamoto made its first post after four years of silence, stating simply "I am not Dorian Nakamoto".
Newsweek's assertion that Dorian Nakamoto is the same as Satoshi Nakamoto (the entity that signed the nine-page paper first outlining the Bitcoin protocol) was based on circumstantial evidence, correlating Nakamoto's name, education, and personality profile with the currency's mysterious founder.
Goodman described Nakamoto as an "extremely intelligent, moody and obsessively private" individual who trained as a computer engineer and has undertaken classified defence work for the US government.
Goodman and Newsweek have since stood by their story, saying "There was no confusion whatsoever about the context of our conversation —and his acknowledgment of his involvement in Bitcoin."
Nakamoto himself has said that while he was technically capable of building something like Bitcoin, he thought that "any programmer could do that".
AP report that as Nakamoto read the Newsweek story supposedly unmasking his true identity he repeatedly said "oh jeez" under his breath, before asking the reporter present: "How long is this media hoopla going to last?"
Register for free to continue reading
Registration is a free and easy way to support our truly independent journalism
By registering, you will also enjoy limited access to Premium articles, exclusive newsletters, commenting, and virtual events with our leading journalists
Already have an account? sign in
Join our new commenting forum
Join thought-provoking conversations, follow other Independent readers and see their replies