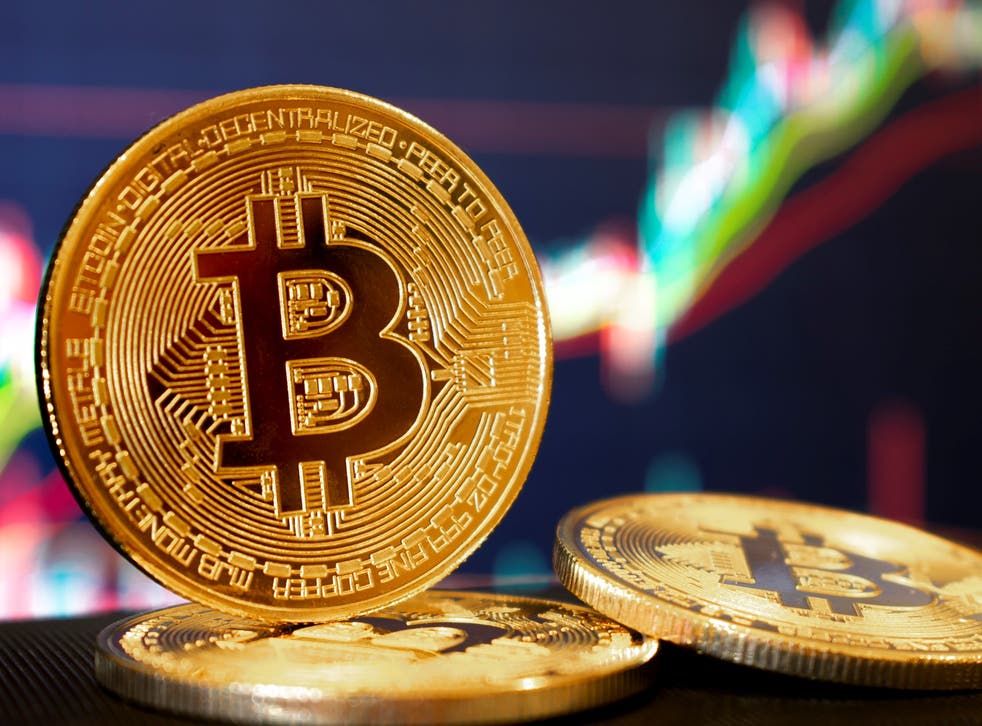 Bitcoin price news – live: Crypto market surges as Facebook ends cryptocurrency ad ban
Latest updates, analysis and prediction forecasts for the cryptocurrency market
Anthony Cuthbertson
,
Vishwam Sankaran
Wednesday 01 December 2021 20:15 Comments
The price of bitcoin has settled at around $57,000 on Wednesday after yo-yoing between $59,000 and $53,000 over the last few days.
BTC remains in limbo following last week's flash crash, which some analysts mistook for the start of a bear market that would see its price continue to tumble in the short term.
The cryptocurrency's subsequent rebound gave bullish investors hope that new all-time highs were imminent but the market has now lost momentum in either direction.
Other cryptocurrencies, including Ethereum (ETH), Cardano (ADA) and Solana (SOL) have all surged over the last 24 hours, with the latter rising by nearly 10 per cent to take its market cap close to $70 billion.
The overall crypto market is up more than 3 per cent since the start of the week, with meme coins dogecoin and Shiba Inu seeing significant gains.
You can follow all the latest news, analysis and expert crypto price predictions right here.
1638389627
Facebook ends cryptocurrency ad ban
Meta (formerly called Facebook) has finally brought an end to its long-standing ban on cryptocurrency ads.
The social media giant's decision to reverse the crypto blackout is huge news for the industry. Cryptocurrency companies will now have access to more than 3 billion people around the world who use the firm's various platforms, which include Instagram, WhatsApp and Facebook itself.
"We're doing this because the cryptocurrency landscape has continued to mature and stabilize in recent years and has seen more government regulations that are setting clearer rules for their industry," Meta said in a statement.
Anthony Cuthbertson
1 December 2021 20:13
1638364160
Bitcoin featured on top-rated cable news show
MicroStrategy CEO Michael Saylor has brought his bitcoin evangelism to the No.1 cable news show in the US, appearing on Fox News' Tucker Carlson Tonight to talk about why bitcoin "fixes money".
The controversial right-wing host sucks in an average of more than 3 million viewers every night, and was completely onboard with Saylor's message, encouraging his viewers to look into bitcoin and cryptocurrency.
"You've made the most compelling case I've ever heard for the need for something like bitcoin," Carlson said, adding that he hadn't seen "a conversation that interesting about economics, ever."
Anthony Cuthbertson
1 December 2021 13:09
1638359366
Crypto market surges as bitcoin price steadies
The crypto market is up nearly 4 per cent over the last 24 hours, largely thanks to gains from Ethereum (ETH), Binance Coin (BNB) and Solana (SOL).
The price of bitcoin (BTC), by contrast, has held firm around the $57,000 mark on Wednesday, shifting by less than 0.1 per cent on both a one day and seven day timeframe.
Ethereum's increase has pushed its market cap above $550 billion, meaning it is now worth more than half of bitcoin's market cap.
Anthony Cuthbertson
1 December 2021 11:49
1638298300
Bitcoin set to end 2021 on 'stellar bullish note'
Bitcoin is ending a turbulent month with a bumpy day of price movements.
It has bounced between $56,000 and $59,000 over the last few hours, and will likely close November below $60,000.
With the end of the year just 31 days away, analysts have been speculating that the cryptocurrency could repeat the price feats it saw in previous years, when it achieved record-breaking bull runs before the New Year chimed in.
Here's what Nikita Rudenia, co-founder and member of the board at the asset management operator 8848 Invest, had to say to The Independent:
Anthony Cuthbertson
30 November 2021 18:51
1638272270
CoinMarketCap offers insight into state of crypto industry with quarterly report
CoinMarketCap has become the go-to price index for cryptocurrency followers, offering the most comprehensive list of altcoins (15,000 and counting) and historical data.
The Binance-owned market tracker has recently begun releasing quarterly reports that offer insights into its users, and therefore the industry more generally.
The latest edition reveals that the vast majority of its users are male (74 per cent), while the 35-34 age bracket is by far the biggest.
Breaking down visitors by country also gives an indication of how popular bitcoin and other cryptocurrencies are in different regions, with the US, Europe and Southeast Asia accounting for the majority of visitors.
Anthony Cuthbertson
30 November 2021 11:37
1638269009
Bitcoin price dips but settles
Bitcoin has dipped slightly following yesterday's sudden price surge, however appears to have settled on Tuesday morning at around $57,000.
The overall crypto market has largely stabilised after a tumultuous few days, shifting by less than half a per cent since this time yesterday.
While most leading cryptocurrencies have reflected this moment of calm, meme coins dogecoin Shiba Inu have both shot up in value. Dogecoin rose 6 per cent over the last 24 hours, while Shiba Inu saw gains of nearly 30 per cent.
Anthony Cuthbertson
30 November 2021 10:43
1638202543
Dogecoin founder sums up 'crypto gambling'
Be it virtual real estate, NFTs, or the latest meme coin, it's always worth remembering the risks involved when investing in such volatile and temperamental crypto assets.
There seems no one better to share this message than dogecoin co-founder Billy Markus, who has lived through all the ups and downs of his crypto creation.
With Elon Musk and Jack Dorsey among his followers, 'Shibetoshi Nakaoto' has some significant online clout – and as you might expect, he uses it mostly for sharing memes:
Anthony Cuthbertson
29 November 2021 16:15
1638201496
Record-breaking crypto purchase in Metaverse
A virtual reality real estate company has bought a 500-metre-squared plot of prime metaverse 'land' for a whopping $2.4 million.
Metaverse Property made the purchase using 618,000 of the MANA cryptocurrency, which is a rapidly rising Ethereum-based token used within the Decentraland metaverse environment.
"We are happy to make history by closing the largest public metaverse land acquisition to date," said Metaverse Group CEO Andrew Kiguel, who revealed that the virtual real estate would be used to host fashion shows in partnership with several as-yet unnamed brands.
You can read the full story here:
Decentraland space will be used to host virtual fashion shows for avatars
Anthony Cuthbertson
29 November 2021 15:58
1638200585
As bitcoin price rebounds, who bought the dip?
Alex Mashinsky, founder of crypto rewards firm Celsius Network, said he bought $10 million worth of bitcoin and Ethereum (ether) when BTC was trading at around $54,000.
El Salvador President Nayib Bukele said on Friday, when bitcoin was hovering around the same level, that the Central American country had "bought the dip".
MicroStrategy, as mentioned in the previous post, appear to have bought just before the most recent nosedive, though still $10,000 cheaper than the all-time high bitcoin experienced earlier this month.
Anthony Cuthbertson
29 November 2021 15:43
1638195992
MicroStrategy buys another $400m of bitcoin
Michael Saylor is at it again, announcing yet another massive bitcoin investment after a market downturn.
The MicroStrategy CEO said the software firm has acquired roughly $400 million worth of the cryptocurrency at an average price of $59,187.
The company now holds roughly $7 billion worth of bitcoin, making them by far the biggest corporate investors in the cryptocurrency. Having bought its entire stash at an average price of sub $30,000, MicroStrategy has nearly doubled the value of its investment.
You can read the full story here:
MicroStrategy's cryptocurrency holdings have increased in value by nearly $3.5bn thanks to BTC price rally
Anthony Cuthbertson
29 November 2021 14:26
Register for free to continue reading
Registration is a free and easy way to support our truly independent journalism
By registering, you will also enjoy limited access to Premium articles, exclusive newsletters, commenting, and virtual events with our leading journalists
Already have an account? sign in
Join our new commenting forum
Join thought-provoking conversations, follow other Independent readers and see their replies