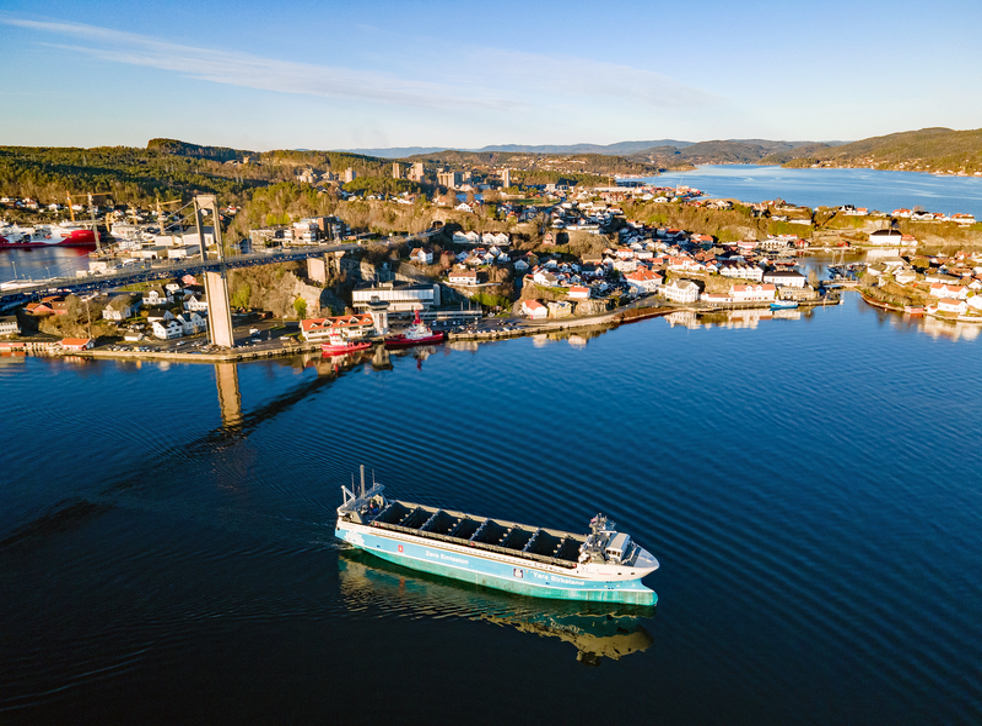 World's first crewless, fully electric cargo ship to set sail
Yara Birkeland is world's first zero-emission cargo ship and will replace 40,000 lorry journeys a year
The world's first fully autonomous and electric cargo ship will launch on its first commercial operation later this year, which if successful could transform the highly-polluting shipping industry.
The Yara Birkeland will travel between two Norwegian towns – Herøya and Brevik –without any crew onboard, carrying freight that would usually be carried by land.
The vessel will replace 40,000 lorry journeys a year, according to its operators, as well as significantly reduce NOx and CO2 emissions.
"Yara Birkeland represents an important next step for the entire maritime industry, representing a major technological and sustainable advancement," said Geir Håøy, CEO of tech firm Kongsberg, which is responsible for the autonomous operations of the ship.
The shipping industry creates between 2 and 3 per cent of the world's total greenhouse gas emissions, according to the International Maritime Organisation (IMO), but is vital to the global economy.
More than 90 per cent of all trade is seaborne, with more than 90,000 ships crossing oceans each year.
Shipping was not included in the 2015 Paris climate agreement but in 2018 IMO countries pledged to reduce carbon emissions by at least 50 per cent by 2050 compared to 2008 levels.
Yara Birkeland is not the first autonomous ship – a self-steering passenger ferry in Finland launched in 2018 – but it is the first fully autonomous cargo ship, as well as the first 100 per cent electric one.
A massive 7MWh battery powers thrusters capable of delivering a top speed of 13 knots (15mph), while the cargo hold is able to carry up to 60 shipping containers.
The ship was originally set to begin commercial operations last year but was delayed by the pandemic.
An exact date is yet to be set but the operators say it will take place before the end of the year.
Join our new commenting forum
Join thought-provoking conversations, follow other Independent readers and see their replies