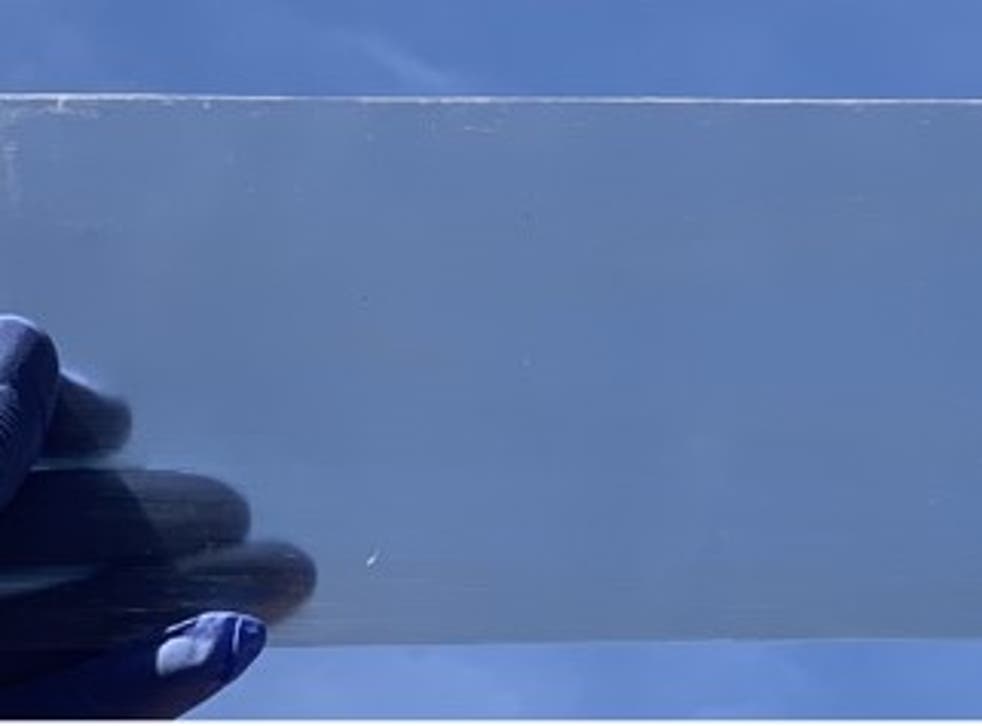 Transparent wood that is 'lighter and stronger than glass' could create energy-saving windows
'It can be potentially used to make a see-through house,' researchers say
Scientists have developed a method for producing a form of transparent wood that could provide an environmentally-friendly alternative to glass windows.
The method involves brushing hydrogen peroxide over the surface of the wood, leaving it under a UV light to simulate natural sunlight, before soaking it in ethanol and filling the pores with a clear epoxy.
The resulting material is both lighter and stronger than glass and provides far better insulation than glass.
The researchers from the University of Maryland said the process alters a structural component of wood called lignin that prevents light from passing through the material.
See-through wood has previously been touted as a way to improve the heat-retaining properties of a building while also being biodegradable and easier to dispose of than glass.
Previous methods used to make transparent wood have involved removing the lignin completely using harsh chemicals, which results in a weaker piece of wood.
The new method actually makes the wood stronger, according to the researchers, while also greatly reducing the energy required to produce it.
"The transparent wood is lighter and stronger than glass," said Liangbing Hu, a professor at the Maryland Energy Innovation Institute who led the research.
"It could be used for load-bearing windows and roofs. It can be potentially used to make a see-through house."
The research, published in the journal Science Advances, also claims that the method is suitable for scalable production for use in energy-efficient buildings.
Transparent wood is yet to find widespread commercial use as a building material, however a form of "augmented wood" has been used to create touch-sensitive displays in the dashboards of cars.
One Paris-based startup claims to be "bio-engineering the next generation of nature" through its tactile wooden displays.
Woodoo uses wood from regenerative forests to create translucent displays that are three-times stronger than the original wood and more resistant to fire.
Join our new commenting forum
Join thought-provoking conversations, follow other Independent readers and see their replies