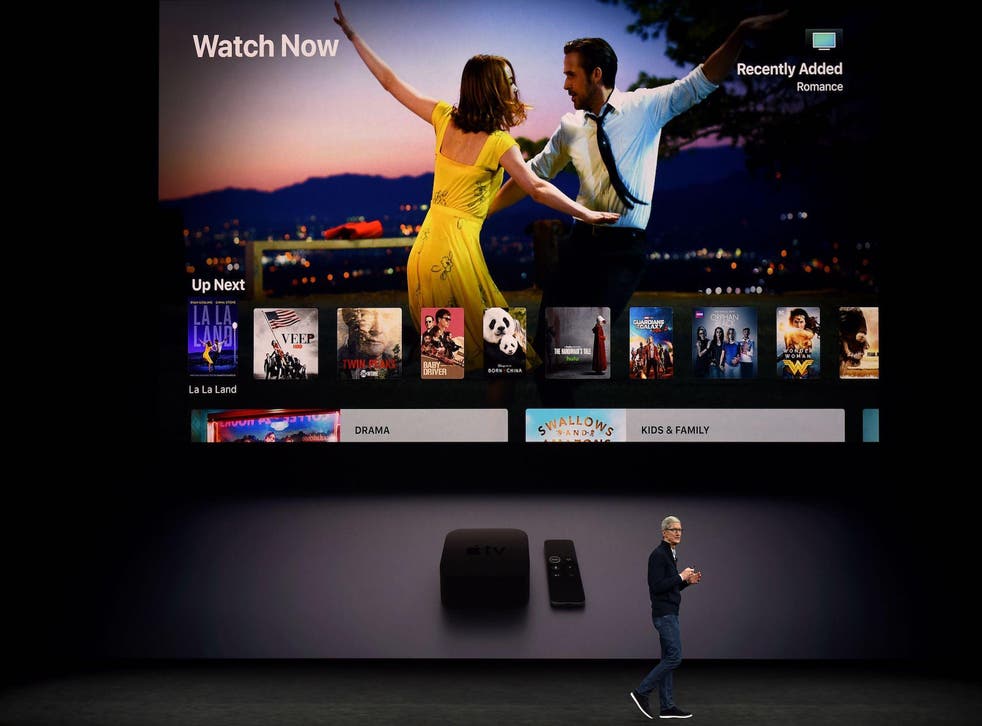 Apple TV 4K review: It's what's on the inside that counts
Apple's helpful, though not necessarily affordable, pricing makes this a strong choice among a sea of different set-top boxes
David Phelan
Thursday 21 September 2017 12:22 Comments
The latest hardware update to Apple's TV streaming box may look the same as the version released a couple of years ago but it's been upgraded massively inside.
When the last box was released in October 2015, it was criticised because it didn't support playback of 4K content which was then just becoming more widespread.
I asked Apple then whether that box could be upgraded in the future as more movies and TV shows in the latest Ultra High Definition resolution became available but was told that, no, this was a 1080P box and that was that.
There was some logic to the decision to limit the streamer to 1080P at the time as 4K TVs and content were still relatively scarce and it's never been the Apple way to include features that most people couldn't use.
Apple unveils the iPhone X

Show all 10
And those people who had bought 4K sets could access suitable content through the 4K-capable apps from Netflix and Amazon Prime Video which these smart TVs usually featured.
But it was an argument that ran out of steam quickly as more and more content became available on more platforms, including Sky Q last year.
And wasn't it contradictory that a month before the Apple TV box update, the capacity to shoot video at 4K resolution was added to some iPhones, but you couldn't play this footage back on a 4K screen via the Apple TV box?
Well, all that's been sorted now with the arrival of the Apple TV 4K, which looks the same as before but for the removal of a USB-C socket round the back.
And the new box has enough tech capability to leapfrog over other current boxes like the highly proficient Amazon Fire TV box, which has had 4K capabilities since 2015.
So what makes this Apple box better? I mean, 4K is 4K, surely?
Well, yes, but the new streamer also includes HDR capabilities. HDR, as you know, is short for High Dynamic Range, a technology which improves images dramatically, allowing detail in shadowy areas and bright, sunny skies to be seen at the same time.
Apple's argument is that the arrival of HDR is even more important than 4K, so its latest box is timely because this newer tech is only just becoming mainstream.
HDR is so new, in fact, that there's a bit of a format war going on as sometimes happens with new standards. It's not like VHS vs Betamax but there are multiple standards for HDR.
Along with the HDR10 standard there's Hybrid Log Gamma which was developed by the BBC and Japanese broadcaster NHK and is mostly focused on broadcast TV. Dolby has developed its own, called Dolby Vision. That's not the full list and more may arrive.
Anyway, don't worry about all that, the point is that the new box is capable of dealing with two of these standards, HDR10 and Dolby Vision. As Apple isn't a broadcaster, it probably doesn't need Hybrid Log Gamma.
So, what does this mean in practice?
Well, the content I've been looking at is crisp, sharp, contrasty and full of huge amounts of detail. The picture quality using this box is way better than I've seen from Apple, or most other places, and the addition of HDR puts it ahead of rival boxes.
How long the company will have this lead is another matter, because Amazon is rumoured to be about to launch an upgrade to its Fire TV box.
But Apple has another trick up its sleeve: pricing.
Historically, one of the ways the film studios have made money is to sell us the same thing multiple times. You've bought the video, now buy it on DVD, Blu-ray, download.
But as movies are encoded into 4K and added to the iTunes library – there are around 100 just now, handily grouped together in what's called the 4K HDR Film Room on Apple TV 4K – they will be priced the same as their HD counterparts were.
Even better, since this is a streaming box, not principally designed for downloading, the movies are stored on Apple's servers. This means that if you bought, say, Close Encounters of the Third Kind on iTunes previously, at HD quality, well, next time you stream it, it'll be in 4K HDR automatically.
Apple will auto-detect the best possible image for your TV and stream it at that quality. That applies not just to the movies you're streaming but even the box's user interface. Unlike some boxes, even the menu screens are rendered in 4K quality.
And if you've ever seen the screen saver videos on Apple TV, you'll know they are gorgeous, detailed aerial movies, slo-mo journeys above cities like London, Los Angeles, San Francisco and more. These movies were actually shot in 4K and downgraded for the old box. Now, they've been re-mastered and look even better.
Apple's box is not the only one to include voice control, with a handy microphone in the remote. But it can do things other boxes can't. To turn on subtitles, you just press the microphone button and say "Turn on subtitles", where other boxes require multiple button presses and a pause of the action.
Best of all, say, "What did he say?" and the box rewinds 15 seconds turns subtitles on, plays that moment back again, and switches subtitles off again.
The Apple TV 4K box does more than play movies and TV shows. It has thousands of apps including games which you can play using your TV remote. There are also apps like yoga classes, cookery videos and more. Not to mention Netflix and, soon, Amazon Prime Video.
Also coming soon is the Apple TV app. It's out in the States already and has been praised for its simplicity and versatility. It's an app which aggregates content in one place, including subscription services like Netflix, but also other apps and your own personal iTunes purchases.
It's designed to offer suggestions in the Watch Now tab and includes Up Next which tells you which episode of Westworld you're watching, say.
The Apple TV app will be in the UK by the end of the year.
If you use HomeKit on your iPhone or iPad to control your heating, lights or whatever, the TV 4K box will control these items, too, as the previous generation of box did. And it works with Apple Music so you can play music through this gadget – usually only worth doing if you have your TV linked to your hifi speakers.
The chip at the heart of this machine is powerful and very responsive. It's the A10X fusion, the same processor found in the iPad Pro.
Verdict
This is a hugely upgraded TV box, a welcome improvement on the last model, even if it's taken a long time to come. Now, it's the leader of the pack for image quality which is really outstanding, especially with the arrival of HDR as well as 4K and the growing amount of content available. On the right TV, this is about as good an image as you can see, certainly in streaming terms.
Apple's clever pricing is another significant bonus here, too.
Apple's new iPhone X - the key features
If you don't have a 4K TV, the non-4K version is still available (£149 with 32GB storage for apps and games).
But if you think you're going to upgrade to a 4K screen soon, then the newer model (£179 with 32GB storage, £199 with 64GB storage) is definitely the one to go for. Until you've bought your new TV it'll still be able to stream in your current resolution and it'll wait, patiently, until you're ready to upgrade, when it can reveal its full potential.
The intuitive interface, wide range of apps, the access to Netflix and Amazon Prime Video and the forthcoming Apple TV app are all strong reasons to choose this box.
Register for free to continue reading
Registration is a free and easy way to support our truly independent journalism
By registering, you will also enjoy limited access to Premium articles, exclusive newsletters, commenting, and virtual events with our leading journalists
Already have an account? sign in
Join our new commenting forum
Join thought-provoking conversations, follow other Independent readers and see their replies