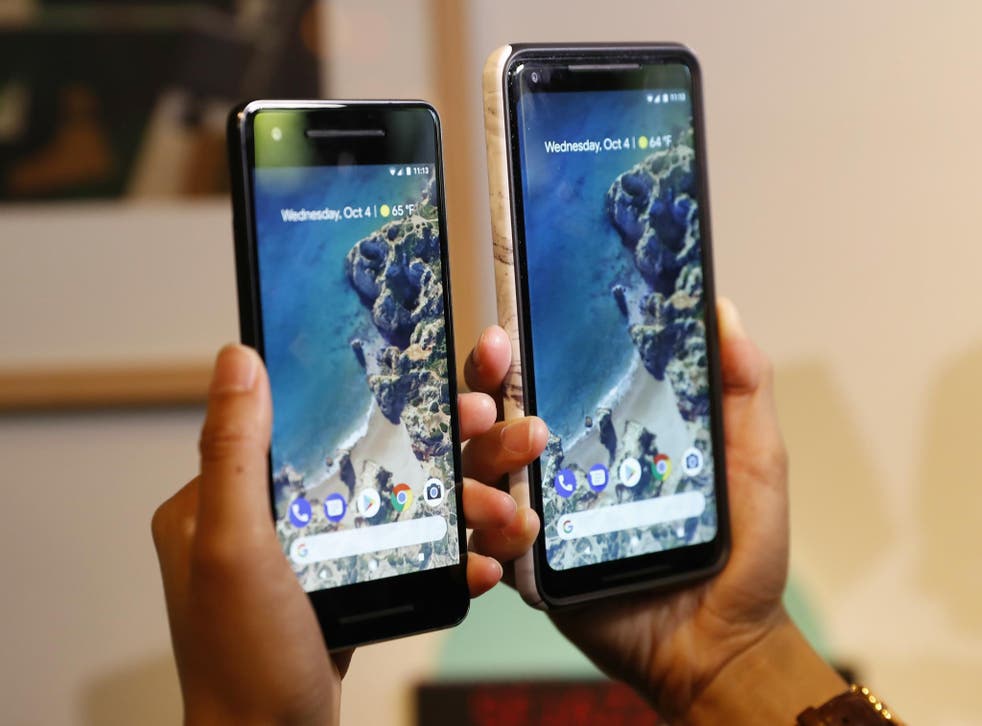 Google Pixel 2: Best and worst features of new smartphone
Everything you need to know before parting with your money
Google has gone head-to-head with Apple and Samsung by launching the Pixel 2 and Pixel 2 XL, its latest high-end mobiles.
They're designed to sit at the top of the smartphone tree, above the likes of the Galaxy S8, Note 8, iPhone 8 and iPhone X, but they're not quite perfect.
Here's what you need to know about the Pixel 2 and Pixel 2 XL before you part with your money.
Pixel 2: The good
Camera
Google has, once again, built a phenomenal camera system. The Pixel 2 and Pixel 2 XL both use a 12.2-megapixel sensor with f/1.8 aperture and optical image stabilisation.
Camera rating firm DxOMark Mobile has awarded the Pixel 2 a score of 98, the highest mark it has ever given to a smartphone, and it isn't hard to see why. Autofocus is slick, and pictures come out looking incredibly well-detailed even in tricky low-light conditions.
The Portrait mode, which is unusual on the Pixel 2 in that it relies on only one camera lens rather than two, also works impressively. It artificially adjusts the bokeh in photos by automatically blurring the background, the result being a professional-looking picture that places all the focus on the main subject.
Portrait mode is also available on the 8-megapixel selfie camera, which performs equally well.
Motion photos are also a neat trick, bringing your photos to life by also capturing video footage you can play.
Software
The Pixel 2 and Pixel 2 XL, unsurprisingly, run Android 8.0 Oreo, the latest version of the mobile operating system.
Though it will roll out to a multitude of other smartphones over the coming weeks and months, it's actually a key selling point for the Pixel line. That's because the handsets run a pure version of Android that hasn't been tampered with or spoiled by the addition of unwanted bloatware and strange skins. It's Android as Google intends it to be.
Other Android phone makers tend to put their own spin on the software, which can damage the user experience because the tweaks are often designed to promote the company's own apps and services.
Major Android updates can also take a long time to come to handsets with software tweaks. That won't be a problem with the Pixel 2 and Pixel 2 XL, which will receive updates as soon as they're ready.
The new Pixels also come with an early version of Google Lens, an intelligent app that can analyse your pictures and recognise what's in them. It's not quite ready yet, but could be hugely impressive when it is.
In a demo earlier this year, Google showed it being used to grab a Wi-Fi username and password from a router.
Fingerprint sensor
This wouldn't ordinarily be a big talking point, but other phone manufacturers have turned biometrics into a major talking point this year.
The fingerprint sensors on Samsung's Galaxy S8 and Note 8 are utterly woeful, being small, shallow, poorly positioned and easy to mistake for the camera lens.
Apple, too, has had difficulties in this area, causing outrage when it revealed it had dropped TouchID for FaceID in the upcoming iPhone X. The company has tried to quell consumer fears since the phone's unveiling, but the fact it is yet to hit the market hasn't helped the situation.
It is, therefore, relieving to see that Google has equipped the Pixel 2 with a fingerprint sensor that's large, easy to access and slick. It works exactly as it's supposed to.
Google Assistant tips and tricks

Show all 7
Headphone jack
The worst thing about the Pixel 2 is its lack of a headphone jack. Google has, infuriatingly, decided to follow in Apple's footsteps by needlessly dropping the 3.5mm port, and the move brings zero benefits to consumers.
Both the Pixel 2 and Pixel 2 XL feature a USB-C audio port, which isn't compatible with the vast majority of wired headphones on the market. Google includes a USB-C to 3.5mm adapter in the box, but it's far from a satisfying solution to the problem, with the chunky accessory awkwardly flopping out of the bottom of the phone.
What's more, since the USB-C port is also used for charging, you can't power up the Pixel and listen to music through a pair of wired headphones at the same time, unless you buy a separate adapter that costs £20.
From a consumer perspective, it's a bad move all round. Unfortunately, the trend is likely to continue.
Design
Google claims it ditched the headphone jack because it is moving "towards a bezel-less future", but neither the Pixel 2 or Pixel 2 XL are actually "bezel-less" smartphones.
Samsung, Apple, LG and Huawei have done a much better job of maximising their latest flagship smartphones' screen to body ratio than Google.
The original Pixel and Pixel XL were roundly criticised for their plain looks a year ago, but Google hasn't done much to address the issue.
Though the new Pixel XL is undoubtedly more attractive than its predecessor, it still has a prominent "forehead" and "chin" that detract from its overall look.
The new Pixel, meanwhile, looks outdated and unrefined, its screen bordered on all sides by chunky bezels. It's certainly different to the original, but the changes represent a step sideways rather than a step forwards.
The addition of water resistance to this year's models is a good thing, but that's a feature the 2016 Pixels should also have had.
Screen
While the Pixel 2 XL has a drastically improved and thoroughly impressive 6-inch, 2,880 x 1,440 display, the Pixel 2 lags behind on the same 5-inch, 1,920 x 1,080 display that the original Pixel used.
That setup was uninspiring even last year and, while it's adequate, the lack of progress is disappointing.
The Pixel 2 is not a cheap phone. It costs £629 for 64GB of internal storage, and £729 for 128GB. For that sort of money, you expect slightly better.
Active Edge
Like the HTC U11, the Pixel 2 and Pixel 2 XL have a handy feature Google calls Active Edge. You can activate a special set of sensors embedded in the Pixel 2's frame by squeezing its sides.
It's a clever function, but Google has decided to impose limits on it. On the HTC U11, you can choose what you use it for, from taking a selfie to launching a certain app. It comes in especially useful when you're using your phone one-handed.
On the Pixel 2, however, you can currently only use Active Edge to launch Google Assistant. It's a frustrating limitation, because the squeeze functionality has the potential to solve common issues. If Google removes these shackles, this negative will become a big plus point.
Join our new commenting forum
Join thought-provoking conversations, follow other Independent readers and see their replies