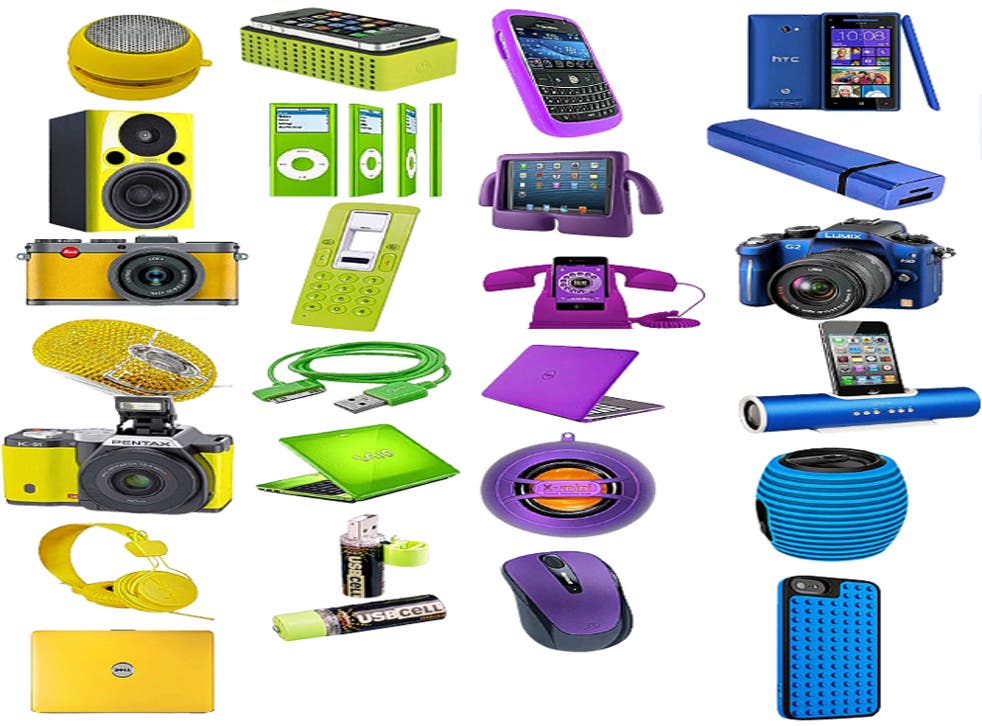 Techno colour: Grey gadgets have been eclipsed by a rainbow of electronics like Apple's new iPhone 5C
But is bright always right, asks Simon Usborne?
The great tech rumour mill creaked to a momentary pause this week as susceptible consumers preparing to spend more than they should took a first (official) look at Apple's new iPhones. Finally, for a device that changed the way we communicate while displaying the visual variety of a line of Bosch washing machines, they saw a splash of colour.
The iPhone 5C ("c" for colour) – the cheaper of the two models revealed on Tuesday – will come in yellow, green, blue and red. The 5S, meanwhile, the posh one with the fingerprint sensor, will be available in gold, white and "space grey" (but alas not the "champagne" that had been the subject of many rumours).
That Apple, which briefly banished beige from our desktops with its landmark "Bondi blue" iMac in 1998 (before settling on understated silver), has taken so long to bring colour to its monochromatic phones reveals this about the industry: in the minds of play-it-safe manufacturers, growing consumer demand for customisation – and fun – has traditionally failed to overcome the risks involved in paint jobs. Who remembers Microsoft's failed iPod killer, the Zune, which launched in 2006 in black, white or… brown?
Today the average branch of Currys resembles the paint aisles at B&Q. In June, Samsung revealed new options for its flagship smartphone, the Galaxy S4, including "blue arctic", "red aurora", "purple mirage" and "pink twilight". Motorola and its new parent company, Google, went further last month with the release of the MotoMaker design tool, which allows US buyers of the company's Moto X smartphone to select near-infinite colour combinations (if you're not feeling inspired, the program will suggest hues based on your Facebook photos).
Beyond the smartphone shelves, a rainbow of colour plasters speakers, e-readers, cameras, radios, and headphones. Technical advances in mass production partly explain this superficial blooming. Apple admitted it had been harder than it expected to make a white iPhone 4, which it launched almost a year after the black model (the company apparently struggled to match the white of the glass front with the plastic home button) but now colours can be included at a manageable cost.
But are there broader reasons for the change? Karen Haller is a London-based colour and design consultant who has worked with brands including Orange Mobile and Logitech. "I think the early 2000s were about minimalism and everyone wanting to fit in," she says. "Even the home improvement shows were about living in a place with no personality that was ready to sell. Now it's swung the other way and it's all about personalisation, as if industries have given us permission to stand out and show personality."
While the gadget graveyard is dominated by black and shades of beige, there were flashes of inspiration before the current riot broke out. The Compucolor 8001, an early desktop computer launched in 1976, sported a blue and orange casing, while coloured fascias for pre-smartphone Nokias were popular.
The first blue iMac is credited with changing the way we relate to computers, turning them from functional apparatus into showpieces for the home. The popular "hot pink" edition of the Motorola Razr V3, launched in 2006, similarly gave phones new status as covetable fashion accessories. Colours are risky but also plunge corporations further into the fickle world of trends. Predicting what shades will sell has become an art.
Kate Smith, a colour consultant in the US, says trendspotters such as her "ask what political, social, economic issues we're concerned with and how this concern will find its way into colour and design". She says eras defined by scandal, such as the Clinton-Lewinsky affair and the Enron failure, have influenced subsequent demand for sheer and transparent design in everything from packaging to Plexiglass furniture.
Less subtly, Apple's new confidence in colour can also be traced to demands in newer markets such as China. Gold, meanwhile, is popular among wealthy consumers in Russia and the Middle East. Amjad Ali is a Glasgow-raised entrepreneur now based in Dubai, where he runs Gold and Co. The firm is preparing to meet record demand for its new iPhones, which it buys from Apple and then plates in pure gold and sells for £3,000. Ali says he received an order from the Saudi royal family to make a diamond-encrusted 18-carat gold iPhone 5 with a giant jewel for its home button. The bill: £50,000.
But even the super-rich want options. Ali, who says he is also fulfilling an order for 53 gold iPhones for a patriotic Nigerian (the country celebrates 53 years of independence next month), has just added a platinum option to the firm's rose gold. "Muslim men are not supposed to wear gold," he explains. "We had government departments, for example, cancelling orders so now we're launching platinum to tap into a huge market... Everyone wants to be different."
Join our new commenting forum
Join thought-provoking conversations, follow other Independent readers and see their replies