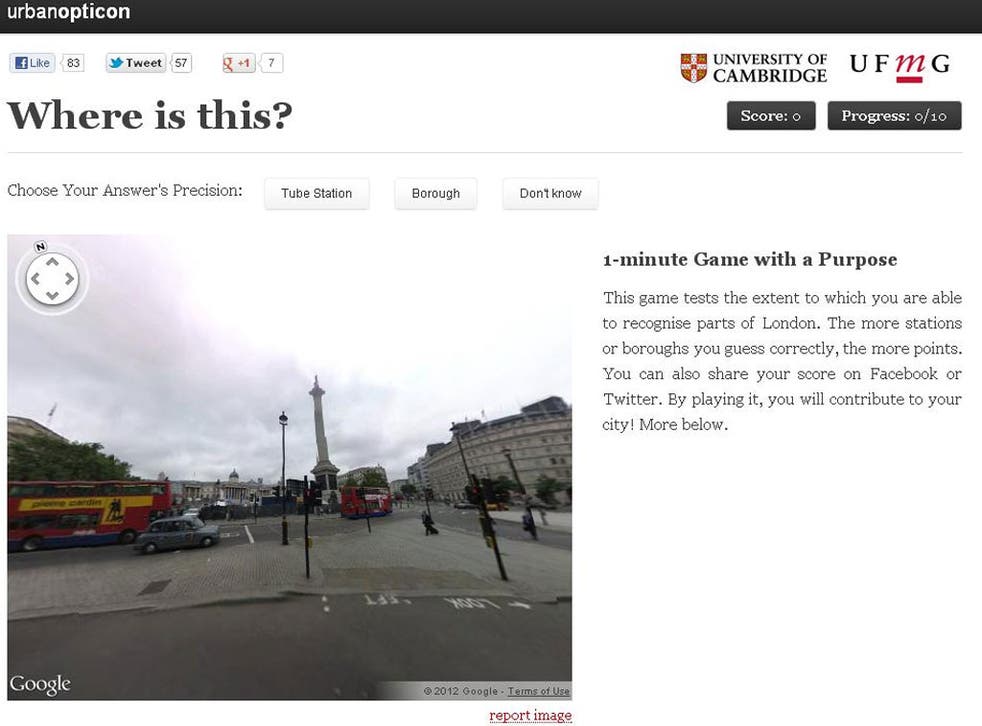 Will Dean's Ideas Factory: How location spotting can help spruce up the city
Does the recognisability of a place make it a more desirable place to live? That's the theory that a group of researchers from Cambridge University and Brazil's Universidade Federal de Minas Gerais are trying to put to the test. Their method is the creation of Urbanopticon – a game which puts the recognisability of London's streets to the test by picking up random locations from Google Street View and testing users to see if they can judge the location (or borough/Tube station) solely by landmarks/brick types and so on.
The sample shown here (with Nelson's Column in the background) might be easy, but for all bar London's black-cab drivers, picking out whether a street is in Brent or Croydon might prove tricky. I certainly found myself outfoxed.
Daniele Quercia is one of the Cambridge researchers working on the project – "We want to test the assumptions of urban planners," he tells me. "The idea is that if we do this a large number of times with a large number of users we can know which areas are recognisable."
So why is it important?
"We have data showing the extent to which areas are socially deprived or not," Quercia explains. "What we can do is correlate the recognisability of an area and the social deprivation. When we do that we're on stronger ground to say recognisability is related to deprivation. Then the urban planners can take more seriously this kind of data taken from the web. And actually design in different ways to how they do now."
Urbanopticon's success in helping future planners, though, depends on as many people using it as possible. So try your hand at urbanopticon.org
A letter to everybody – the email lottery list
For anyone with a story to tell, or a message to share, or even a good gag, one of the hardest things is finding the right platform to get a big audience. But one clever website allows anyone to share a message with the world.
The Listserve is an email list lottery – which means that everyone who signs up to receive the email will be entered in a draw to win the chance to write a message to the rest of the mailing list.
The site is waiting for 10,000 recipients to sign up for the daily email before giving people the chance to share their messages.
It's a sweet idea and it's hoped that the format will produce enough good tales to escape a daily visit straight to the trash folder of your inbox.
Presumably there'll be no way to tell who else is receiving the emails (unless they're selected to send one) – but thelistserve.com has a breakdown of where the correspondents signed up so far (almost 5,000 as of Wednesday afternoon) are from. Most of those are from the States but users from less likely locations are involved too. Just in case you've always wanted to get your message across in Macedonia.
So fresh, so clean – social tidying gears up
Dan Thompson – who featured in these pages for his work with the Empty Shops Network – was one of the key voices in starting the #riotcleanup movement after last summer's riots. His latest attempt to utilise the power of the social crowd to do good is #futurecleanup. It's a similar idea – it allows users to register a problem, which could be anything from fly-tipping to a broken fence, then the site/Twitter hashtag highlights it and voila! a team of willing volunteers will head over to the site in question and tidy up. The scheme is being backed by the charity Nesta and the Office of Civil Society (aka the Big Society). Which is all good news, just make sure you aren't duped into cleaning up someone's back yard.
Find out more at: ind.pn/futurecleanup
Register for free to continue reading
Registration is a free and easy way to support our truly independent journalism
By registering, you will also enjoy limited access to Premium articles, exclusive newsletters, commenting, and virtual events with our leading journalists
Already have an account? sign in
Join our new commenting forum
Join thought-provoking conversations, follow other Independent readers and see their replies