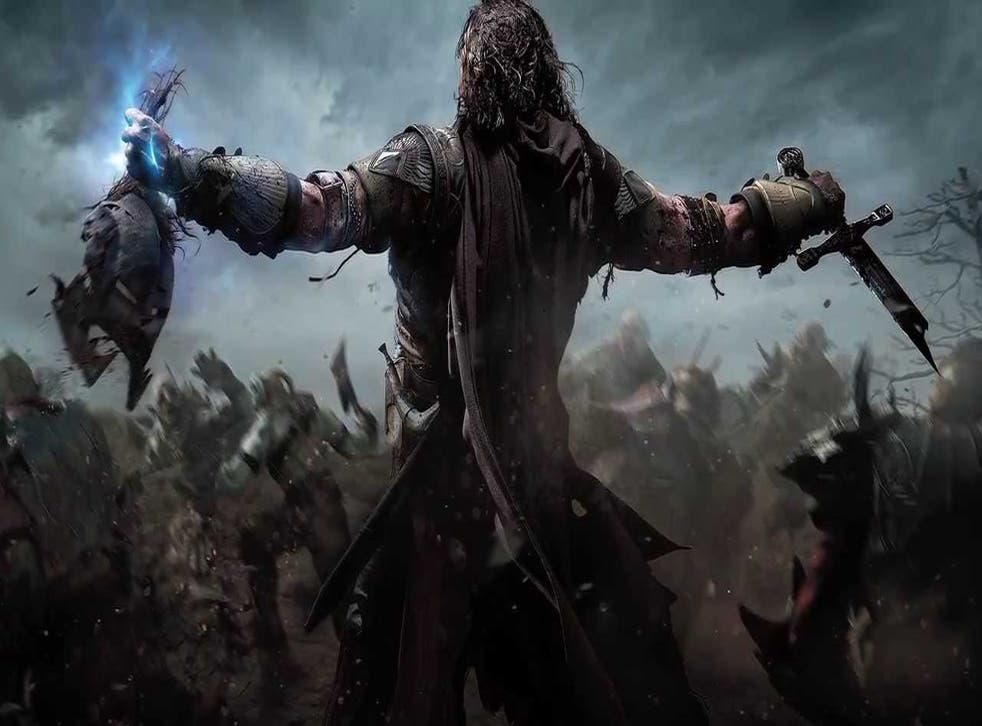 Middle-earth: Shadow of Mordor review - blend between Assassin's Creed and Lord of the Rings
£39.99; PS3, PS4, Xbox 360, Xbox One, PC
Max Wallis
Friday 03 October 2014 13:08 Comments
In Shadow of Mordor you take control of Talion, a Ranger of Gondor, who, along with his family, is brutally murdered by orcs in the opening scenes. Undead, thrust back to life with the aid of a Spirit of vengeance, Talion returns to avenge his family's death by hunting down the key players in the orc hierarchy, including Sauron's right-hands. It's an open-world game, a sandbox of assassination, and it's a welcome one after so many sub-par Lord of the Rings offerings.
Gameplay is a mixture of Batman-like rhythmic fighting (block, counter, slash, jump and so on) interspersed with wraith moves such as shockwaves that push enemies away. You can whip out a bow and deliver time-slowed headshots. Later in the game you can unlock skills that allow you to teleport and to dominate other orcs, adding an interesting subtlety to the latter-half's beats.
At its heart is the Nemesis system, something that we will likely see implemented in a lot of games in the next year or so. It's a complex artificial intelligence that monitors interactions between not only you, and the various captains and warchiefs in the game, but also how those orcs interact with one another. If you are culled at the last minute, swarmed by orcs and their captain, the head orc will then power up - moving up the hierarchy.
30 games released before Christmas

Show all 30
This ultimately means that all death matters: the more you die the more powerful they become. But it's even more complex than that. If you maim an orc in some way: say, for example, skewering their eye with an arrow, they will likely come back with some sort of armour in its place. There is in-fighting, too, as orcs plot to overthrow each other. In this sense the game provides essential personality to an otherwise bland 'evil' race.
If someone pitched to me over lunch a game in progress I wouldn't have expected them to say a blend between Assassin's Creed and Lord of the Rings. It almost seems too gimmicky, too resonant of a company wanting to milk the Creed and Rings cows at the same time. A kind of board-meeting pin the tail on the donkey type of game development. But this is what we have. And it's good.
Holding X I parkour up the stone tower, watching as Talion's ragged cloak flaps in the rain. Water streams down his back and also the tower. Above, clouds roil like a breaking wave. He falters then shifts his weight up again. I think I hear him gasp. Above me the crossbow-wielding orc mutters something into the wind. I sneak. I sneak and, holding R2, I tap square and watch as Talion plunges his sword deep into the orc's neck, propelling him off the tower and to a grisly drop below. This is a visceral game and a side of Tolkien's world I'm glad to investigate.
Register for free to continue reading
Registration is a free and easy way to support our truly independent journalism
By registering, you will also enjoy limited access to Premium articles, exclusive newsletters, commenting, and virtual events with our leading journalists
Already have an account? sign in
Join our new commenting forum
Join thought-provoking conversations, follow other Independent readers and see their replies