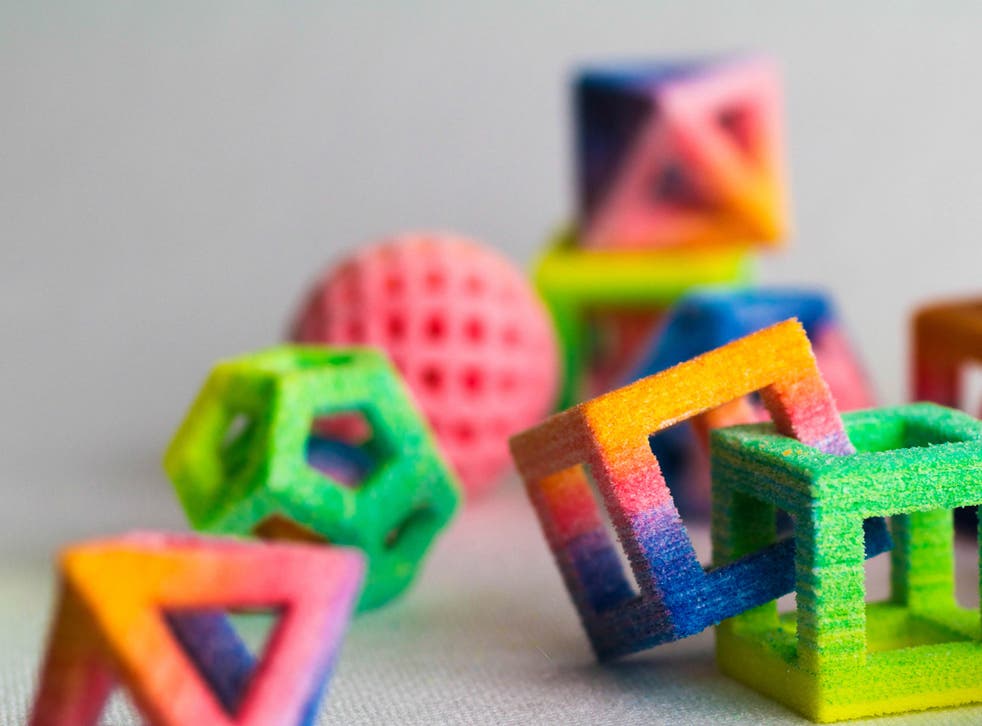 Intricate, beautiful sugar cubes could be the key to getting 3D printers into the kitchen
We might not be ready to 3D print a roast, but the complicated and edible structures produced by 3D printers could be the start of something new
The 3D printer has been unveiled as the latest must-have implement of the modern kitchen, capable of producing ornate confectionery from printed sugar and liquid chocolate.
Delegates at the Consumer Electronics Show in Las Vegas were invited to taste items of food created by printing machines that will be priced from £3,000.
Multi-coloured sweets in intricate geometric designs were crafted from layers of sugar containing vanilla, mint, sour apple, water melon and cherry flavourings. A jet print head is used to spray water onto the sugar and harden the crystals, building up the sweets layer-by-layer.
For pioneering American company, 3D Systems, it was a big moment. It was way back in 1986 that the company's founder, Chuck Hall, obtained the first patent for the Stereolithography additive manufacturing process which formed the basis of the 3D printing industry.
The company's Chefjet "food-safe" models represent a new frontier. "Food is an incredible platform for creativity, experimentation and celebration and we are thrilled to place these powerful 3D printers in bakers and chef's kitchens," said Liz von Hasseln, creative director of food products at 3D Systems. "We invite leading pastry chefs, restaurateurs and event planners to join us in bringing 3D printing into the kitchen."
Ms von Hasseln and her partner Kyle set up Los Angeles start up Sugar Lab, which was acquired by 3D Systems at the end of last year. The company began when the undergraduate couple experimented with a 3D printer to make a birthday cupcake for a friend, spelling her name on the top.
They founded Sugar Lab as a "custom design firm for 3D printed sugar". Mr von Hasseln said the process was remarkably simple. "It's essentially just adding water to sugar," he told the Ted X Manhattan Beach conference. "If you have ever made frosting and left the bowl in the sink overnight you know that the next morning that bowl is going to be impossible to scrape out. That's because when you add water to sugar it solidifies. We just add the water in a very precise way."
Ms von Hasseln said the sweet designs were based on models which were sliced into layers using specialist computer software. The 3D printer builds the confectionery one layer at a time. Each of up to several thousand layers will consist of a separate spreading of sugar and a precise spray of water.
The Chefjet food printers are set to go on sale in the latter part of this year, including the more advanced Chefjet Pro model, which is capable of printing multi-coloured food items and will retail at around £6,000.
To encourage more people to take up 3D sweet making, 3D Systems has produced a Digital Cookbook app to simplify the process for users.
The world of 3D food is expanding rapidly. Exeter-based company Choc Edge has produced the Choc Creator V1, which claims to be the "world's first chocolate printer" and can make elaborate 2D and 3D designs from melted chocolate. It sells at £2,888. A Barcelona company, Natural Machines, has built the Foodini system to make 3D pasta and pizza, created from layers of liquidised ingredients.
Join our new commenting forum
Join thought-provoking conversations, follow other Independent readers and see their replies