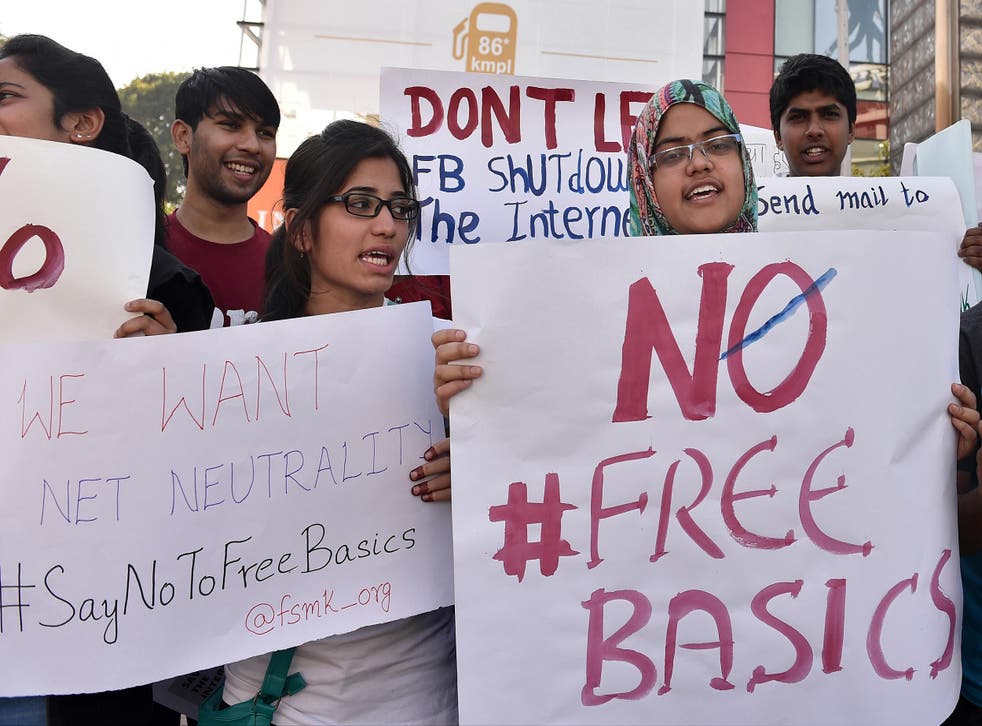 Facebook's controversial Free Basics service shut down in Egypt
Facebook played a large part in the organisation of Egypt's 2011 uprising, but a telecoms official said the shutdown was not down to security concerns
Doug Bolton
Monday 04 January 2016 15:46 Comments
Facebook's Free Basics service, which offers certain basic internet services to people in developing countries for free, has been shut down in Egypt, just a week after the service was temporarily closed by regulators in India.
Free Basics was launched in Egypt two months ago by mobile network Etisalat. An official from the country's telecommunications ministry told Reuters that the network only had a permit to offer the service for two months, and the service was suspended on 30 December when this permit ran out.
Even though social media websites like Facebook played a big part in the organisation of Egypt's uprising in 2011, the official said that the suspension was not related to security concerns.
Free Basics is part of Facebook's initiative to bring the benefits of the web to people who might not be able to afford it - certain messaging, weather forecasting, job and marketplace services are available to all Free Basics users cost-free, with no subscription fees or data charges neccessary.
But some people in countries where Free Basics has launched have said the service is a threat to net neutrality. In India, regulators, internet users and tech entrepreneurs came out against Free Basics, saying Facebook's limits on what internet services users could access was an assault on the principle that internet service providers should treat all users the same.
Gadget and tech news: In pictures

Show all 25
Opposition from some in India led to Facebook launching a large public relations campaign in the country, with Mark Zuckerberg writing a newspaper editorial in defence of the service and encouraging users to save Free Basics by emailing the telecoms regulator.
Despite the criticism, supporters say the huge benefits to poor people in developing countries that Free Basics can bring outweigh the service's limitations - a recent editorial in the Hindustan Times said if India's poor realised what they were being denied by opponents of Free Basics, they would "hit the streets and bring the nation to a halt."
In a statement to TechCrunch, Facebook said they were "disappointed" that Free Basics was no longer available in Egypt.
They said: "Already more than 3 million Egyptians use Free Basics and through Free Basics more than 1 million people who were previously unconnected are now using the internet because of these efforts."
"We are committed to Free Basics, and we're going to keep working to serve our community to provide access to connectivity and valuable services."
"We hope to resolve this situation soon."
Register for free to continue reading
Registration is a free and easy way to support our truly independent journalism
By registering, you will also enjoy limited access to Premium articles, exclusive newsletters, commenting, and virtual events with our leading journalists
Already have an account? sign in
Join our new commenting forum
Join thought-provoking conversations, follow other Independent readers and see their replies