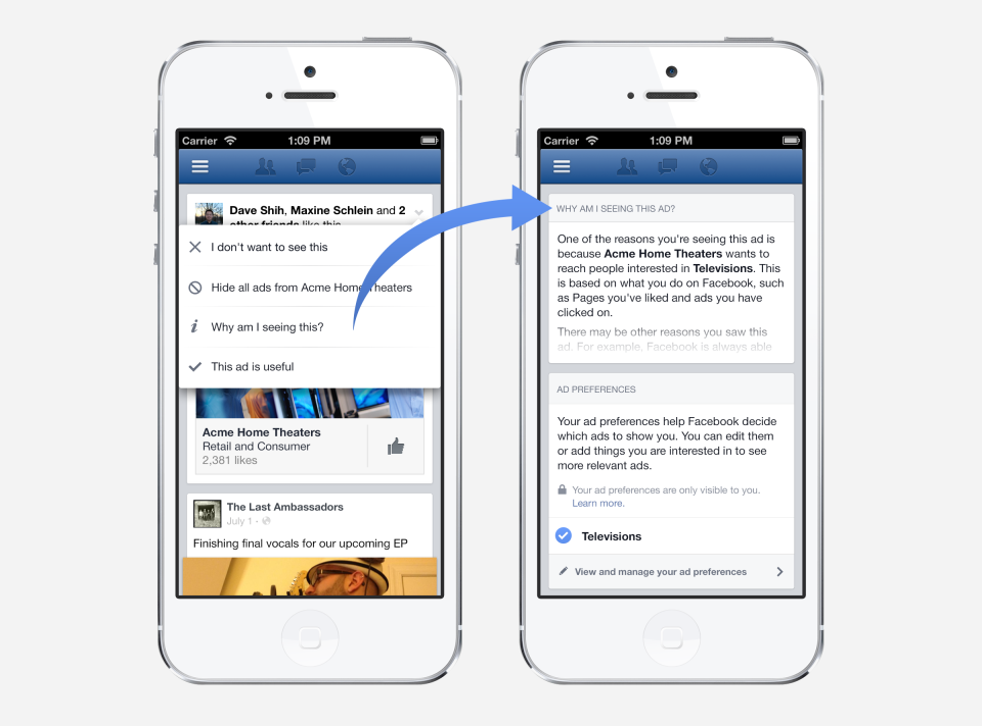 Facebook will track users outside of the site, says 'people want more targeted advertising'
Users can opt-out of the new tracking policy and view and edit their advertising profile used to target ads for the first time
James Vincent
Friday 13 June 2014 13:16 Comments
Facebook has announced two major changes to its advertising policy that will let it track users across the web and give them access to the advertising profiles created by the social network of their likes and interests.
The site creates profiles in order to sell targeted adverts tailored to the individual but has never before let users view or edit the information in those files.
Users' web browsing activities outside of Facebook will also be added to this profile through the Facebook 'Like' button. Even if individuals do not click this on third-party sites it still registers their presence if they are logged into Facebook in the same browsing session.
Similar buttons from Twitter and Google have identical abilities, but this is the first time Facebook has chosen to utilise this wealth of data. If users don't want to be tracked in this way then they can opt out via the Digital Advertising Alliance or for mobile browsing adjust their settings on their handset.
Brian Boland, Facebook's' vice president of ad product, told the New York Times that people "want more targeted advertising" and that the aim of the new policies was to make it clearer to individuals why they were seeing certain ads.
Adverts on the site will have drop down menus in the top right-hand corner that gives users more control over these adverts. Individuals can find out why they are being shown an advert based on the likes and interests that Facebook has logged – or they can choose not to see any more similar adverts in the future.
The new policies will likely meet with a mixed reaction from privacy advocates and the site's users. Although Facebook is giving people more control over what sort of adverts they see they're also becoming more aggressive regarding the types of data they collect. The changes will appear for US users in a few weeks and in other countries over the following months.
Register for free to continue reading
Registration is a free and easy way to support our truly independent journalism
By registering, you will also enjoy limited access to Premium articles, exclusive newsletters, commenting, and virtual events with our leading journalists
Already have an account? sign in
Join our new commenting forum
Join thought-provoking conversations, follow other Independent readers and see their replies