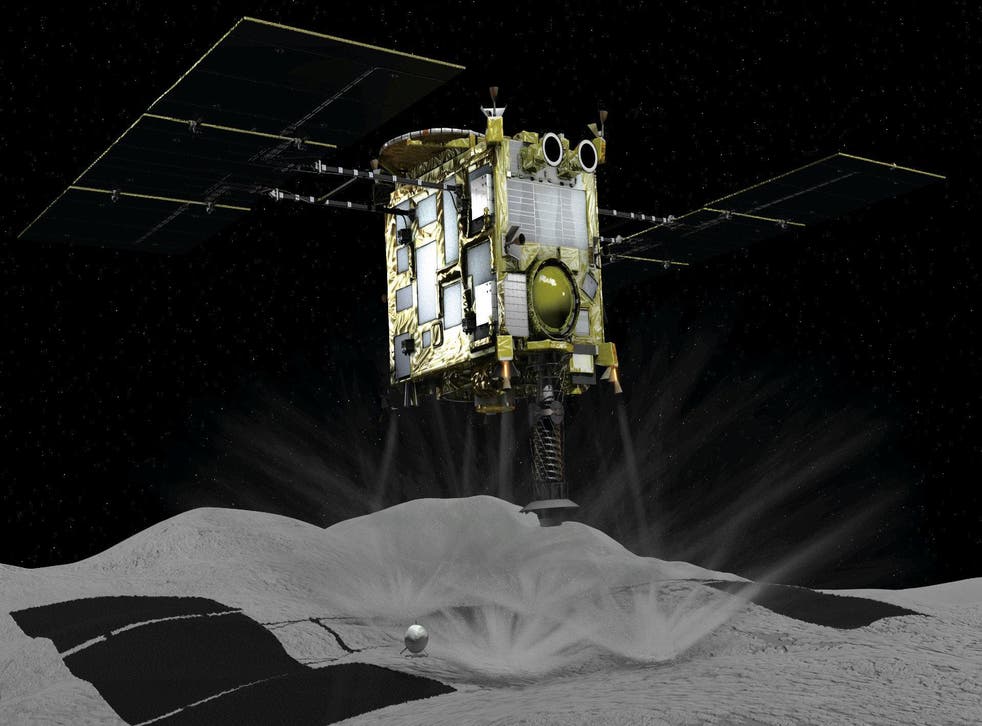 Hayabusa 2: Japanese space agency successfully lands spacecraft on asteroid nearly 200 million miles away
Probe will scrabble on the surface looking for the origins of life
Andrew Griffin
Friday 22 February 2019 09:26 Comments
The Japanese space agency has successfully landed a space probe on an asteroid nearly 200 million miles away, it has said.
The spacecraft – named Hayabusa 2, after a falcon – will now start scrabbling around on the planet looking for clues about the origins of life.
Landing the spacecraft was so difficult that engineers had already delayed its earlier attempt in October. It has proven difficult to find a suitable spot on the asteroid, which is named Ryugu and measures just 900 meters across.
The Japan Aerospace Exploration Agency, or JAXA, said on Friday Hayabusa 2 fired a small projectile into the surface of Ryugu to collect particles scientists hope the spacecraft will bring back to Earth for analysis.
"We may have caused some worry due to the delay but we carried out our plan flawlessly over the past four months to bring it to a successful landing," project manager Yuichi Tsuda told a news conference.
Nasa's most stunning pictures of space

Show all 30
"It landed in the best circumstances among the scenarios we envisioned," he said.
It is the second Japanese spacecraft to land on an asteroid after Hayabusa touched down on a near-Earth asteroid named Itokawa in 2005. It was the first to bring asteroid dust back to Earth, although not as much as hoped.
Asteroids are believed to have formed at the dawn of the solar system and scientists say Ryugu may contain organic matter that may have contributed to life on Earth.
JAXA's plan is for Hayabusa 2 to lift off Ryugu and touch back down up to three times. It blasted off in December 2014 and is scheduled to return to Earth at the end of 2020.
Additional reporting by agencies
Register for free to continue reading
Registration is a free and easy way to support our truly independent journalism
By registering, you will also enjoy limited access to Premium articles, exclusive newsletters, commenting, and virtual events with our leading journalists
Already have an account? sign in
Join our new commenting forum
Join thought-provoking conversations, follow other Independent readers and see their replies