John Wisden the 'Little Wonder' cricketer celebrated with Google Doodle

Show all 40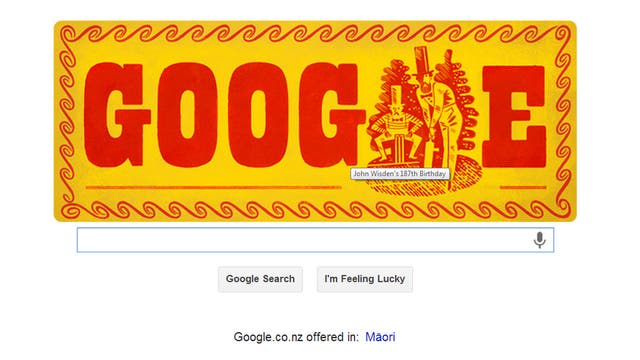 John Wisden the 'Little Wonder' cricketer celebrated with Google Doodle
The Almanack was first published in 1864 and a new volume has appeared without fail every single year since then
Google has celebrated the 187th anniversary of the birth of English cricketer, and creator of 'the Bible of Cricket', John Wisden.
Born in Brighton on September 5, 1826, little is known about Wisden's early life.
Following the death of his father he was cared for by the notable wicket keeper Tom Box who encouraged his cricketing abilities.
He made his debut for Sussex at 18 years of age.
At the peak of his powers, Wisden, who went on to play 187 first-class cricket matches for Kent, Middlesex and Sussex, was known as 'The Little Wonder'.
He is widely considered to have been the best all-rounder of his day.
Click on the gallery above to see a collection of recent Doodles.
Despite his significant cricketing achievements, Wisden is today most famous for creating the eponymous 'Wisden Cricketers' Almanack' after retiring from the game.
The Almanack was first published in 1864 and a new volume has appeared every year since then. Wisden 2013 is therefore the 150th edition.
When it was first published the Almanack printed 'full and accurate scores' along with facts about the Derby, the St Leger, the university rowing matches 'and other Interesting Information'.
It has been published every year without fail since its creation despite the company coming close to liquidation in 1937.
The Alamanck was even published during the war years, despite the company's headquarters being set on fire by a German bomber - destroying their records.
This remarkable continued publication makes the Almanack the longest running sports annual in history. Today a copy of the original 1864 edition is valued at around £25,000.
John Wisden died of cancer, aged 57, in London. He is buried in Brompton Cemetery.
Today's Doodle celebrates the Almanack using the distinctive front cover font of the Almanack against the famous yellow background that has been used on every edition since 1938.
The Doodle also features its own take on the famous woodcut of two cricketers, by Eric Ravilious, which regularly appeared on covers up until 2003 when it was replaced by a photograph of a contemporary cricketer.
Join our new commenting forum
Join thought-provoking conversations, follow other Independent readers and see their replies