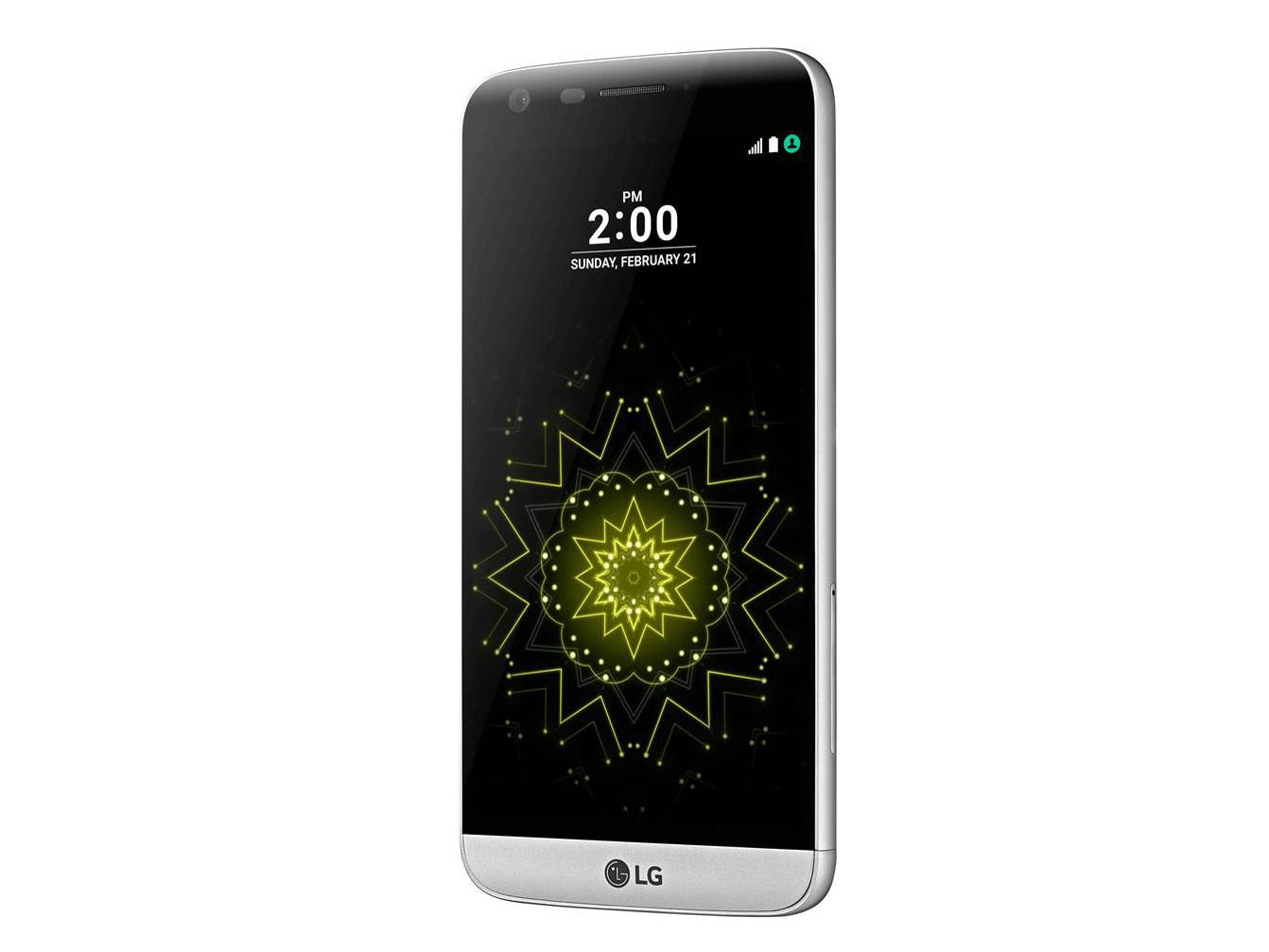 LG G5 review: Unique, modular phone is interesting but 'friends' might fail to take off
The new phone is perhaps cooler than it is useful, but is a valuable departure from an otherwise very similar mobile market, writes David Phelan
Smartphone manufacturers walk a tightrope as they evolve their industrial design. They must show new, fancy features such as new colours and materials but at the same time keep enough of the design features of previous models to reassure fans.
But sometimes they have to come up with an all new design language. Sony recently showed early versions of the X range which will replace the Xperia Z series. Samsung developed a new-looking phone with the Galaxy S6 Edge last year.
And this week, LG released the G5, which turns away from the styling of previous G series handsets. The G5 has a smaller screen than the G4 (5.3 inches instead of 5.5 inches) but is fractionally heavier.
Even so, it feels light in the hand and easy to handle. The extra weight is down to a new, modular design, which just means you can take bits off it and put others on.
Modular phone
It all works through a clever removable base. Press a discreet, flush side button and the bottom centimetre or so of the phone slides out, complete with bright green battery. You can then separate the battery from the base – and be warned, this takes some courage because it doesn't feel like it wants to come apart. You can then replace it with a chunky camera shutter unit with an ergonomically useful trigger button and bigger battery or with an audio unit with a Digital Analogue Converter in it.
Clip-on friends
There are other accessories – friends, LG calls them, but try not to be put off by that – and more will follow. The audio unit is designed in conjunction with Bang & Olufsen and creates very high quality audio when you're listening through headphones. It has a microUSB connector on it so you could use it with other phones, too.
In other words, LG has designed a phone which has the potential to get better as it goes along, just by updating software and adding an extra gadget, or replacing a battery, say. Note that every time you attach a new friend, you have to reboot the phone, though this doesn't take long.
Of course, lots of people may not buy any extra friends for their phone, so how does it stand up on its own?
Design
First of all, the design is pretty good. It doesn't have the out-there styling elements of the G4 (heavily scooped concave screen, leather back complete with stitching) and it's all the better for it. This is a demure, understated phone that feels smooth, apart from the join between the display and the removable bottom edge, but that's to be expected. The screen here is still concave but only very gently so.
Gadget and tech news: In pictures

Show all 25
Power button and fingerprint sensor
LG has previously limited its buttons to one – a power switch and volume rocker in the middle of the phone's back. That's almost the case here – though the volume control is now on the left edge, leaving a cleaner look to the back. The power button is also the fingerprint sensor.
Having it on the back takes a little getting used to, but to be fair it does fall under your index finger easily enough as you pick it up, so mind that's the fingerprint you enrol first.
The fingerprint sensor is fast. To turn on the phone you just rest the finger on it, rather than pressing, and the screen quickly springs into life. If the phone is resting on the table, double-tapping the screen wakes it to the lock screen, complete with an attractive kaleidoscope light effect. From here you can swipe the display, if there's no screen lock in place, or tap in a pattern or number as you choose.
You can also programme a sequence of taps, which LG calls a Knock On code.
Always-on screen
Like the Samsung Galaxy S7 and S7 edge, the G5 has an always-on display which shows the time on an otherwise black screen. This saves you from waking the phone whenever you just want to know the time. As with Samsung, it's very low in its power-draw, less than 1 per cent of the battery per hour. Alongside the time you can show the symbols for phone calls, texts and updates if you've received any of those, though it just shows the icons, not numbers or actual messages.
It's very good and is one of those ideas that you hope every manufacturer will introduce.
Apps
Like several other Android makers, LG has omitted the app drawer shortcut, festooning the home screens instead with folders such as Tools, Recommended Apps and Google apps. Well, if it's good enough for the iPhone, right?
There's also a File Manager app to make app management as easy as on a PC, though realistically most people won't come across this except in rare cases, I suspect.
Camera
One of the most striking things about the G5 is that it has two cameras on the rear. Two differently lenses gleam out at you, like a slightly surprised face thanks to the circular power button just below.
There's a regular camera, 16-megapixel resolution, which is what you'll probably use most of the time. It's pretty good, quickly responsive and not prone to too much shutter lag. Picture quality is strong overall.
But then there's the eight-megapixel wide-angle camera. It has a 135-degree lens, wider than the human eye can see, LG points out, so the images have a distinctive look. You can shoot both cameras together, with the wide-angle shot forming a frame round the main image, though it's a weird effect. Actually, you can create a composite shot using both rear cameras and the front-facing one, if you wish, though really this will be a novelty shot you may use once or twice.
Battery life
The LG G5 will get through a full day easily, even with the always-on clock screen. During that day you can expect the phone to perform well and at speed as well as doing all the things that are the bare minimum for a phone, you know, making phone calls with good audio quality and decent signal reception.
Verdict
The LG G5 is unique. There are no other phones (currently) that you can take apart and rebuild as you can with the detachable bottom on the G5. The design is strong, though the build quality is not immaculate. But the strengths are many: good battery life, decent performance, an excellent main camera and interesting extra wide-angle camera alongside. LG has definitely succeeded in making a phone that is not a me-too copy of its rivals. Not everyone will buy into the friends eco-system but the fact that accessories like the camera shutter and the audio improver exist is pretty cool.
Join our new commenting forum
Join thought-provoking conversations, follow other Independent readers and see their replies