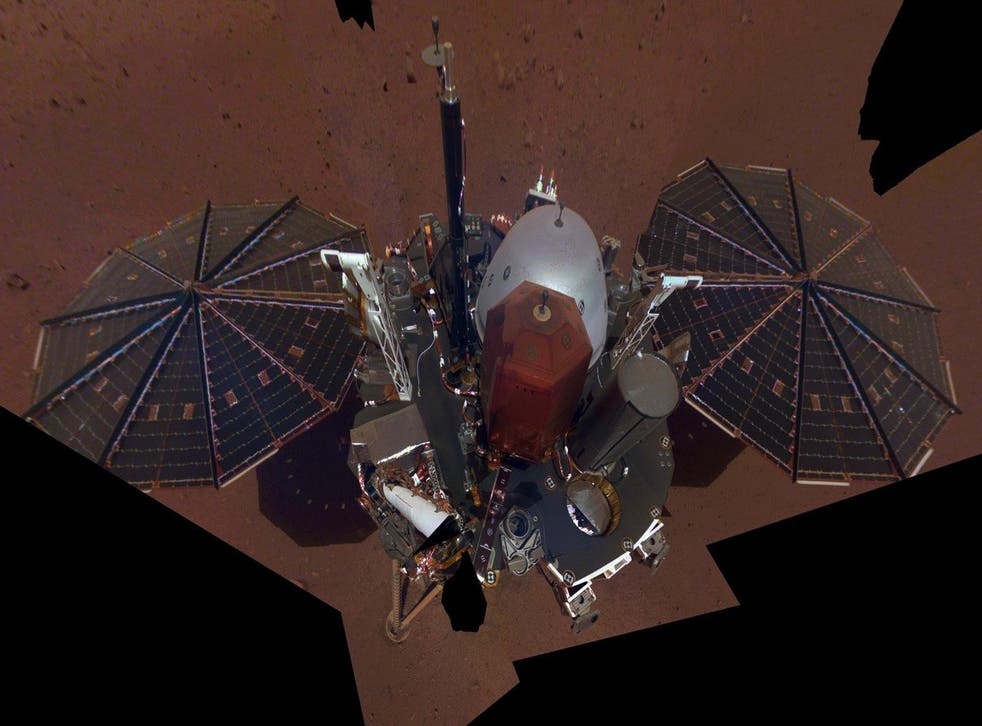 Nasa's Mars InSight lander sends back stunning first selfie sat on Red Planet's surface
Nasa's InSight lander has sent back its first full selfie while sitting on Mars.
The robot has sent back stunning photos of the world that just became its home, as well as the first audio of the Martian wind.
And now it has sent back a whole photo of itself, sat on the planet and getting ready to work. Or, more accurately, it sent back 11 photos that were stitched together to get a look at the lander as it is on the surface.
"First selfie!" it tweeted alongside the photo. "I'm feeling healthy, energized and whole. This is me on Mars."
The pictures the lander sent back aren't only a nice look at what it is getting up, but an important part of the science and engineering challenge of making sure the lander stays safe. They allow Nasa researchers to get a look at the ground around the lander, building up a picture of its location.
Nasa's most stunning pictures of space

Show all 30
That is important because InSight will eventually drill into that ground, reaching deep beneath the surface and allowing us to take readings of the Red Planet's insides for the first time ever.
Those initial looks at the ground have proven fairly boring – which is exactly what the scientists were wanting. They had hoped to land somewhere plain, but found it even more free of rocks and safe than they had been expecting.
"The near-absence of rocks, hills and holes means it'll be extremely safe for our instruments," said InSight's Principal Investigator Bruce Banerdt of NASA's Jet Propulsion Laboratory in Pasadena, California. "This might seem like a pretty plain piece of ground if it weren't on Mars, but we're glad to see that."
The spacecraft appears to be sitting in some sort of hollow, a dip made in the Elysium region where it landed when a meteor landed there. That should make it easier for the probe to dig down into the surface.
Join our new commenting forum
Join thought-provoking conversations, follow other Independent readers and see their replies