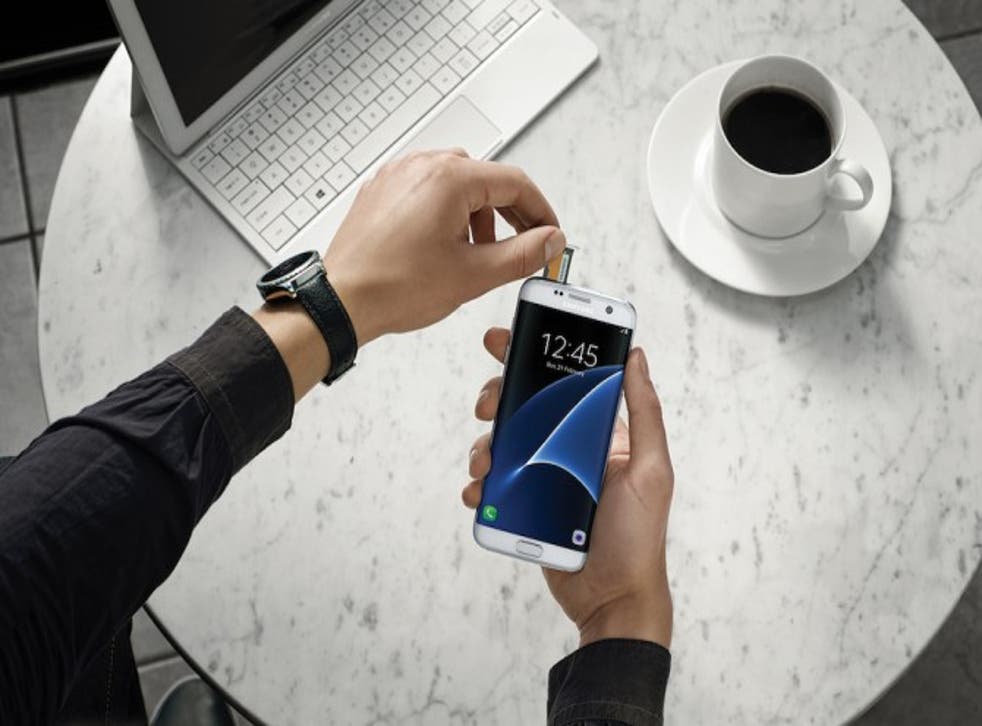 Seven reasons why you should get the Samsung Galaxy S7
The S7's new and returning features should please the Samsung faithful
Doug Bolton
Monday 22 February 2016 21:13 Comments
In a lavish unveiling ceremony on Sunday, in which Mark Zuckerberg made an appearance as the leader of a dystopian surveillance state, Samsung unveiled their latest mobile phones, the S7 and S7 Edge.
The S7 isn't hugely different to its predecessor, the S6. Most of its main selling points are updated versions of features we saw in the S6, or returning features from past models like the S5.
Nevertheless, it looks like a pretty interesting device, and we've conveniently found seven reasons why Samsung fans will want to make it their next phone.
Water resistance
The S7 and S7 Edge are IP68 water and dust resistance - you can put these phones in 150cm of water for up to half an hour and they won't have any problems, so dropping them in a puddle or spilling a cup of tea over them should be fine. No more scrambling for a bag of rice when you accidentally get your phone wet.
Expandable memory
'Memory full' is the bane of everyone's life. Fortunately, the S7 has a MicroSD card slot in the SIM card tray, allowing users to drastically increase the phone's storage. This feature was missing in the S6, so it's nice to see its return.
That screen
Both models have 2560 x 1440 pixel Super AMOLED displays, which far outclass the displays on the iPhone 6S and 6S Plus. Based on what we've seen so far, the images on the screen look incredibly clear and vibrant.
The camera
Samsung went on about the S7's camera a lot at the presentation, and it looks promising - a wider aperture, bigger pixels and dual-pixel technology should ensure that your pictures are decent even in low-light conditions. We'll have to wait and see whether their claims are true.
Always-on display
The always-on display on the new phone is a minor tweak, but it's the sort of thing that improves everyday usability. Most of the time when we look at our smartphones, we're just checking the time or looking for new notifications. With the S7's display, you won't need to reach for it to see that vital information. Hopefully it won't use up too much battery.
Water cooling
Samsung's beefed up the chips inside the S7, so they've decided to use water cooling to make sure the phone's vital parts don't get too hot. Obviously if this feature works well, it'll be totally unnoticable to the user - but the idea of having water cooling in your phone at all is pretty cool.
Samsung Pay
Apple Pay is really useful, but Samsung Pay is arguably better - it works in the same way, but can also be used to pay with non-contactless card machines, by making the phone emit a signal that mimics the swipe of a bank card. As long as there's a card machine, you'll be able to use your phone to pay - and you'll feel like a Jedi doing it. Samsung said Samsung Pay would come to the UK during 2016, but there's no solid date yet. We'll keep you posted.
Register for free to continue reading
Registration is a free and easy way to support our truly independent journalism
By registering, you will also enjoy limited access to Premium articles, exclusive newsletters, commenting, and virtual events with our leading journalists
Already have an account? sign in
Join our new commenting forum
Join thought-provoking conversations, follow other Independent readers and see their replies