SpaceX Dragon capsule returns to Earth in fireball in most dramatic moment of pioneering journey
Successful splashdown changed how Nasa sends astronauts into space
SpaceX Dragon lands in the Atlantic Ocean, changing the future of Nasa space travel
SpaceX's brand new crew capsule has splashed down on Earth – and might have changed the future of space travel as it did.
It dropped into the Atlantic Ocean, right on time, bringing an end to a mission that went entirely successfully and paves the way for the capsule to carry astronauts to space.
The Dragon capsule pulled away from the orbiting lab early Friday, a test dummy named Ripley its lone occupant. It's aiming for a morning splashdown in the Atlantic off Florida's coast, the final hurdle of the six-day test flight. Saturday's launch and Sunday's docking were spot on.
NASA astronauts have been stuck riding Russian rockets since space shuttles retired eight years ago. NASA is counting on SpaceX and Boeing to start launching astronauts this year. SpaceX is aiming for summer.
Please allow a moment for the live blog to load.
SpaceX Dragon heads back to earth after ISS mission

Show all 15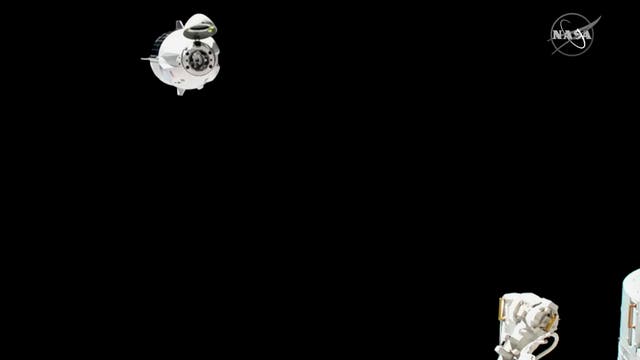 1552036911
In dramatic, space age fashion, the capsule has undocked from the ISS:
Now it is floating in space between the Earth and the space station, preparing for its fiery descent.
Andrew Griffin
8 March 2019 09:21
1552037754
Every bit of the journey has gone well so far. But Elon Musk has spoken about how this is the most stressful part: the capsule has to cope with some incredible stress as it hurtles into the atmosphere, and needs to do so in a way that would protect any living astronauts that were inside.
Andrew Griffin
8 March 2019 09:35
1552038060
In this video still, you can see the capsule drifting away from the ISS and back towards home.
Andrew Griffin
8 March 2019 09:41
1552038389
The capsule is expected to splashdown about 1.45pm UK time (or 8.45 eastern). But the real excitement will be just before that, when the capsule plunges down through the atmosphere and really puts its heat shielding to the test.
Andrew Griffin
8 March 2019 09:46
1552041347
There's not a great deal going on right now: the live streams have come to an end, waiting to switch on in an hour or so when the splashdown coverage begins. In the meantime, if you are so minded, Nasa is showing video of the Earth taken from the International Space Station, with nice new age music over the top, which is definitely good for getting in the mood. (It won't be quite so chill when the proper descent begins, though.)
Andrew Griffin
8 March 2019 10:35
1552041437
In the meantime, here are some nice images of the separation, from earlier.
Andrew Griffin
8 March 2019 10:37
1552041664
And if you'd prefer those images to be moving, here's some nice video of the big moment earlier on:
Andrew Griffin
8 March 2019 10:41
1552045405
Here's an incredible picture while we wait
Andrew Griffin
8 March 2019 11:43
1552047693
We're still waiting for the live stream to begin, ahead of the splashdown. For now, Nasa TV is still showing that very calming vista of Earth, taken from the ISS
Andrew Griffin
8 March 2019 12:21
1552047914
(The proper coverage should start in five minutes or so.)
Andrew Griffin
8 March 2019 12:25
Join our new commenting forum
Join thought-provoking conversations, follow other Independent readers and see their replies